White Chicken Chili is one of those perfect comfort foods that ease the chill from those cold winter days. This is a simple recipe that you will want to make over and over again.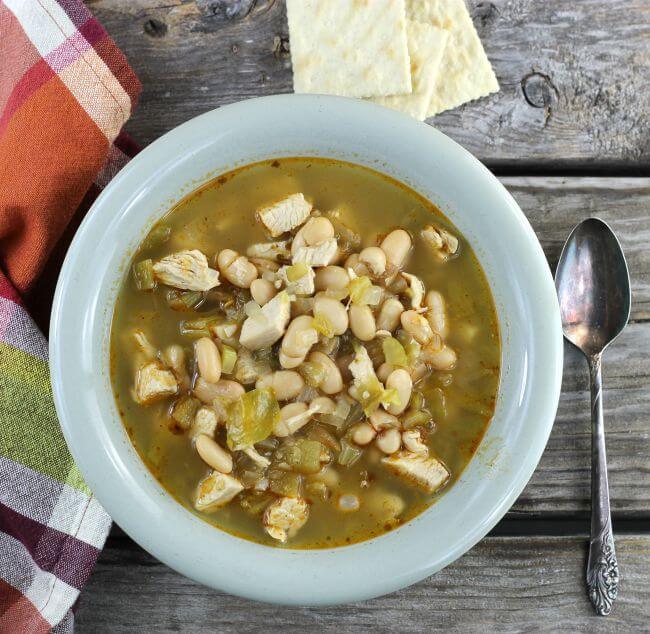 This recipe may be called white chicken chili soup also if you like. I love super easy recipes that are filling and nourishing. And, this is one that fits the bill.
One of my favorite comfort foods is chili, I think that I would be fine with eating it every week during the cold winter months. The one thing when it comes to chili is all the different ways that you can make it. I love it when it comes with a tomato base, but it is delicious with a chicken broth base, too.
Why is it called white chicken chili?
It is called white chicken chili for a few reasons. Instead of the traditional ground beef, chicken is used in its place. There is no tomato base in this recipe, chicken broth is used for the base. Last reason there are no red beans used in this recipe.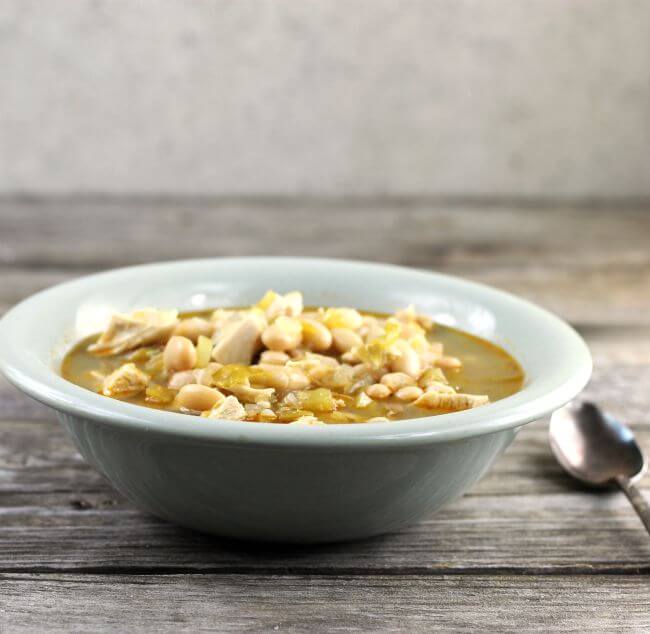 What types of beans are used in white chicken chili?
Obviously white beans are used. But what are the white beans that are used in this recipe? Cannellini beans (also known as white kidney beans), Great Northern Beans, or Navy Beans are all white beans that can be used.
Ingredients and substitute:
Chicken breast – I like using the chicken breast in this recipe, but chicken thighs could be substituted.
Olive Oil
Onion
Garlic
Celery – I like celery in chili, but if you would like to substitute corn for the celery that would work.
Great Northern Beans – Cannellini or Navy Beans can be substituted.
Seasonings – Chili powder, cumin, oregano, and salt go into this recipe.
Diced Green Chiles – I used canned chilies, but you can use fresh peppers/chiles for a substitute.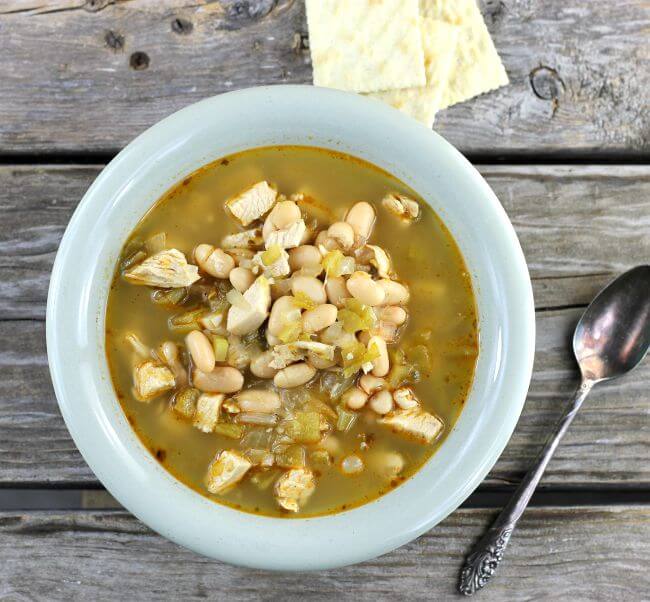 Steps for making this recipe:
Step One:
Heat the olive oil in a Dutch oven or soup pot over medium heat. Add the chopped celery, onion, and garlic and cook until tender, about 6 to 8 minutes.
Step Two:
Add the chili powder, cumin, oregano, and salt stir in and cook for about a minute.
Step Three:
Add the chicken, green chiles, and beans. Stir in until well combined.
Step Four:
Add the chicken broth and simmer for 20 to 30 minutes. Serve
What to serve with white chicken chili?
Cornbread
Lime wedges
Rice
Slices of avocado
Sour cream
Side salad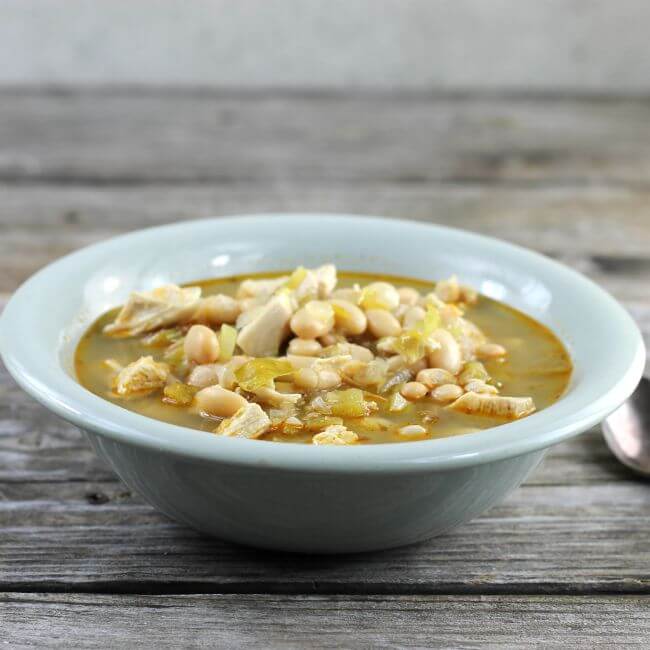 Can you freeze chili?
You can store the chili in the refrigerator for 3 to 4 days. But if you want to store it longer you can freeze in a freezer container for up to 3 months.
If you are looking for other chili or soup recipes please take a look at these recipes:
Stay in touch with me on Facebook, Twitter, Instagram, and Pinterest.