Vinegar Based Coleslaw perfect side dish with almost any meal. Make it the day before you serve it and it keeps for several days. 

Vinegar based coleslaw is a snap to make when you use a bag of shredded cabbage or coleslaw mix. It is ready in as little as 15 minutes. And the nice thing about this salad it goes great with just about anything you are serving for your meal.
I grew up on creamy coleslaw. You know the one with the mayonnaise (or in my case salad dressing) based dressing. Then Mike came along and he ate vinegar based coleslaw. To tell the truth, when I first started eating the vinegar based coleslaw I wasn't a fan.
This recipe actually comes from Mike's family. They have been making it for years. So you know it is going to be good.
There has always been something about that creamy dressing on coleslaw that made it taste so good, for me. But over the years I have to admit I really have learned to enjoy this vinegar-based one.
This recipe is not just for summer either; this is something that we make for Christmas dinner every year. It has become a tradition in our house.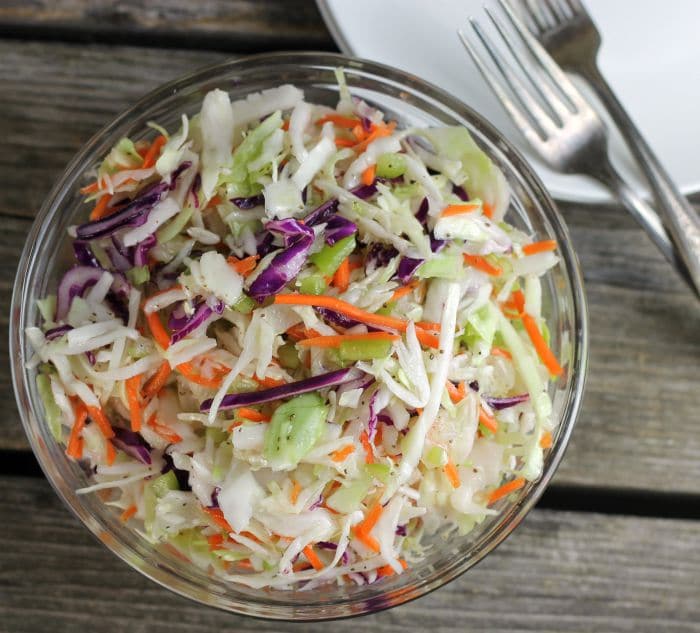 Normally when making coleslaw I shred the cabbage myself. I think that this is the first time that I have bought a bag of coleslaw mix. The mix is perfect and I was able to make this slaw in just a matter of minutes. I may not turn back to buying heads of cabbage.
Along with the coleslaw mix, you will need onion, green pepper, oil, sugar, vinegar, salt, and celery seeds. I like adding a little extra celery seed; I love the flavor that it adds to the coleslaw.
Looking for additional yummy side dishes check these out:
Cold Parmesan Cheese Pasta Salad
Vinegar Based Coleslaw
Vinegar based coleslaw is easy to make and makes a great side dish that goes with just about any meal.
Ingredients
16

ounce bag

coleslaw mix or shredded cabbage

1/2

cup

finely chopped onion

1/2

cup

finely chopped green pepper

1/3

cup

oil

3/4

cup

sugar

1/2

cup

vinegar

1/2

teaspoon

salt

3/4

teaspoon

celery seeds
Instructions
Combine the coleslaw mix with the chopped onion and green peppers

In another bowl combine the oil, sugar, vinegar, salt, and celery seeds. Mix until the sugar is dissolved.

Pour the oil mixture over the cabbage and toss until the well combined. Can be served right away or make ahead of time and place in the refrigerator.
Nutrition Facts
Vinegar Based Coleslaw
Amount Per Serving
Calories 164
* Percent Daily Values are based on a 2000 calorie diet.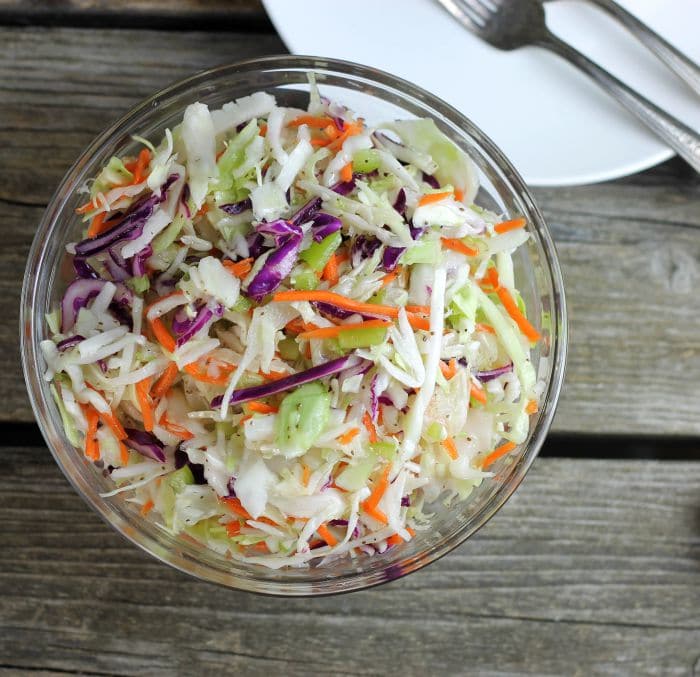 (Visited 771 times, 4 visits today)