Pesto Grilled Cheese with Salami made with provolone cheese, pesto, salami, and a slice of tomato, to take the everyday grilled cheese to the next level of goodness. Grilled cheese sandwiches are simple to make, but they are always so good.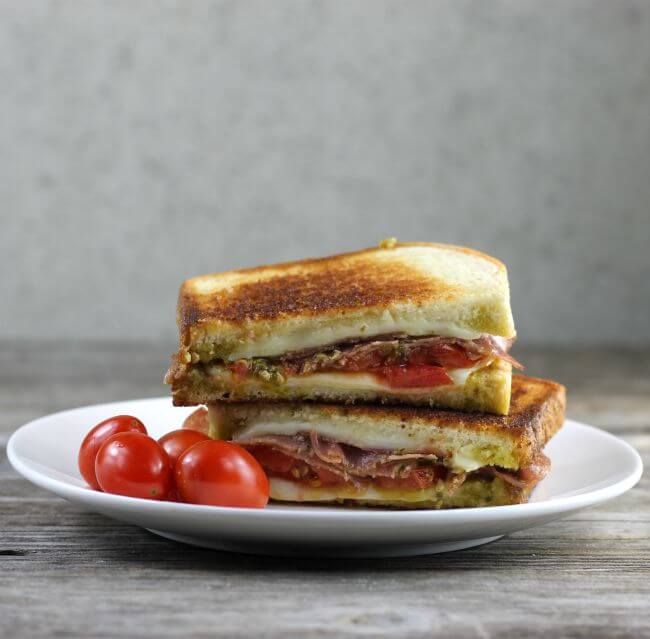 Pair this pesto grilled cheese with salami with a cup of your favorite soup and you will have one of the best comfort food combo meals.
One of my favorite things to make for a weekend lunch is grilled cheese. Realy who can resist gooey cheese with toasted bread? My favorite thing is to pair it with a bowl of soup and it is the perfect lunch for me.
When making a grilled cheese make sure to use a good melting cheese. Here are a few you might try:
American cheese with its creamy texture makes a great classic sandwich.
Mozzarella cheese makes a mild-tasting grilled cheese.
Cheddar cheese makes a great tasting sandwich. Age cheddar will not melt as well as mild cheddar.
Provolone is similar to Mozzarella with its mild flavor.
Tips for making the best-grilled cheese:
Chose the right bread. You will want to make sure that it is a sturdy bread without a lot of holes. White bread is probably used the most, but a good sourdough bread works great for this sandwich.
Choose a nice melty cheese. American makes a great classic grilled cheese. Provolone was chosen for this sandwich because it pairs well with the pesto and salami.
Choose thinly sliced salami. The salami for this recipe was purchased from the deli. It makes it super easy.
You will want to start with a cold pan so that the bread doesn't brown too quickly before the cheese starts to melt.
Make sure to use low heat.
Butter your bread to the edges so that all of the bread will brown nicely. Place the cheese to the edge of the bread so every bite you take you will have some of the gooey cheese.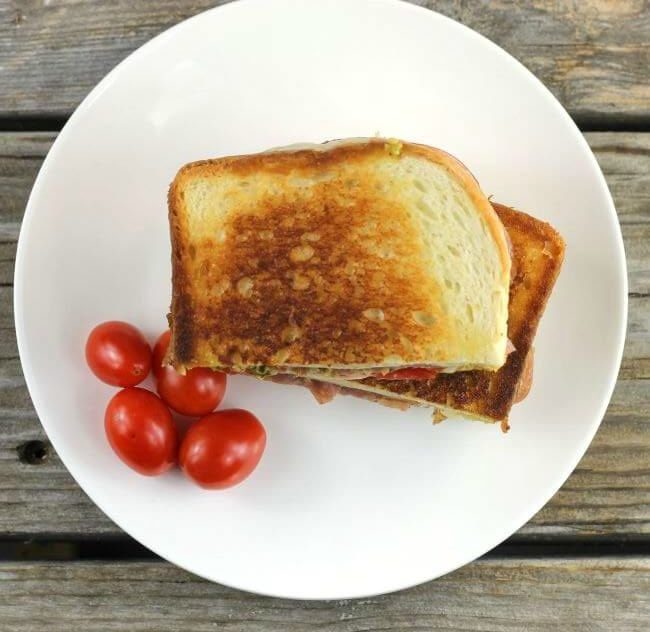 Is there a way to speed up the process to make the cheese melt faster?
Yes, cover the pan to keep the heat in to make the cheese melt faster. We often use this method for making a grilled cheese. If you are like me it is really hard to wait.
Steps for making a pesto grilled cheese with salami:
First step: Start by spreading softened butter on one side of four slices of bread.
Second step: Place in the bread cast-iron pan or a non-stick skillet and top each side of the bread with two slices of provolone cheese. Turn the heat on medium-low. Cover the pan to speed up the process.
Third step: As the cheese starts to melt top one side of the bread with the salami and pesto.
Fourth step: Once the cheese is nicely melted and the bread is golden brown top the pesto with one or two slices of tomato. Place the other slice of bread and cheese on top of the tomato and slightly press together.
Fifth step: Continue to cook until the desired doneness and the tomato is slightly heated.
If you love sandwiches as much as I do check out these recipes:
Stay in touch with me on Facebook, Twitter, Instagram, and Pinterest.