Black bean quinoa salad a hearty and healthy salad filled with chopped tomatoes, green pepper, and green onions.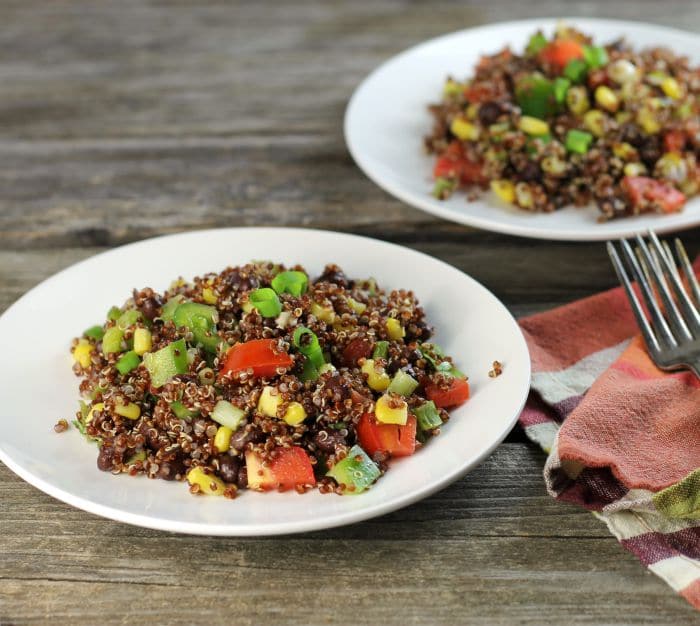 Black bean quinoa salad tossed with a lime vinaigrette will keep you filled up and satisfied. A delicious way to get your protein and fiber. 
I have been feeling a little stressed of late. Not sure if I have mentioned this, by our daughter is getting married in October. I had made a promise to myself that I would be 20 pounds lighter by the time I went dress shopping.
Well, I have been trying to do this for the past few months and, to tell the truth, I have had very little success. There is so much going on this summer it has been really hard to keep any regime of eating healthy.
And there is finding time to work out, work on my blog, and working a full-time job. Do you see where the stress is coming from? A whole lot of stress!
But this black bean quinoa salad has been a great way to help me with the promise of losing weight. I have been taking it for my lunch and I find it really fills me up and feel satisfied for hours.
I love the quinoa, black beans, and all the veggies that are added to this salad. The lime vinaigrette completes the delicious salad.
Plus let me tell you how easy it is to make. Once the quinoa is cooked add the chopped veggies, rinse and add the black beans, mix in the vinaigrette and you are done.
Looking for something healthy and delicious? Give quinoa a try, you might find that you love it.
I was inspired by this recipe here for my black bean quinoa salad.
Take a look at these healthy recipes:
Black Bean Quinoa Salad
Black bean quinoa salad a hearty and healthy salad filled with chopped tomatoes, green pepper, and green onions.
Ingredients
1

cup

quinoa

uncooked

1

cup

corn

15.25

ounces

black beans

2

roma tomatoes

about 1 cup

3

green onions

1

green pepper

about 1 cup

1

lime

juice

1/4

cup

olive oil

1/2

teaspoon

cumin

1

teaspoon

fresh oregano

chopped

1

clove

garlic
Instructions
Cook the quinoa according to the direction on the package.

Prepare the vegetables. Cut the tomatoes and the green pepper into small pieces. Slice the green onions.

For the dressing combine the cumin, oregano, and garlic. Mix in the lime juice. Slowly whisk in the olive oil.

Combine the cooked quinoa with the vegetables. Toss the salad with the lime vinaigrette.
Nutrition Facts
Black Bean Quinoa Salad
Amount Per Serving
Calories 281
* Percent Daily Values are based on a 2000 calorie diet.
(Visited 12 times, 1 visits today)