Cauliflower potato salad… you will never miss the potatoes.
Mike visited an old friend a couple of months ago, while traveling for work. His friend invited him to have dinner with him and his wife. Cauliflower potato salad was part of the meal that evening. Mike was so impressed with this dish that he asked for the recipe.
The recipe has been sitting in the drawer where I keep my cookbooks since Mike gave it to me. I had not forgotten about it, but was waiting for the right time to make it. I was kind of skeptical about the whole cauliflower thing tasting like potato in this salad. So maybe that it part of the reason that it sat in the drawer for as long as it did. With summer being in full swing now, it was the right time to take out that recipe and finally make it.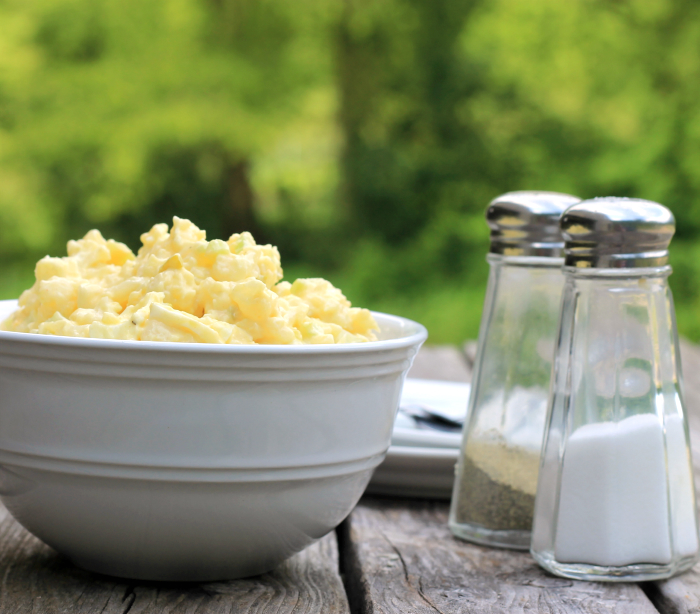 After just one bite I was hooked. Wow, I could not believe that there was cauliflower instead of potatoes in this salad. I won't say that I will always make potato salad this way from now on, but I have to say that I was really impressed. I ended up making up my dressing for this salad, the recipe stated that the cook never measures anything for the dressing; which was fine with me; I liked putting my own spin on this salad.
In the United States we will be celebrating the 4th of July. In my world potato salad is a must at any summer celebration. Why don't you give this cauliflower potato salad a try?
Ingredients
1

medium to large head cauliflower

3

hard boiled eggs

2

stalks of celery

finely chopped

2

tablespoons

onion

finely chopped

1

cup

salad dressing

mayonnaise can be used if preferred

1 1/2

teaspoon

sugar

1

teaspoon

white vinegar

1

tablespoon

dill relish

1

tablespoon

yellow mustard

1

tablespoon

milk

salt and pepper to taste
Instructions
Cut the cauliflower into bite sized pieces. In a large sauce pan add a couple of inches of water along with one teaspoon of salt and cauliflower. Boil the cauliflower until fork tender. Remove from the heat, drain the water, and rinse with cold water to stop the cooking process. Place the cauliflower in a colander and let as much of the water drain as possible.

Cut the eggs, onions, and celery and set aside.

Mix the salad dressing, sugar, vinegar, dill relish, mustard, and milk until well blended.

In a large bowl add the cauliflower, eggs, celery, onion, and dressing mix until well blended. Season with salt and pepper to taste.
(Visited 23 times, 1 visits today)