Pepperoni Dip is a simple dip to make but is full of flavor and there is no cooking or baking involved. This is a great dip to make for game day or when having friends or family over.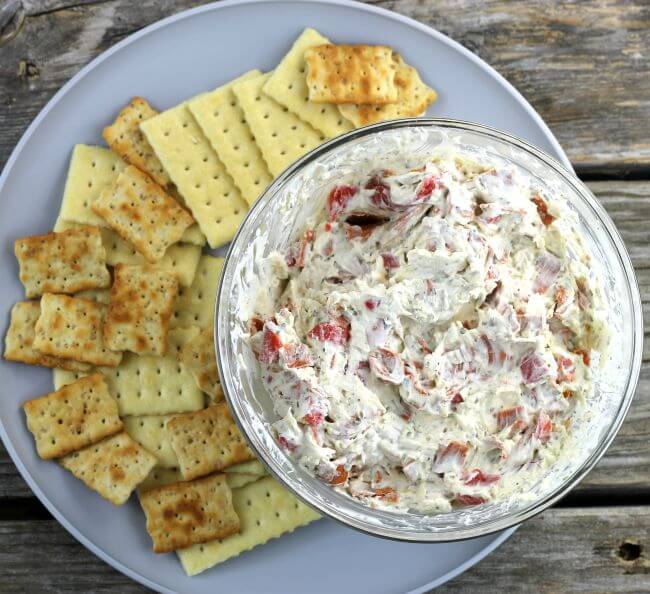 I have always been a person that loved a good dip. When I was a kid my mom would make French onion dip and serve it with potato chips. My siblings and I would get our own bowl with chips and a bit of the dip and I was in seventh heaven. Even though it was forever ago I remember how good that was.
I carry on the tradition of making dips for my family. The newest one to my repertoire is this pepperoni dip. I love the combination of the cream cheese and pepperoni in this dip.
To test this dip out I made it for our granddaughter's birthday. I knew that our son and daughter-in-law would have some of their friends over for the party. And, what better way then to test out dip than a party where everyone is sampling all of the food.
I sat back and watched while people came back for seconds and even thirds. Love that when that happens.
Now that it is fall and dips are a perfect thing to serve on game day try this pepperoni dip, so easy to make and really delicious.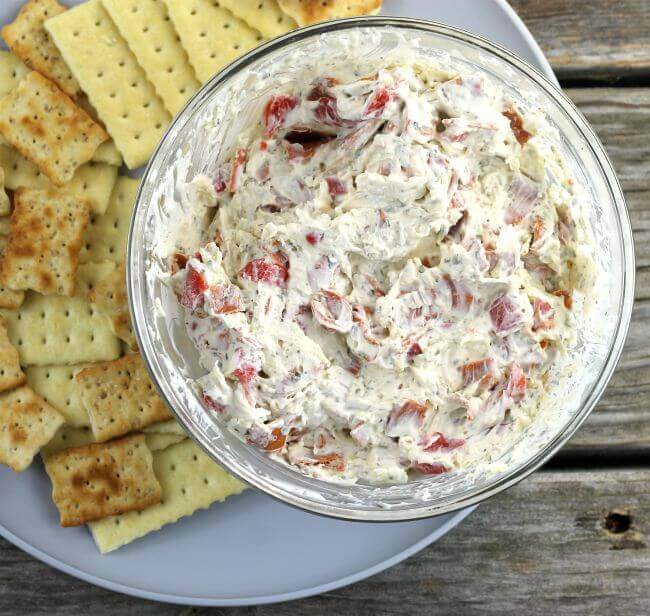 Ingredients or Substitutes:
Cream cheese – I use full-fat cream cheese, but the 1/3 less fat cream cheese should work just as well.
Sour cream – I use full-fat sour cream, but the reduced-fat sour cream should work.
Roasted red peppers – You can also replace the roasted red peppers with sun-dried tomatoes.
Herbs – dried basil, oregano, and parsley. I have used Italian seasoning and fresh basil. The fresh basil is delicious in this dip if you have it on hand.
Onion Powder- Fresh onion finely chopped can be substituted.
Garlic Powder – Fresh garlic finely chopped can be substituted.
Pepperoni – I have used Turkey pepperoni which tastes great in this dip if you are looking to cut more fat.
Shredded Mozzarella – if you prefer you can use shredded Parmesan or provolone.
Can this pepperoni dip be made in advance?
Yes, most definitely it can. It is always a good thing when you can make something in advance, especially if you are busy the day that it will be served. Just remember if you are making it the day before to give it a good stir before you set it out to eat.
What to serve with this pepperoni dip?
We love crackers with this dip
Pita chips
Toasted rounds of bread
Vegetables like carrots and celery
Tortilla chips
Steps to making Pepperoni Dip:
First step: Add the cream cheese and sour cream and beat with an electric mixer until well combined.
Second step: Mix in the basil, oregano, parsley, onion powder, and garlic powder.
Third step: Add the roasted red peppers and pepperoni and fold in.
Fourth step: Fold in the mozzarella. Cover and refrigerate until ready to serve. Stir well before serving.
Check out these other dip recipes: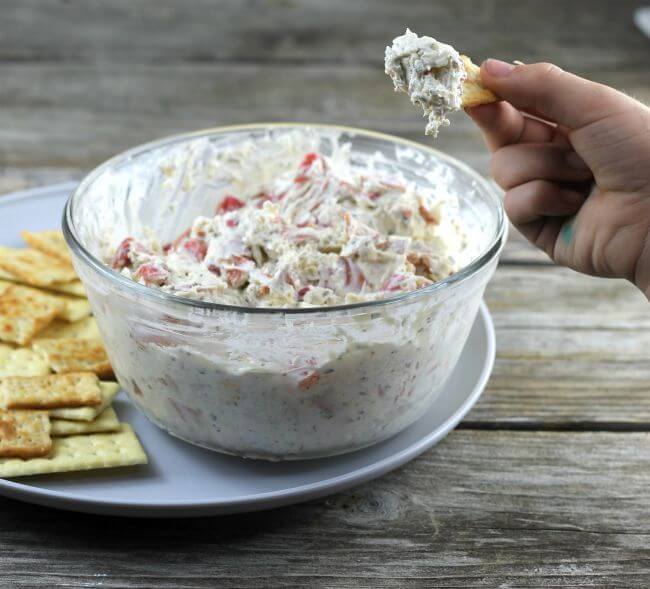 Stay in touch with me on Facebook, Twitter, Instagram, and Pinterest.
(Visited 30,331 times, 38 visits today)