Mexican Rice Bowl with Chicken.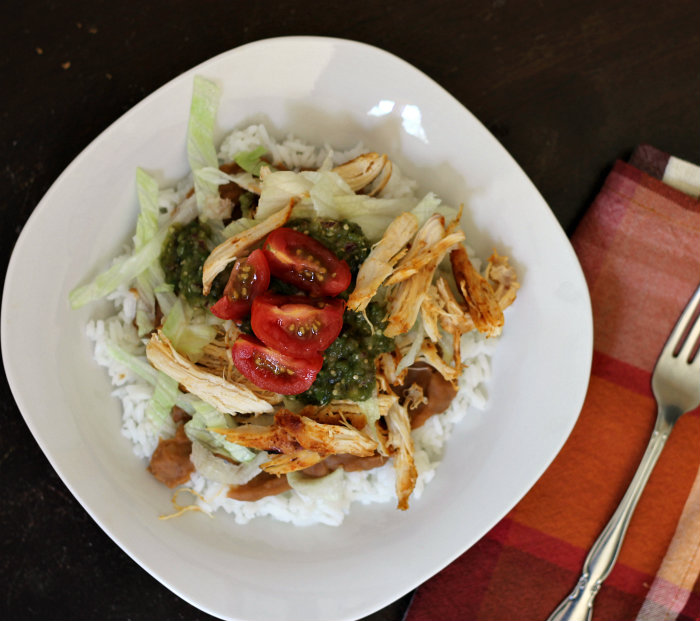 Tomorrow is Cinco de Mayo, so I was wanted to make something with a Mexican flavor. When I was growing up in Wisconsin we never had Mexican food, we were a meat and potato people. After meeting Mike I finally started eating tacos; although back then I wasn't a real big fan. But as time has gone on I have found that I  love to eat Mexican food.
I have seen a lot of rice bowl recipes floating around the internet and they always looks so delicious. I wanted to try to throw some ingredients together for my own Mexican bowl. I even bought some tomatillos for the first time… yep, I went all out on this one.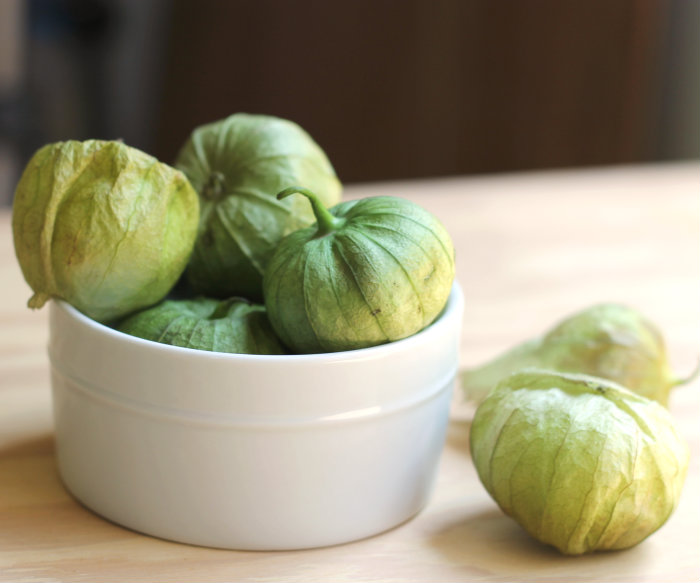 I wanted to add some of the things and flavors that I love into these bowls, like refried beans, roasted chicken, salsa (that I made with the tomatillos), cherry tomatoes, and a bit of lettuce. I used refried beans from the can, I know that it would have been better if I would have made my own, but time was a factor.
I did make my own chicken, but rotisserie chicken would be a lovely choice too. The tomatillo salsa was a bit on the spicy side and it lacked cilantro. Sorry, but I am not a fan of cilantro and I really don't use it too much.
We loved these Mexican rice bowls and I know that I will be making these again and trying different ingredients.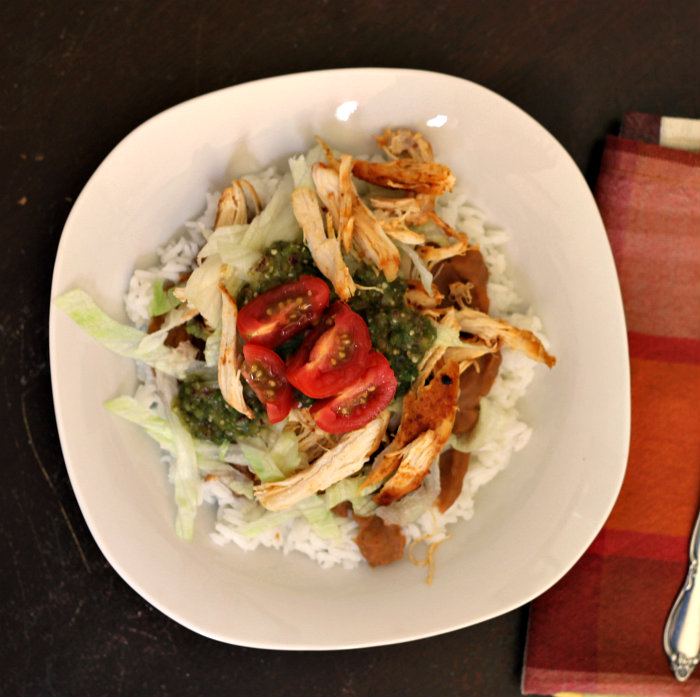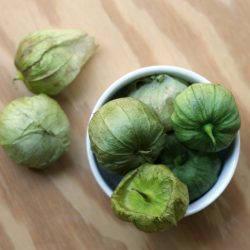 Ingredients
Roasted Chicken-

2

pounds

boneless skinless chicken

1

teaspoon

paprika

1

teaspoon

onion powder

1

teaspoon

garlic powder

1/2

teaspoon

cumin

1/8

teaspoon

red ground pepper

Salt and pepper to taste

Tomatillo Salsa -

1/2

pound

tomatillo

roasted

1

jalapeno pepper

1

poblano pepper

roasted

1/4

cup

red onion

2

cloves

garlic

Juice from one lime

Salt to taste

For the bowl-

1

cup

of uncooked rice

15

ounce

refried beans

Other toppings
Instructions
Roasted Chicken:

In a small bowl mix the seasonings until they are blended. Once they are blended rub the mix over the chicken breast. Place the chicken on a baking pan that has been covered with aluminum foil and sprayed with a non-stick cooking spray. Place in a oven that has been heated to 400 degrees F. Roast until the juices run clear turning a couple of times during the roasting period. Once the chicken is done shred using two forks.

Tomatillo Salsa:

Remove the paper shells of the tomatillos and cut in half. Place on a baking sheet that has been lined with aluminum foil and spray them with a non-stick cooking spray. Place them under the broiler for about 8 minutes and turn over and broil them for about another 4 minutes. Let cool and scoop out the centers leaving the peels to be discarded. Scoop the centers into a food processor. You will also want to place the poblano pepper under the broiler, watch it until it is charred, turn it to char the other side as well. Cool and remove and discard the skin and seeds, place into the food processor, Remove the top and seeds of the jalapeno, cut into pieces,and place into the food processor. Place the onion and garlic also into the food processor Process until well blended and quite smooth. Add the juice of a lime and salt to taste, blend to incorporate.

Mexican Rice Bowl:

I did not measure the portions of the items in that went into the bowl. I let everyone assemble their own bowls to their liking.

Cook the rice according to the directions on the package. Heat the refried beans according to the directions on the can.

Once all of the parts of the bowl are cooked and ready to go assemble the bowls

Place the rice on the bottom of the bowl top with the refried beans. On top of the refried beans add the shredded chicken. Spoon some of the tomatillo salsa and lettuce, tomatoes, and other toppings of your choice.
Notes
Feel free to use other salsa (you can buy salsa it does not have to be homemade), rotisserie chicken, and use toppings that you enjoy.
For the Tomatillo salsa, it is spicy for less spice reduce the amounts of peppers and onions.