Garlic mashed cauliflower… you will think that you are eating mashed potatoes.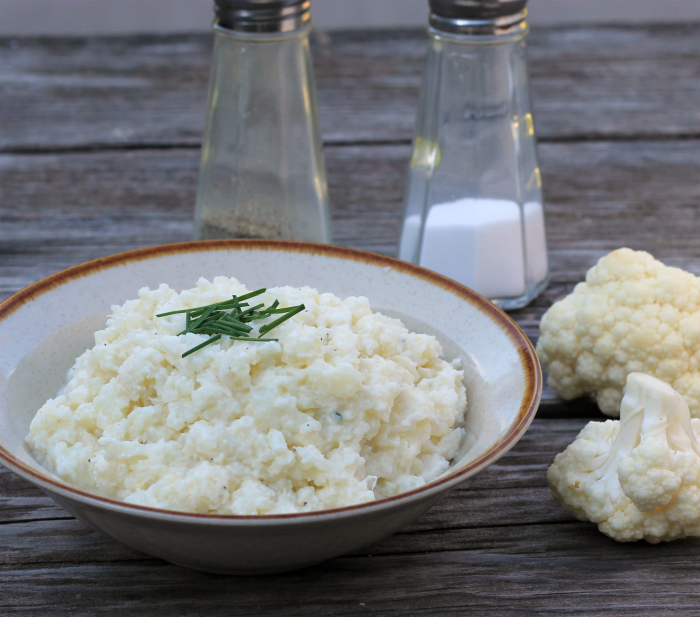 Ever since I made the cauliflower potato salad  I have been hooked or maybe a better word would be intrigued. Mike had tried the cauliflower potato salad at a friend's house. He raved about how good it was and how you could not tell that it was cauliflower. I don't think I believed it at first, well until I tried it for myself.
Now I am a true believer. And since I am a true believer, I have been determined to try new things with cauliflower. Like this mashed cauliflower, another one that you really would think that you are eating potatoes, if you did not know that it was cauliflower. Especially since this dish is dressed up with garlic and sour cream.
I am hoping to try different recipes along the way. I am really excited about this whole cauliflower thing. Don't get me wrong, potatoes will always be one of my favorite sides, but it is fun to change things up once in a while. Also, if you are watching your carbs this is  a great way to do it and truthfully I don't think you will ever miss not eating potatoes.
Ingredients
4 to 5

cups

of cauliflower florets

5

cloves

garlic

salt to taste

water

1/2

cup

sour cream

1

tablespoon

butter

pepper to taste
Instructions
Break down the cauliflower into bite size florets. In a medium sauce pan add about an inch of water, salt, cauliflower, and garlic. Bring to a boil over medium high heat, once the water starts to boil turn down to medium and continue to cook until the cauliflower is fork tender or a bit soft. Remove from heat and drain the water. Make sure that the water is drained completely.

With a potato masher mashed the cauliflower and garlic until completely mashed (to your liking). Add the sour cream and butter and stir in. Add additional salt and add pepper to taste.