Easy Southwest Soup made with chicken, black beans, tomatoes, peppers, corn, salsa, and southwest seasonings. A delicious healthy soup that the whole family will love.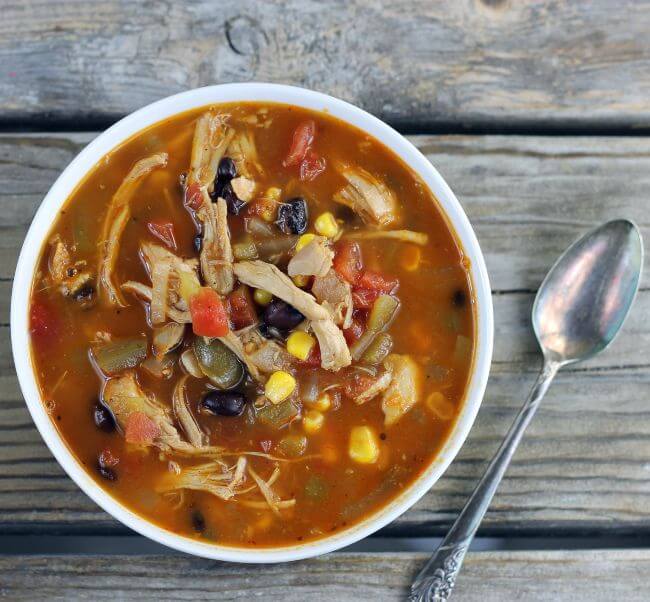 One of my favorite comfort foods to make is soup. It can be made in so many different ways and really warms you up during these cold winter months.
My time is usually pretty limited, so I love making soups that are easy to make and come together fast. I love a bowl of hot soup for lunch during the winter months, so I make a kettle full of soup, that way I can heat it up during the week for an easy lunch.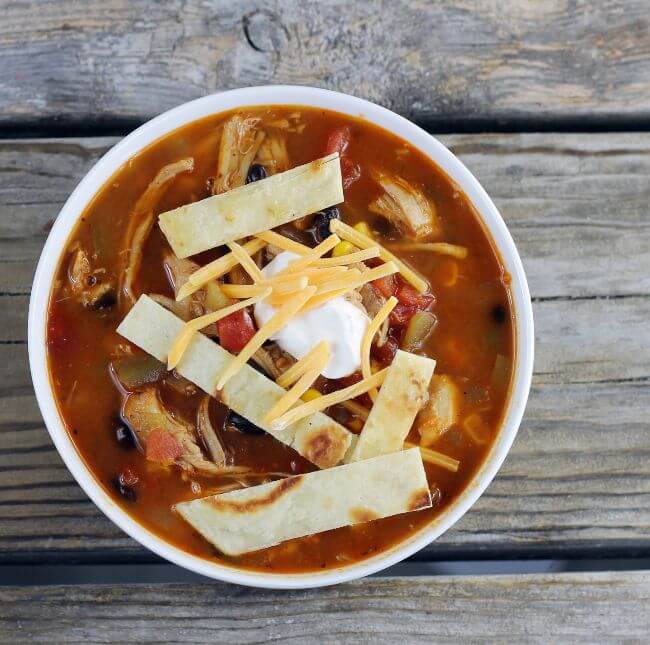 Our family loves the flavor of Mexican food and this easy southwest soup is one of our favorites. You will love the beans and the veggies that help to flavor this soup.
Helpful Tips:
I used chicken thighs for this recipe, but you can use chicken breast, leftover chicken, or even rotisserie chicken.
Switch out the chicken with ground beef or shredded pork for a different flavor. If using ground beef I would use a beef broth instead of the chicken broth.
The soup is not overpowering when it comes to spiciness, so if you like more heat add additional seasoning to the soup. If you decide to add additional seasonings add them gradually and taste after each addition.
When it comes to adding salt to this soup or other soups I like to add to it when the soup has come together. As with any seasoning add gradually and taste after each addition. I like to say that you can always add more, but you can't take it away when you add too much.
You can top the soup with fried tortilla strips, cheddar cheese, sour cream, or your favorites.
When reheating soup I like to heat it in the microwave. This is the easiest way to do so, just simply heat until the desired temperature. Or if prefer you can heat on the stove.
This soup can be frozen, just make sure to freeze it in a container that is freezer-proof.
Steps for making Easy Southwest Soup
Step one:
In a large Dutch oven heat olive oil over medium heat. Add the chopped onion, green pepper, and garlic. Cook the vegetables until tender about 6 to 8 minutes.
Step two
Once the vegetables are tender add the chicken, black beans, corn, diced tomatoes, and green chiles. Stir until well combined.
Step three
Stir in the seasoning except for the salt and pepper.
Step four
Add the broth and season with salt and pepper to taste.
Step five
Bring to a boil, then reduce the heat and cook for another 30 to 45 minutes.
Looking for additional soup recipes? Check these out:
Stay in touch with me on Facebook, Twitter, Instagram, and Pinterest.
This recipe was originally published on January 12, 2013. It has been updated with new content and pictures on January 4, 2021.