It's Friday and I have a yummy chocolate recipe on the way. What could be better? Not a lot of I can think of…  I hope you enjoy these chocolate cheesecake mousses in a single serving recipe.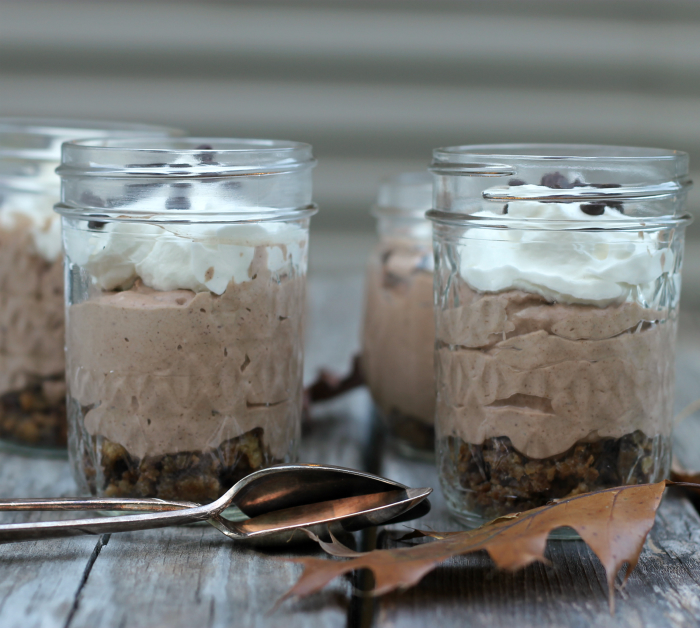 I am talking about how much I love chocolate, which I do. But I was looking around my blog and I noticed that I haven't featured a chocolate recipe in quite a while. So I decided that it was high time to feature something that is full of chocolate goodness.  Also I had a lot of the family around, so I knew that most of this dessert would be eaten before they left. Yeah, even though I do love my chocolate I try not to eat too much of it. You know it likes to go straight to the hips.
This was a dessert that my daughter Krista and I worked on together. We had mentioned the word dessert to the rest of the family and we were told that chocolate cheese cake would be appreciated. I thought it would be fun to go with individual desserts, so I brought up some of my jelly jars from the basement to use for that purpose.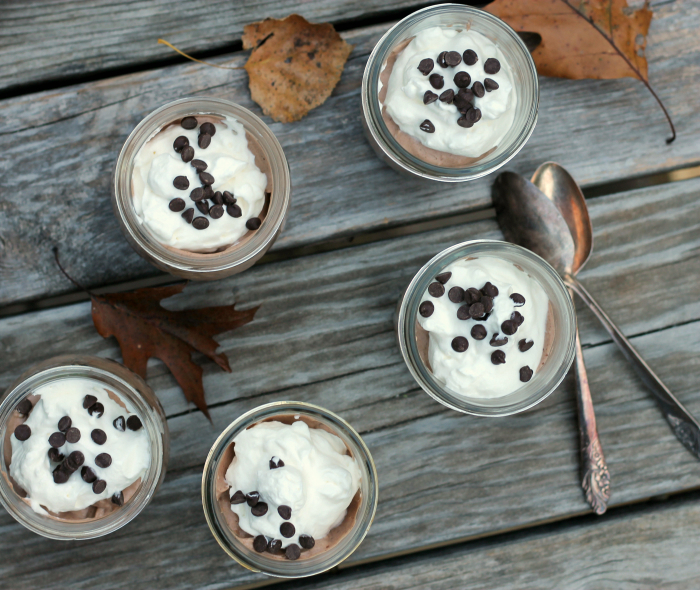 I didn't have graham crackers for the base of the dessert, but I did have chocolate chip cookies in the house, so I used the cookies for the base. I was told that it was a good choice. The dessert is a no bake chocolate cheesecake mousse, so it whips in a hurry. The cream cheese and the whipping cream make for a smooth and creamy filling.
By the time the dinner was completed there was only one serving left of the chocolate dessert, which was claimed by our youngest son. So no worries for those hips of mine…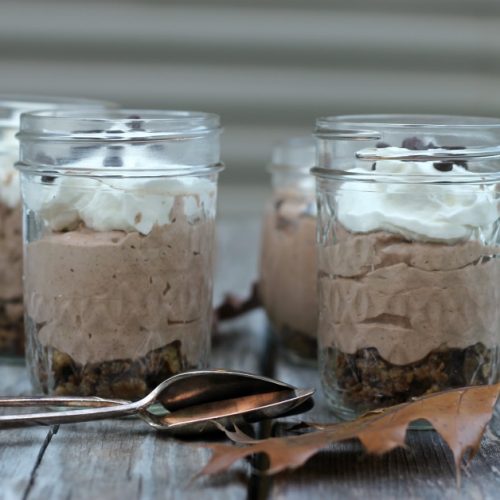 Chocolate Cheesecake Mousse - Single Serving
Ingredients
Crust-

1 1/4

cup

crushed chocolate chip cookies

your favorite

4

tablespoons

melted butter

Filling-

8

ounces

cream cheese

room temp

2/3

cup

semi-sweet chocolate chips

melted

1 1/2

cups

heavy whipping cream

1

cup

powder sugar

1

teaspoon

vanilla

Topping-

Sweetened whipped cream

optional

mini chocolate chips

optional
Instructions
In a small bowl add the crushed chocolate chip cookies and melted butter. Mix until well blended. Divided evenly between the jars, glasses, or other containers. Press the cookie base into the bottom of the jar. (I used a whisk that had a larger bottom to press the crust down). Set aside.

Melt the chocolate chips in the microwave making sure to do it in short spurts, mixing the chip in between each spurt, until melted. Set aside to cool. For the filling whip the cream cheese with an electric mixer until it is fluffy. Add the heavy whipping cream to another medium bowl and whip until stiff peaks form. Add the whipped cream to the cream cheese and mix in. Add the cooled chocolate and mix in. Add the powder sugar and mix in, add the vanilla and mix in until well blended.

Divide evenly into the glass jars. Top with sweetened whipped cream and mini chocolate chips or whatever you prefer.