Baked Italian macaroni and cheese… perfect comfort food.
To be perfectly honest with you I have never been a big fan of macaroni and cheese. I am not sure why, but it is usually one of those foods that I can take or leave. I know it is known to be one of those perfect comfort foods, or for most people at least. Then why am I featuring another macaroni and cheese recipe? I know I had one a couple of weeks ago.
Well you see just because it is not my favorite, I live in a house with others that would eat macaroni and cheese every day of the week. And since my family enjoys mac and cheese as much as they do, I enjoy making it for them. Really, isn't one of the biggest joys of cooking is  to see other people enjoying the food that you have prepared? Or at least it is for me.
So, I have been tinkering around with different ideas for new mac and cheese recipes, or at least new to my family.  Mozzarella cheese is always a hit in my house, so I decided to combine it with some Italian seasoning for this Italian macaroni and cheese. I had contemplated adding some green peppers and pepperoni to the dish, but decided to do that another day.
I have to admit that I did enjoy this macaroni and cheese with the mozzarella and the Italian seasoning. This recipe may make me into a macaroni and cheese lover like the rest of the family.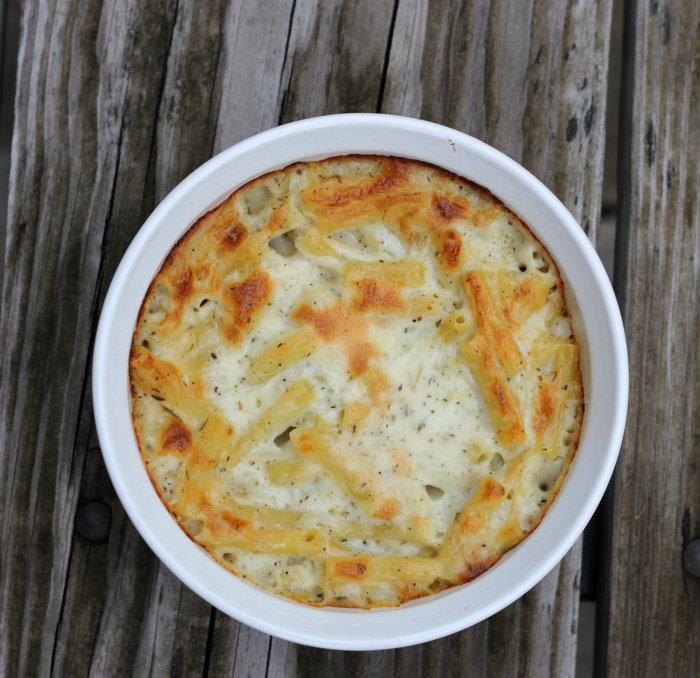 Baked Italian Macaroni and Cheese
Ingredients
2

cups

uncooked pasta

I used ziti

2

tablespoon

butter

2

tablespoon

flour

1 1/2

cup

milk

2

cups

mozzarella cheese

1 1/2

teaspoon

Italian seasoning

Salt and pepper to taste
Instructions
Preheat oven to 350 degrees F.

Cook the pasta according to the package.

In a skillet melt butter, once the butter is melted add the flour and stir until blended and smooth.

Add the milk gradually stirring constantly; cook over medium high heat until the mixture starts to thicken. Add the cheese and stir until melted and blended, once the cheese is melted add the Italian seasoning, salt, and pepper and mix until well blended. Add the cooked macaroni mixing until the macaroni is coated with the cheese mixture.

Transport to a baking dish and place into a preheated oven. Bake for about 30 minutes or until the top of the macaroni and cheese starts to turn golden brown.