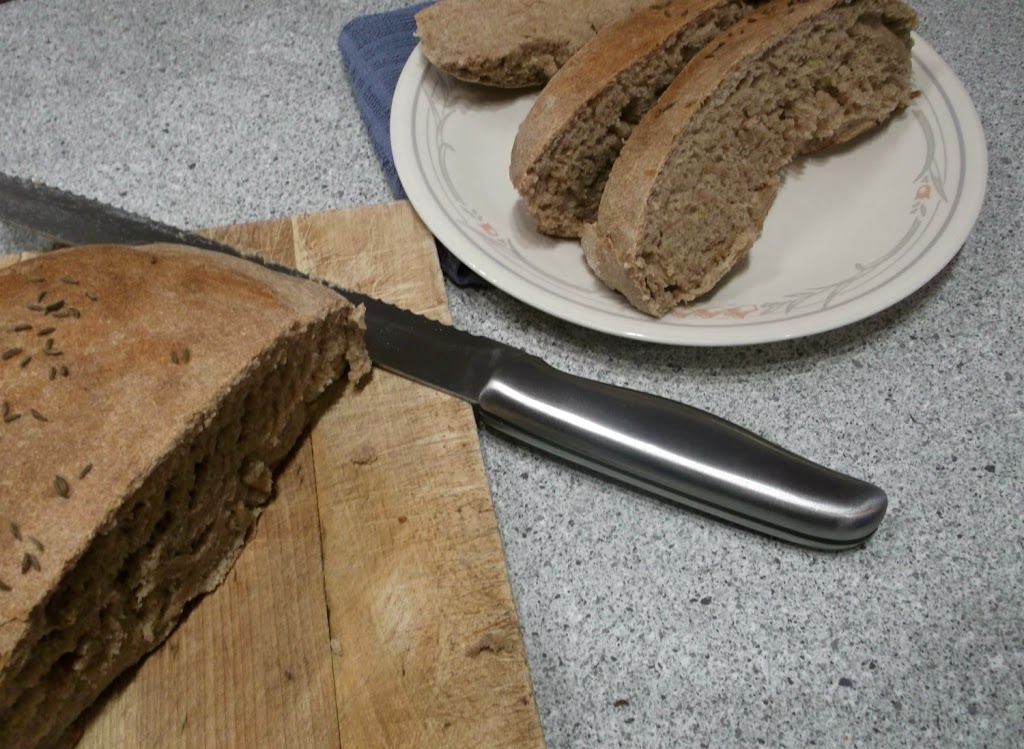 I had purchased some rye flour for the first time a couple of weeks ago and was anxious to try making some bread with it. Since it was my first time to bake with this type of flour I did a little research.
I found that if you don't use white flour along with the rye the bread will be too dense. After baking the bread I see that statement is so true.
I read in one of my cookbooks that the best flavored rye breads use sourdough starters. I really liked the idea of sourdough rye bread, but I had a problem with that. You see the starter had to be started a few days before the bread was made so that it can ripen. I didn't have a few days for this to happen.
So I was a little disappointed until I found a recipe that offered an alternative to the starter. The recipe that I found said that buttermilk could be substituted for the starter. I was all for that, so that is what I decided to do.
The recipes directions said to mix all the flour in at one time, that made me a little nervous, so I held two cups of flour back and thought that I would work it in gradually. It was a good thing that I did because I ended up not using the two cups of flour.
Over all the bread had a great flavor and a nice smooth dense texture to it. I have to say that we enjoyed it, but I wouldn't mind making a sourdough starter to see if it would make a difference in the bread.
Polish Sourdough Rye Bread (Source: adapted from easteuropeanfood.about.com)
Makes 2 loaves of bread
Ingredients:
3 cups rye flour
3 cups all-purpose flour
1 tablespoon salt
1 package (2 1/4 teaspoons) instant yeast (not rapid rise)
2 tablespoons butter, softened
1 1/2 cups buttermilk
1 cup warm water
1 tablespoons caraway seeds (optional)
Directions:
In a large bowl, coming the rye and white flours, salt, yeast, butter, buttermilk, and water. Knead 10 minutes by hand. Grease bowl and turn bread to coat both sides. Cover dough and let rise in a warm place until doubled, about 1 hour.
Punch down dough, knead 1 minute and divide in half. Shape each half into a round and place on lightly greased baking sheet. Cover and let rise 30 minutes or until almost doubled. Heat oven to 400 degrees F.
Brush risen rounds with egg white and sprinkle with caraway seeds. Bake 35 to 40 minutes, the bread should sound hollow when tapped. Cool on wire rack.
(Note the original recipe called for 4 cups of each flour, if your bread is too stick feel free to use a little more than what I used).