Home made Pan Cubano (Cuban bread)… delicious!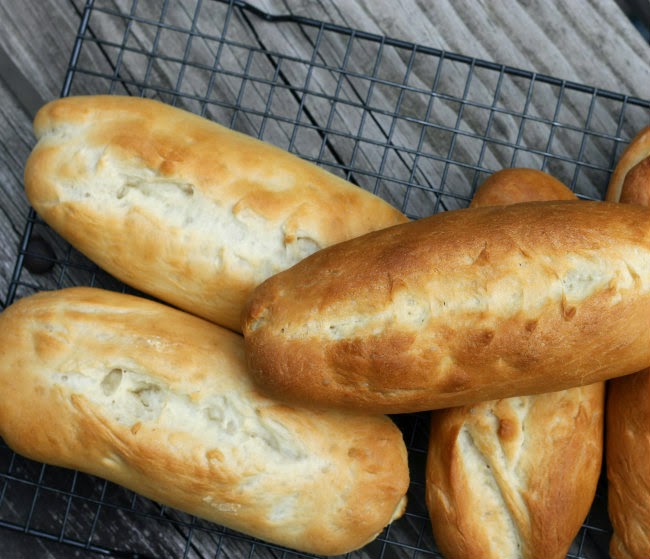 We were vacationing in Florida couple of years ago when we ate at a small Cuban restaurant. Mike and I both had sandwiches. I don't exactly remember what we had; all I remember is that we both enjoyed the sandwiches a lot.
Ever since that day we have talked about trying to make some Cuban sandwiches at home. It seems like we were always putting it on the back burner for another day.
Then this past weekend we couldn't decide on what to have for dinner on Sunday. Mike mentioned that we have never made the Cuban sandwiches that we talk so much about. So it was decided Cuban sandwiches for dinner.
I didn't just want Cuban sandwiches with any old bread, so I decided to look for a recipe for Cuban bread. I found a great bread recipe plus a recipe for great Cuban sandwich at the King Arthur Flour website.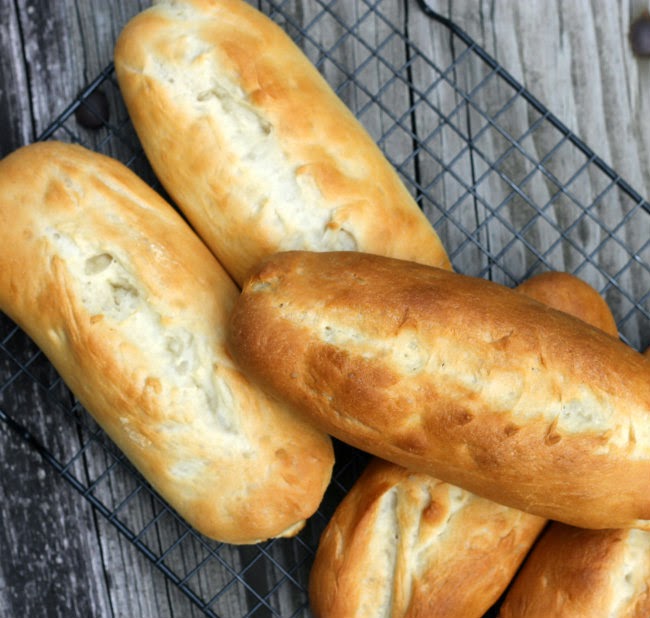 The bread called for lard, which I did not have, but the recipe stated that you could substitute butter for the lard. Let me tell you the bread and the sandwiches turned out to be amazing.
I wanted to share the bread recipe first. Since you have to make the bread before you make the sandwich. So I will be sharing the recipe for the sandwich the next time I post, which will be Wednesday.
Since it has been a while since I ate the sandwich at that little Cuban restaurant, I am not sure if our sandwich is as authentic as that sandwich was, but it is truly one amazing sandwich.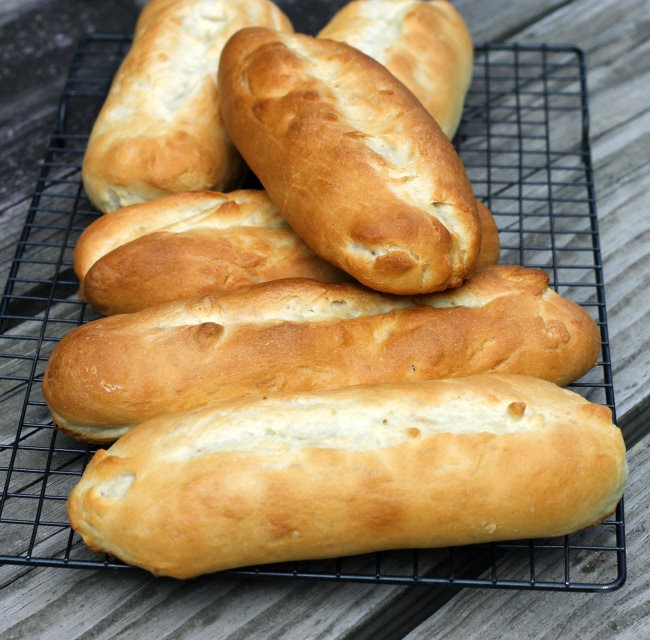 Pan Cubano (Cuban Bread) (Source: adapted from kingarthurflour.com)
Ingredients:
3 to 3 3/4 cups all-purpose flour
4 teaspoons sugar
2 teaspoons salt
2 1/4 teaspoons instant dry yeast
4 tablespoons butter or 3 tablespoons fresh lard
1 1/4 cups water
Directions:
1. In a large bowl combine all of the ingredients except for the flour, add 3 cups of flour and as you work with the dough add the remaining amount. Stir until the dough starts to leave the sides of the bowl.
2. Knead the dough adding the remaining flour until the dough doesn't stick to your fingers. Your dough will be a bit sticky to the touch but it will cling to your fingers.
3. Continue to knead the dough for about 6 to 8 minutes or until it is smooth.
4. Grease the bottom of the bowl and turn the bread to grease both sides of the bread.
5. Cover and let rise for about an hour until it is puffy not necessarily double in bulk.
6. After 30 minutes turn gently fold the dough in upon itself and turn it upside down, continue to let it rise for another 30 minutes. This turn will help eliminate some of the excess carbon dioxide and redistributes the yeast's food, both imperative for optimum yeast growth.
7. Divide the dough into six pieces, and shape each piece into a rough log. Let the logs rest for 15 minutes, covered, then shape each piece into a smooth batard shape ( a log about 8 inches long, slightly tapered at each end).
8. Place the loaves on a lightly greased baking sheet.
9. Let the loves rise, covered, for 1 hour. Brush or spray them with water, and slash one long lengthwise slit down the middle of each loaf.
10. Preheat the oven to 375 degree F while the loaves are rising.
11. Bake the bread for 15 to 20 minutes or until it's golden. Remove them for the oven and cool on a rack.
12. The loaves may be made on day in advance and stored at room temperature, or several weeks in advance and frozen.