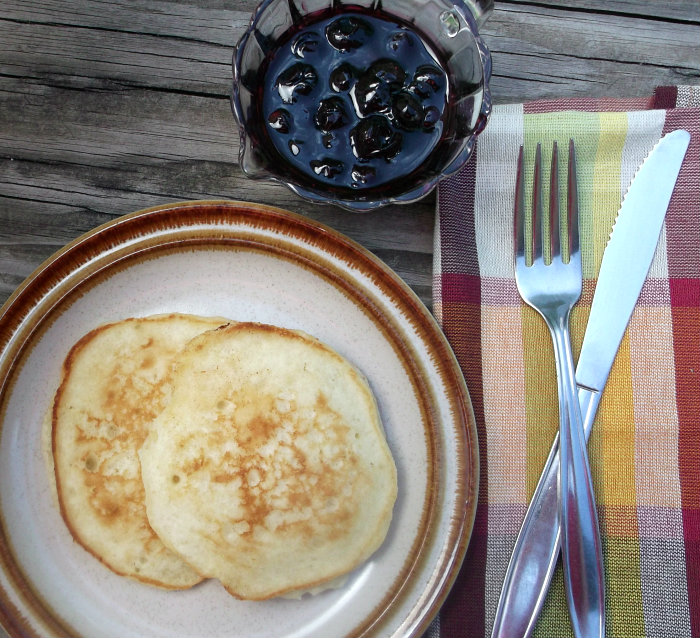 Growing up my mom didn't make pancakes too often. They were reserved mostly for Lent on Fridays when we couldn't eat meat. When she made them they were the classic pancake no frills, usually they were served with dark corn syrup. But nonetheless we loved them and we would lick our plates clean.
When I got married I made pancake more often, not just during the Lenten season, but once again they were just the classic pancake. It wasn't until I started this blog that I discovered a whole new world when it comes to pancakes.
My latest discovery is lemon; I guess I am kind of on a lemon kick right now anyway. So I believe that's what got me thinking about these pancakes. And one of my favorite is things to pair with lemon is blueberry, so I couldn't pass up the thought of making a blueberry sauce to go with these.
I ended up making these for a late Sunday breakfast and the first word that I heard about these pancakes was "amazing". The batter is a very thick, but the result is a very light fluffy pancake. The lemon flavor is not overbearing, just a nice light lemony flavor; and I was correct with making a blueberry sauce it paired perfectly with the lemon in the pancakes. I will post the blueberry sauce with my next post.
Lemon Pancake (Source: Joy Of Cooking 75th Anniversary Cookbook)
Whisk together in a large bowl
1 cup all-purpose flour
1/3 cup sugar
1 1/2 teaspoons baking powder
1/2 teaspoon baking soda
1/4 teaspoon salt
Combine in another bowl:
3/4 cup sour cream
1/3 cup milk
Finely grated zest of 2 lemons
1/4 cup fresh lemon juice
3 tablespoons butter, melted
1 egg
1 1/2 teaspoons vanilla extract
Quickly mix the liquid ingredients into the dry ingredients. The batter will be thick and bubbly. Cook on a hot skillet or griddle. (It is best to test the griddle before cooking the pancakes. Let a few drops of cold water fall on it, if the water bounces and sputters, the pan is ready to use. Grease the pan with butter before cooking pancakes. Turn the cakes only once, and cook only until the second side is done. The second side takes only half as long to cook as the first and will not brown as evenly. Pancakes are best by serving them immediately.