Blueberry Oat Breakfast Cookies made with fresh blueberries, old fashion oats, honey, brown sugar, and a hand full of other ingredients. You can eat these cookies for breakfast if you like, yum. Or you can have them any time of the day you are looking for a little sweetness in your life.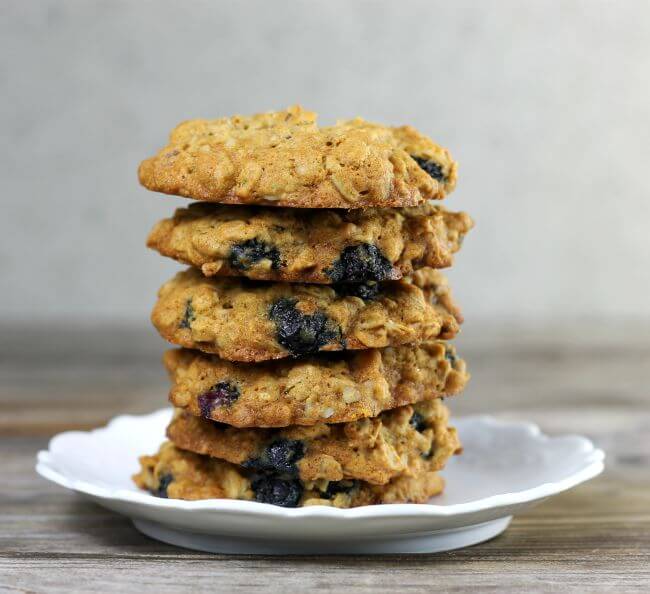 I really enjoy a good cookie, no matter what time of day it is. I call these breakfast cookies because I tried to make them a little on the healthier side. Instead of using all sugar, I replaced some of the sugar with honey.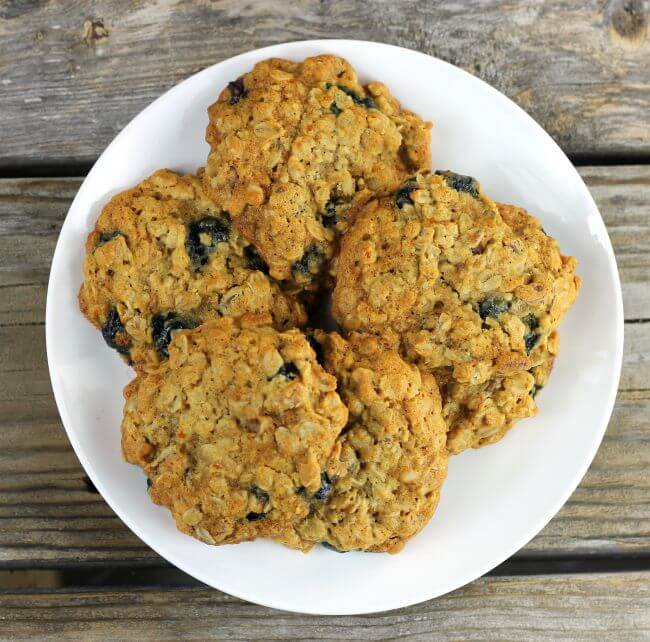 The sweetness is cut in about half if you are looking for something sweeter you can add some additional sugar, but I think that you will love them the way they are.
They are loaded with nuts and old fashion oats that give this cookie a nice chew.
Helpful Tips:
I like using old fashion oats in this recipe. I think that they give the cookie a little extra chewiness. Don't worry if you don't have old fashion oats or if you don't like them you can use quick oats instead. The quick oats will not change the flavor of the cookies.
Wash and dry the blueberries. Remove any stems that may be still attached.
As with most cookies, you will want to use butter and eggs that are room temperature. Remember to get them out of the fridge about 30 minutes before you start baking so that they can warm up.
Remember not to overmix these cookies. Overmixing develops the flour in the cookies and can make for a tough cookie.
In fact, we like to eat them straight out of the freezer once in a while.
Gently fold in the blueberries. I like to use a spatula to do this and mix as gently as I can. Being too aggressive you will end up with blueberries that are smooshed and your cookies will end up with a blue tint to them.
I like using pecans and walnuts in this recipe, but if you prefer another kind of nut go for it. I think any kind of nut that you enjoy would be fine for this recipe.
These cookies are best when eaten fresh, so if you have them for more than a couple of days place them in the freezer.
These cookies freeze very well. Store them in an airtight container and put them in the freezer. In fact, we like to eat them straight out of the freezer once in a while.
Steps for making Blueberry Oat Breakfast Cookies
Step one
Preheat the oven to 350 degrees F. Line a baking sheet with parchment paper or a baking mat.
Step two
In a small bowl combine the flour, oats, baking soda, and salt. Set aside.
Step three
In a medium bowl combine the butter, honey, and brown sugar mix with an electric mixer until well blended and fluffy.
Step four
Add the egg to the butter mixture and mix it in. Blend in the vanilla next.
Step five
Add the flour mixture to the batter and mix just until combined.
Step six
Add the nuts and fold in. Fold the blueberries into the batter gently avoiding breaking them.
Step seven
Drop by heaping teaspoons onto the prepared baking sheet. Bake for 10 to 12 minutes or until the cookies are golden brown.
Step eight
Cool completely on a cooling rack before placing them into an airtight container.
I have more cookie recipes. Check these recipes out: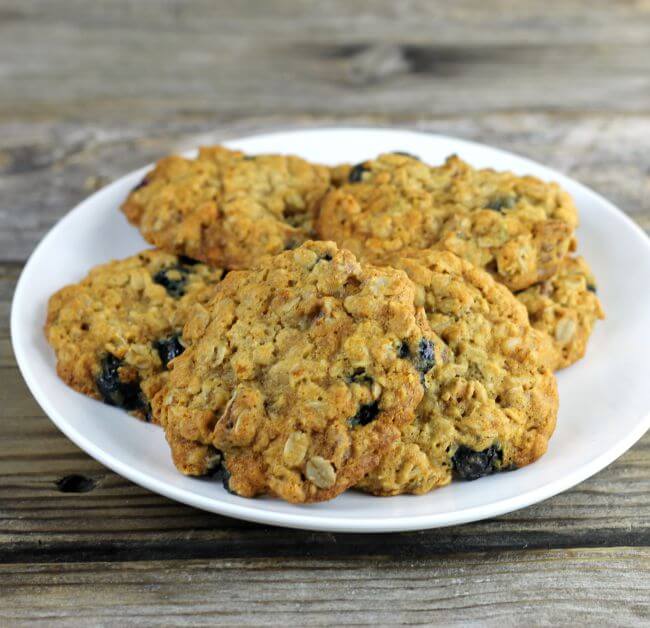 Stay in touch with me on Facebook, Twitter, Instagram, and Pinterest.
This recipe was originally published on July 5, 2014. It has been updated with new content and pictures on August 13, 2020.