White Chocolate Pistachio Macaroons is one of my favorite cookies that I make. I love coconut so you can see why macaroons would be one of my favorite treats that I make with it.
It wasn't that long ago that Mike wouldn't touch anything that happened to have coconut in it. Then for some reason when he was traveling he decided that he would purchase some macaroons for a treat and from thereafter he loves the things.
Believe me, I was thrilled that he finally discovered that coconut was a good thing. Since then I have been trying different combinations and I find that these white chocolate ones are probably my favorites.
Helpful Tips:
When separating the egg whites from the egg yolks, do this when the eggs are cold. The yolk is firmer at this point and will not break as easily.
Make sure not to have any egg yolk in the egg whites. Even the smallest amount of yolk will prevent the egg whites from whipping up into the soft peaks you are looking for.
Make sure that the bowl that you are using is grease-free. Do not use a plastic bowl, use bowls that are either glass or stainless steel for best results.
Chop the pistachio into small/fine pieces. You will not want the pieces too large for these cookies.
Use a parchment-lined baking sheet. If you don't have parchment paper you can grease the baking sheet with shortening, but the cookies will not remove as easily.
An ice cream scoop works well for making the cookies. If you don't have one use a tablespoon and scoop out about 2 tablespoons for each cookie. You may need to adjust the cookies into a mound.
Step for making White Chocolate Pistachio Macaroons
Step one
Preheat the oven to 325 F. Line baking sheets with parchment paper.
Step two
Separate the two egg whites from the egg yolks. Put the egg whites in a medium bowl and refrigerate the yolk to use later. (Note: make sure the eggs are at room temperature before you beat the egg whites.
Step three
Add the sugar and cream of tartar to the egg whites and beat until the egg whites forming soft peaks, about 3 to 5 minutes. Beat in the vanilla.
Step four
Add the coconut and the pistachios and fold in until well combined.
Step five
Drop by tablespoons or by an ice cream scoop onto the prepared baking sheet.  Help to form the mounds if they need to be fixed.
Step six
Place the cookies in the oven and bake for 18 to 20 minutes or until they are lightly browned.
Step seven
Once the cookies are baked remove from the oven and cool completely on a cooling rack.
Step eight
Once the cookies are cooled melt the white chocolate and drizzle over top of the cookies. Store cookies in an airtight container.
If you are looking for more cookie recipes take a look at these recipes: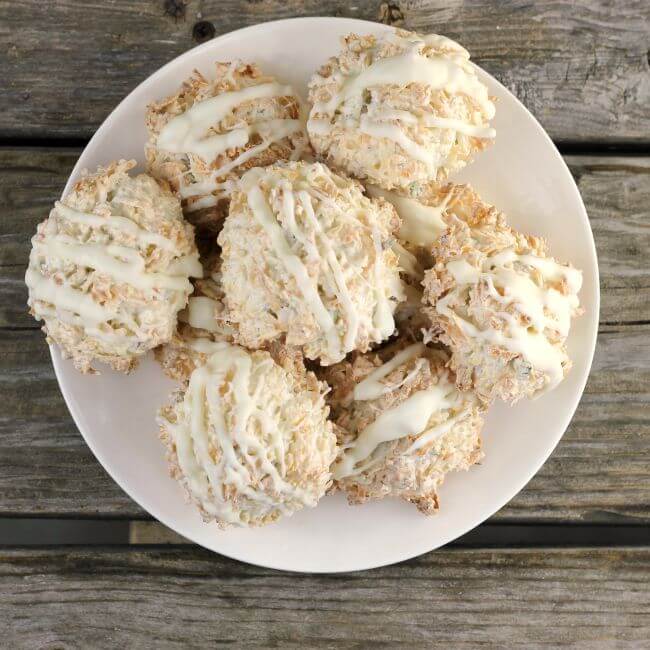 Stay in touch with me on Facebook, Twitter, Instagram, and Pinterest.
(Visited 244 times, 1 visits today)