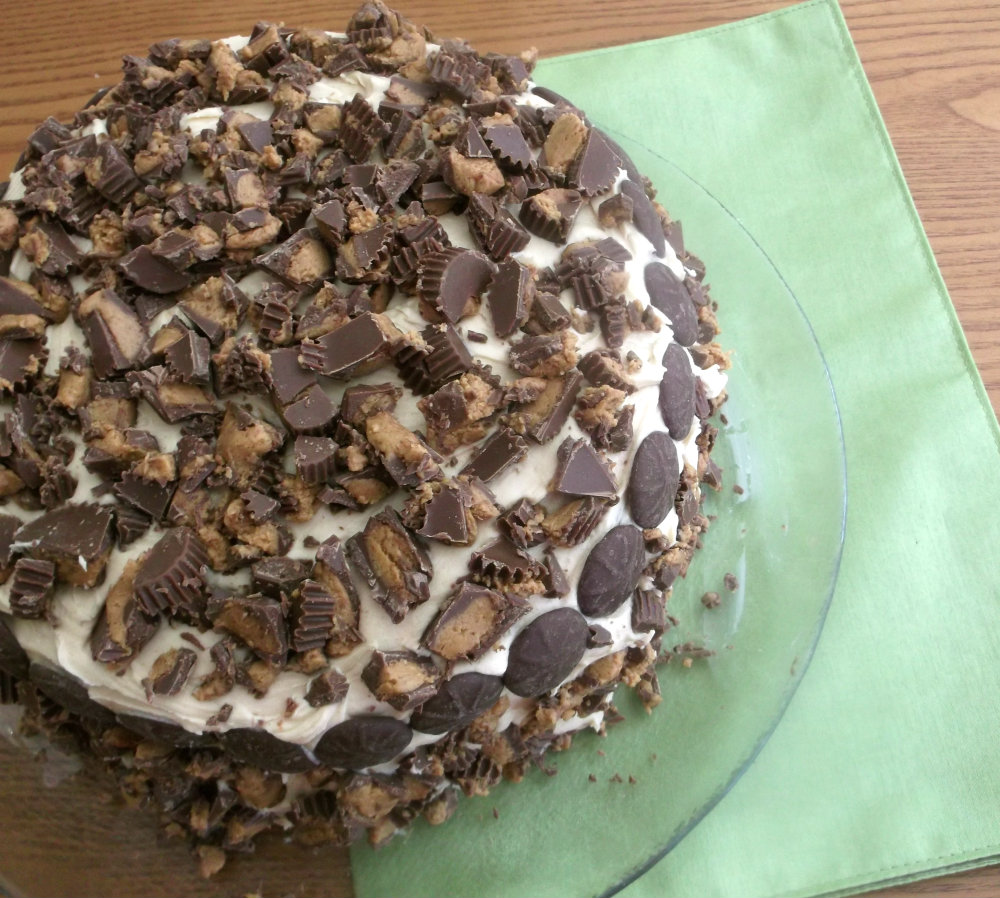 I pinned this recipe at least a few months ago. It really blew me over when I saw the cake, it was amazing and the recipe sounded amazing too. It is chock full of peanut butter cup and chocolate and the frosting is a creamy peanut butter frosting.
When I found this recipe I knew that I was going to save it for a special occasion, such as my daughter's birthday. Lisa loves chocolate and peanut butter so I knew that it would be the ultimate birthday cake. It turned out that not only did she love it; the rest of the family loved it also, except for Mike who is the only one that doesn't like peanut butter.
Seriously, if you like peanut butter and chocolate you have to make this cake. It will blow your socks off it is that yummy!
Ultimate Chocolate and Peanut Butter Cake (Source: Adapted from delightlyfulldowling.com)
Cake ingredients:
1 box of chocolate cake mix
1 small package of Jello instant chocolate pudding mix
1 cup sour cream
1 cup vegetable oil
4 eggs beaten
1/2 cup milk
1 teaspoon vanilla extract
2 cups mini Reese's Peanut Butter cups, chopped
Cake directions:
1. Preheat oven to 350 degrees F.
2. In a very large bow, mix together everything except the Reese's Peanut Buttercup. Batter will be very thick, stir in the Reese's Peanut Butter cups. Pour batter into cake pans that have been greased and floured. Bake for about 10 minutes more than the cake box suggests or when checking with a tooth pick it comes out clean.
3. Note: I used 2 8-inch cake pans; I think they would do better in 2 9-inch cake pans or divide the batter into 3- 8 inch cake pans.
4. Remove from cake pans and set on cooling racks and cool completely.
Frosting Ingredients:
1 cup butter, at room temperature
1 cup smooth peanut butter
4 cups powdered sugar
1/4 teaspoon salt
1 teaspoon vanilla
1/2 cup whipping cream
Frosting directions:
1. In a mixing bowl, cream butter and peanut butter until fluffy. Add sugar and continue creaming until well blended. Add salt, vanilla, and whipping cream, blend on low speed until moistened. Then beat at high speed until frosting is fluffy.
2. Frost cooled cake. I frosted the top of the first cake and top of the frosting a sprinkled chopped Reese's Mini Peanut Butter cups. Place the other cake on top and continue to frost the rest of the cake. Chop more Reese's Mini Peanut Butter cups and garnished the cake. I bought a 2.5 pound bag and used almost the whole bag. I did take some chocolate candies to garnish part of the cake. Do your own thing and garnish the way you would like to.