Turtle Dump Cake is an easy decadent chocolate cake made with a cake mix, instant pudding, gooey caramel, milk chocolate chips, and pecans. This chocolate cake is dense and will definitely satisfy your sweet tooth.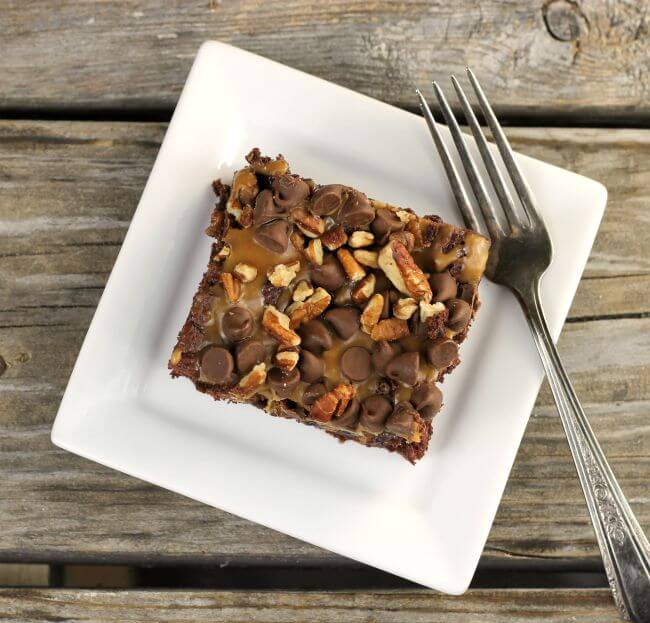 When it comes to my sweet tooth, chocolate is always my first pick. This turtle dump cake is one that my sweet tooth really loves. My family has fallen in love with how delicious this cake is and I have also fallen in love with how easy it is to make.
What is a dump cake?
A simple cake that is made with a cake mix. Usually, the cake is made in one bowl and dumped into a baking pan and baked or the cake can be dumped into the baking pan and mixed with fruit.
Ingredients and substitutes:
Chocolate Cake Mix – Any chocolate cake mix will work for this.
Instant Chocolate Pudding – Do not use cooked pudding, make sure it is a small box of instant pudding.
Evaporated Milk – Do not use sweetened condensed milk, the sweetened condensed milk contains sugar, and additional sugar is not needed in this recipe.
Caramel Bits – I melt the (Kraft) caramel bits with a bit of cream, but you could use caramel sauce as a replacement.
Milk Chocolate Chips – I like the flavor of milk chocolate chips in this recipe, but you can substitute semisweet or dark chocolate chips.
Pecans- Generally pecans are used when making turtles, but you can substitute walnuts.
Do you have to refrigerate turtle dump cake?
No, there is no need to refrigerate this cake. Store in an airtight container on your counter.
How many days can you store this cake?
You can store this cake on your counter for 3 to 5 days. That is if the cake lasts that long, I am thinking that may not happen.
Steps for making Turtle Dump Cake:
Step one:
Preheat the oven to 350 degrees F. Grease the bottom and sides of a 9 x 13-inch baking pan.
Step Two:
Melt the caramel bits with a tablespoon of cream and set aside.
Step Three:
Add the cake mix and the instant pudding to a medium-size mixing bowl.
Step Four:
Add the evaporated milk and mix for 2 minutes with a hand mixer or a wooden spoon.
Step Five:
Spread the cake batter into the prepared pan. Sprinkle a cup of chocolate chips over the batter, then the 1/4 cup of pecans, and then the melted caramel. With a knife swirl the toppings into the cake.
Step Six:
Place the cake into the preheated oven and bake for 30 to 35 minutes. The cake can be checked for doneness with a wooden pick, insert the pick and if it comes out clean the cake is done.
Step Seven:
Melt another cup of the caramel baking bits while the cake is baking. When the cake is removed from the oven, drizzle the caramel over the top of the cake, sprinkle the pecans and chocolate chips over the top of the caramel. Cool.
Check out these other cake recipes:
Stay in touch with me on Facebook, Twitter, Instagram, and Pinterest.