Tuna Cakes an easy delicious recipe to dress up a couple of cans of tuna. This dish is perfect for Lent or anytime you are looking to make a simple delicious meal involving tuna.
There are so many times on this blog that I talk about simple recipes with simple ingredients. This recipe is one of those simple easy to make recipes. All the ingredients come together to make a flavorful lunch or dinner idea.
I love tuna and if you love tuna as I do, I will bet that you will love this recipe as much as I do.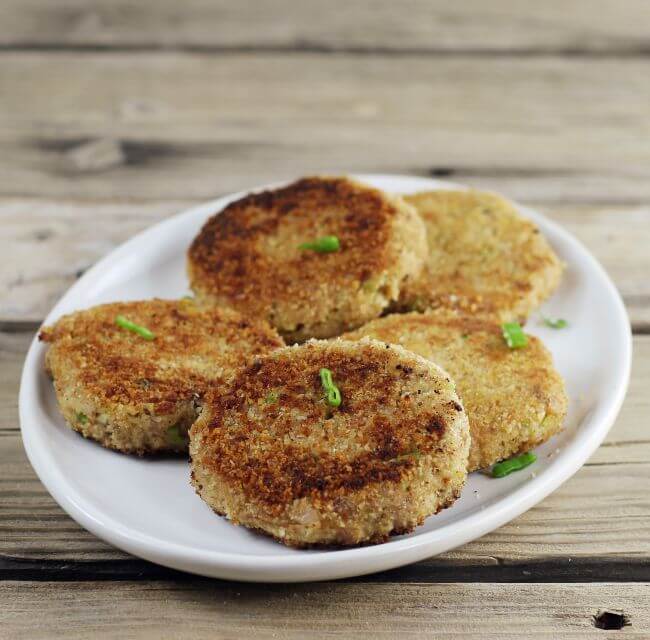 Helpful Tips:
I use canned tuna that is packed in water for this recipe, but if you prefer you can use tuna packed in oil. Just remember if you choose to make it with tuna that is packed in oil the calories will be higher than if you choose tuna packed in water.
Make sure to drain the tuna thoroughly if you are using tuna that is packed in water or oil.
The recipe calls for chopped green pepper, onion, and celery. Make sure when you are preparing these vegetables to chop them very finely unless you like the crunch of the vegetables. I like the flavor, but I like to have the vegetables cooked through.
Tuna cakes have a tendency of being soft and hard to fry. One of the ways to solve this problem is to make the cakes and stick them in the refrigerator for at least an hour to firm them up. This makes a world of difference. You can make them without refrigerating them just be careful when turning them over when you are frying them in the skillet.
If you have leftovers simply store them in an airtight container for 2 to 3 days.
To reheat the cakes you can reheat them in the microwave until the desired temperature or add a little oil to a skillet and heat until heated through.
Steps for making Tuna Cakes
Step one
Drain the tuna thoroughly. Chop the green pepper, onion, and celery.
Step two
In a large bowl combine all of the ingredients (except for 1/4 cup of the bread crumbs) using a spoon, fork, or by hand until well combined.
Step three
Make the mixture into patties/cakes. Use about 1/4 to 1/3 cup of the mixture to make the cakes. After they are formed coat them in with the remaining bread crumbs.
Step four
Place them in the refrigerator for at least an hour to firm up.
Step five
Add enough olive oil to coat a nonstick skillet well. Heat until the oil is heating up. Add the cakes making sure not to overcrowd the skillet. Fry for 4 to 5 minutes and then turn over and fry the other side for another 3 to 4 minutes. Serve.
Looking for more easy dinner recipes? Check these out:
If you make these Tuna Cakes  I would love to hear about them! Please leave me a comment and a rating.