Tater Tot Chicken Pot Pie Casserole is one of those delicious comfort foods that you can make during the week or the weekend. This is perfect to make during the cold weather months when you want something that will warm you up.
This is a dish that combines two of my favorite comfort foods for the winter months, chicken pot pie and tater tot casserole. It really can't get much better than this.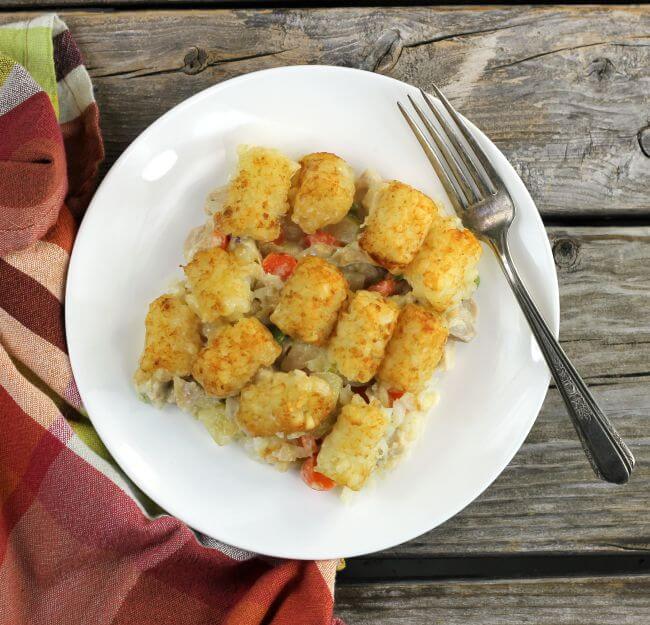 I use some fresh vegetables and frozen vegetables in this easy to make filling. And, if you don't like the vegetables there is no reason you can't change them out to your favorites.
Ingredients:
Chicken – I used cooked chicken thighs for this recipe, but you can use chicken breast, leftover chicken, or turkey any of these would work for this recipe.
Butter – The butter is used to sautee the vegetables in. I would recommend using real butter no substitutes.
Flour – The flour is for thickening the white sauce.
Milk – I use 2% milk for this recipe, but you could use whole milk or even cream for a substitute.
Chicken broth – I use low sodium chicken broth for a healthier choice.
Celery
Carrots – I use fresh carrots in this recipe, but if you prefer you can use frozen carrots.
Onion
Potato – Even though there are tater tots with this casserole I like to add some potatoes in the filling.
Peas – I use frozen peas.
Tater tots – They make an easy top for this casserole.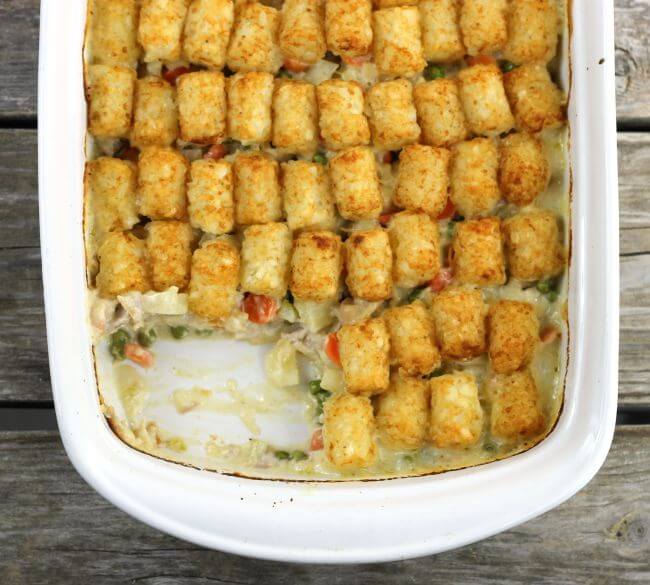 Helpful Tips:
The carrots, onion, celery, and potatoes should be cooked in the butter until tender. This will help seal in their flavors.
Use low sodium chicken broth for a healthier choice.
When seasoning the filling with salt and pepper wait until the end, just before you add it to the casserole dish. This way you will not over season.
The perfect side to serve with the casserole is some fresh fruit or a simple fruit salad.
When reheating cover with aluminum foil and heat in a 350-degree F oven until heated through or heat in the microwave to warm through.
This casserole can be frozen if you would like to keep it for a later date.
Steps for making Tater Tot Chicken Pot Pie Casserole:
Step One:
Preheat the oven to 400 degrees F.
Step Two:
In a large skillet melt butter and add the carrots, celery, onion, and potato and saute for 7 to 10 minutes or until the vegetable start to become tender.
Step Three:
Add the flour and stir in until the vegetables and the flour are combined.
Step Four:
Add the milk and the chicken broth slowly to the vegetables stirring continuously until the liquid begins to thicken.
Step Five:
Stir in the chopped chicken and frozen peas. Mix until all is combined.
Step Six:
Pour the filling into a 9 by 13-inch pan. Arrange the tater tots over top of the filling.
Step Seven:
Bake in the preheated oven for 30 to 40 minutes until the tater tots are browned.
Are you looking for more comfort food recipes? Check out these recipes: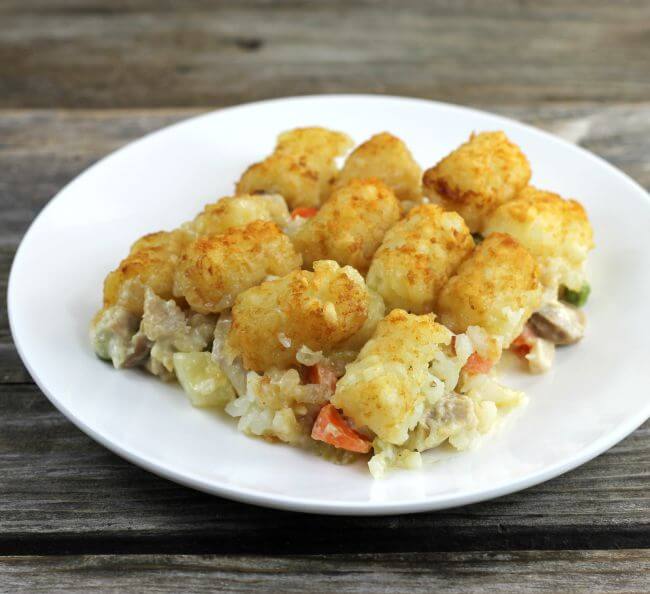 Stay in touch with me on Facebook, Twitter, Instagram, and Pinterest.
(Visited 146 times, 1 visits today)