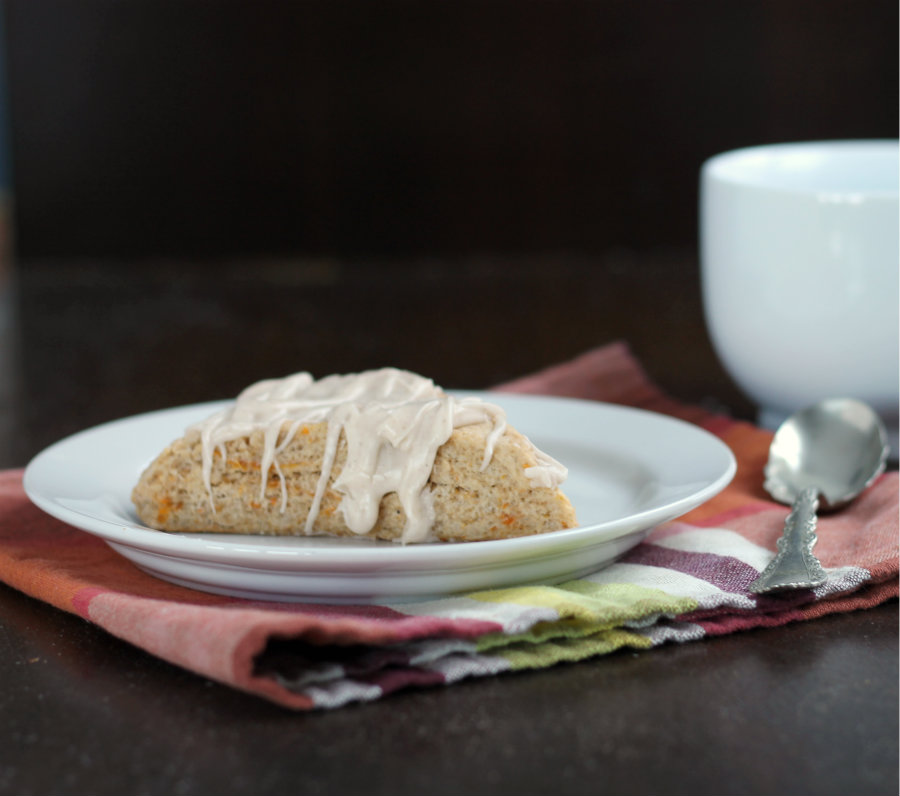 I am back! It has been just about 4 months since I published my last post. Can you believe it? I actually wanted to be back a little sooner, but things don't always work out the way you plan it, or at least for me. Better late than never. Right?
It feels really awesome to be back. I have missed all of you and I hope that you have missed me too.
There is one big change to my blog, I have moved to WordPress. I am thankful for my smart and talented daughter Lisa, who did the work for me.  I know that she has put lots of hours into setting things up to the way that I wanted them, so I want to give a shout out to her!  Thanks Lisa!!
Since I love  scones the way I do, I couldn't think of a better way to start back up than with a new scone recipe. I tried something that was new to me in scones… sweet potatoes.
Although I have always loved sweet potatoes I have never added them to a recipe for baked or savory dishes. In the past I have always loved them as a side dish. I decided it was time to shake things up a bit and feature them in some scones.  Plus I found a new spice that I decided to throw in with the mix. At least this spice is new to me, cardamom, I love it.
I love these moist and tender scones. The cardamom went perfect with the sweet potatoes and is now my new favorite spice. I topped the scones with an icing that had a hint of cinnamon and cardamom for a bit more sweetness and flavor. These are perfect for Sunday morning or for that matter any day of the week.
Ingredients
2 1/2

cups

flour

1/2

cup

sugar

1

tablespoon

baking powder

1/2

teaspoon

salt

1

teaspoon

cardamom

1

teaspoon

cinnamon

1/2

teaspoon

ginger

1/2

teaspoon

nutmeg

1/4

teaspoon

clove

8

tablespoons

butter

1 stick

1

egg

3/4

cup

baked mashed sweet potatoes

1/2

cup

heavy cream

Icing-

1 1/2

cup

powder sugar

1/2

teaspoon

soft butter

Dash of salt

1/4

teaspoon

cardamom

1/4

teaspoon

cinnamon

7 to 8

tablespoons

heavy cream
Instructions
In a large bowl combine the flour, sugar, baking powder, salt, and spices. Add butter and cut in with fork or a pastry cutter until the mixture is the texture of course meal.

In a medium bowl beat an egg slightly, add the mashed sweet potatoes and cream. Add the sweet potato mixture to the dry ingredients and mix with a wooden spoon or by hand until the mixture comes together.

Place the dough on a flour surface and form a 8 to 9 inch circle. Cut the circle into 8 wedges using a knife or my favorite a pizza cutter. Place on a prepared (greased with shortening or parchment paper) baking sheet.

Place scones in an oven that has been preheated to 375 degrees F. Bake for 14 to 15 minutes or until lightly browned.

Remove from oven and cool completely on a cooling rack.

For the icing - combine the powder sugar, salt, cinnamon, cardamom, and butter, mix until combined. Add the heavy cream a tablespoon at a time until you have the right consistency. But until smooth. Drizzle of cooled scones. Enjoy!