A moist tender scone made with strawberries and drizzled with a tangy lemon icing.
I am trying to hold on to every last minute of summer or at least the summer fruit. I made these strawberry sour cream scones with lemon icing for that very reason. The summer fruit will soon be a lovely memory until summer rolls around once again next year. 
I hope everyone in the States had a wonderful long Labor Day weekend. It was nice to have an extra day off from the workweek. I spent the day canning spaghetti sauce and salsa Verde. The canned goods will taste delicious when the winter months roll around. I am happy to report that the canning is completed in our house; all canned goods are stored away.
As for the holding onto the summer months, well I have to admit I am looking forward to the fall weather. I love it when the trees turn color and the cooler weather rolls in.  I do have to admit I never look forward to the real cold weather and the snow.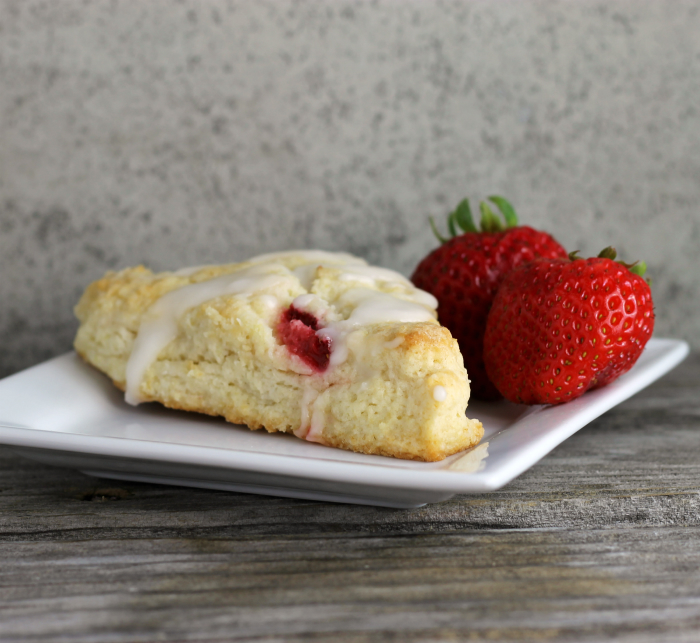 Now for the recipe…
They had nice red strawberries in the grocery store when I was there. I couldn't resist putting a carton in the grocery cart. My first thought was serving them to the grandkids; they were staying with us for part of the weekend. But they never got served, so I decided that I had to make scones.
It seems like ages ago since I have made a batch of any kind of scones. Really what better way to use sweet strawberries?
The scones turned out to be moist and crumbly. The tangy lemon icing was a perfect way to top these scones.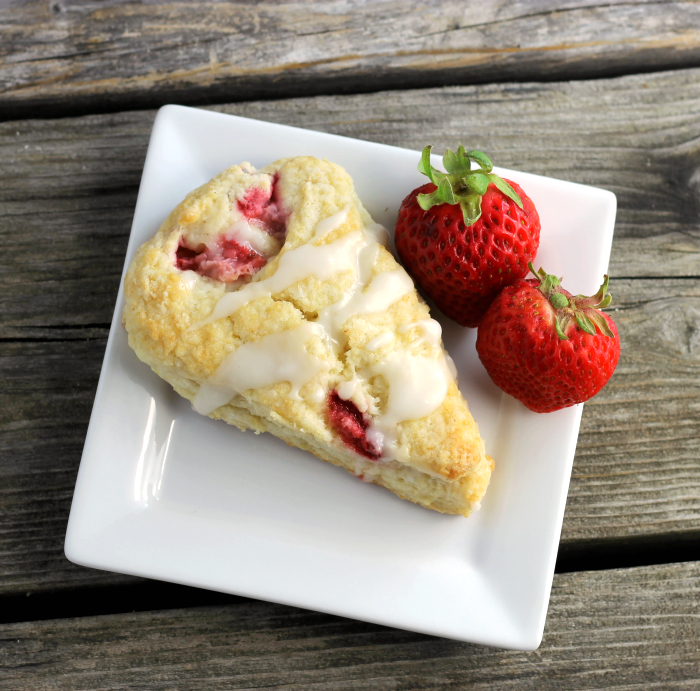 Try these strawberry sour cream scones with lemon icing before the summer slips away completely.
Ingredients
1/2

cup

cold butter cut into cubes

2

cups

all-purpose flour

1

tablespoon

baking powder

1/2

teaspoon

salt

1/4

cup

sugar

1/4

cup

sour cream

1/4

cup

heavy cream

1

egg

1

cup

finely chopped strawberries

Lemon icing-

1

cup

powdered sugar

Dash salt

1 1/2 to 2

tablespoons

lemon juice
Instructions
Preheat oven to 400 degrees F. Grease a baking pan

Add and mix the flour, baking powder, salt, and sugar in a large bowl. Add the cubed butter and using a fork to cut the butter in until it looks like small pebbles.

Combine the sour cream, heavy cream, egg, and strawberries and fold in, until the ingredients are combined.

On a floured surface knead the dough slightly.

Pat out the dough into a 7-inch circle.

Using a pizza cutter cut into 8 equal wedges

Place scones about 2 inches apart. Place in the preheated oven and bake for 14 to 16 minutes or until golden brown.

Remove from the oven and cool completely on a cooling rack.

Lemon Icing-

Combine the powdered sugar, salt,and lemon juice. Stir until you have the correct consistency. Drizzle over cooled scones.
(Visited 300 times, 1 visits today)