A glass full of fruity goodness… strawberry mango banana orange smoothie
I know that I have mentioned this before, but I will mention it again. Friday night at our house is frozen pizza night. I know it is sad to think that a food blogger like myself has nothing better to offer than frozen pizza for dinner.  But it is nice to know that I don't have to plan a meal and we actually kind of look forward to it.
Friday night is also the night that our daughter Lisa and granddaughter Aubrey come to visit, play games, and just goof around. Although of late Friday has also become treat night, too. Most of the time when Lisa arrives, I will ask her what she would like for a treat or dessert for the evening. Chocolate is always at the top of the list, of course.  Once in a while I will plan ahead and have fruit sitting in the freezer waiting to be turned in a smoothie.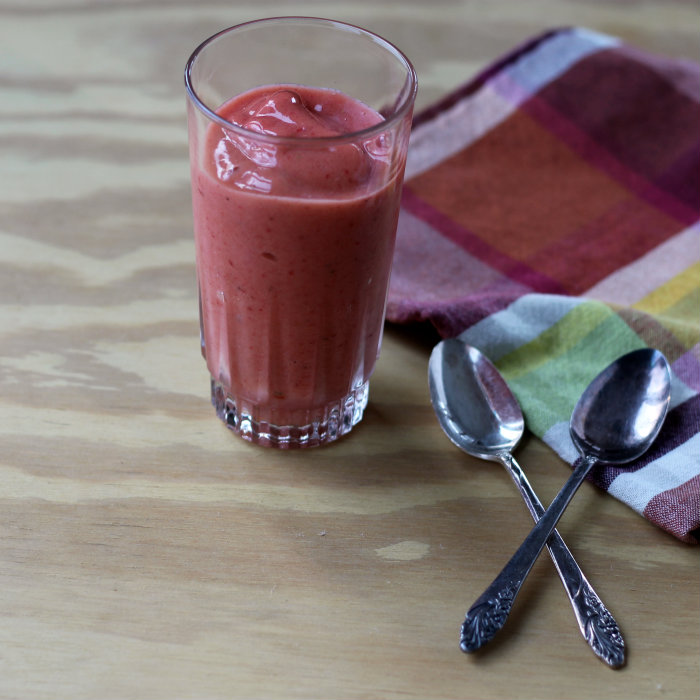 Such was the case this past Friday. I had put strawberries, mango, and bananas the night before so that they would be ready for the blender.
I love to see our granddaughter's eyes light when she see the blender come out. She knows what is coming when she sees it  come out of the cupboard.  Plus she is to the age now (she is 2 1/2 years old) that  she likes to help with the cooking or baking. She was helping push the buttons on the blender and was having a grand old time.
The combination of the fruit was perfect. The strawberry, mango, banana, and orange flavors combined to make a very tasty smoothie.  And as always it was the best smoothie we have made so far. I usually hear that from everyone, once they taste the latest smoothies.
Ingredients
1

pound

strawberries

1

mango

3

bananas

2

oranges

1 1/2

cups

orange juice

Honey to taste
Instructions
Cut fruit into pieces, except the oranges and place into a freezer bag, and set in the freezer overnight.

In the blender take the two oranges and blend completely. Add small amounts of the frozen fruit and blend until pureed. Alternate orange juice and frozen fruit until all is pureed and ready to eat. Add honey to sweeten if desired.