Strawberry Cream Cheese Scones… perfect for breakfast on the go or a yummy snack.
I have made a lot of scones since I started my blog. I have enjoyed all of the scones that I have made, it is sad to think that I had never eaten a scone before my blogging days. There has been fruit ones, pumpkin ones, peanut butter ones and much more, but this is the first time that cream cheese was one of the ingredients.
When I saw this recipe for scones that had cream cheese, I have to admit that I was a little shocked. Usually scones are a little bit on the drier side such as biscuits.
The cream cheese definitely changes up the texture of these scones, they're a bit on the moister side. Also you can taste the cream cheese in the scones; the flavor really goes well with the strawberries. I was told by family members that these were my best scones ever, but I think they tell me that each time I try a new scone recipe.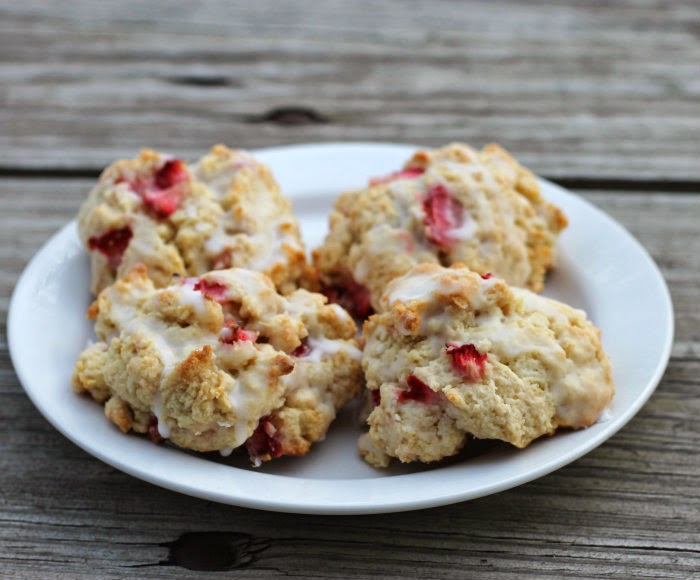 Strawberry Cream Cheese Scones (Source: adapted from Tea With Grace)
Ingredients:
Scones-
2 cups all-purpose flour
6 tablespoon cold butter, cut into pieces
1/2 teaspoon salt
1 tablespoon baking power
1/3 cup sugar
2 ounces cream cheese, softened
1 egg
4 tablespoon heavy cream
1 1/2 teaspoon vanilla
1 cup finely diced fresh strawberry
Glaze-
1 cup powder sugar
1/4 teaspoon almond extract
1 to 2 tablespoons milk
Directions:
1. Preheat oven to 350 degrees F. Add the flour, salt, baking powder, and sugar to a medium bowl and mix together. Add the butter and with a pastry cutter cut in the butter until the mixture is pea sized pieces.
2. In another bowl blend the cream cheese, egg, cream, and vanilla and mix together. Add the liquid mixture and blend into the flour mixture until well blended. Gently stir in the strawberries.
3. Grease cookie sheets.
4. Using a tablespoon scoop about 1/4 cup of the dough and place on cookie sheet. Bake in preheat oven for about 16 to 19 minutes or until the scone is light browned.
5. While the scones are baking make the glaze. Add the powder sugar and almond extract to a bowl, gradually add the milk until you have the right consistency. Beat until smooth.
6. Once the scones are baked place on cooling rack until completely cooled. Drizzle glaze over top.