Here is yet another scone recipe. I really don't think I will ever get my fill of making scones; they are really one of my favorite things to bake. I don't really know what it is about them; maybe it is the fact that there are so many ways to make scones or the fact that I love breakfast foods. For me, I would take a scone over a muffin any day, don't get me wrong I like muffins too, but I like the texture of a scone batter.
I have had my eye on making cinnamon scones for some time now. I actually have made them a few times, but I was bound and determined to make my own recipe. Well each time that I made them I found something wrong with them. My family always enjoyed them, but to me, they weren't what I thought they should be. So I finely caved in and found a recipe on the internet that sounded yummy and made that.
The scones were good, but a little on the dry side. The only cinnamon is sprinkled on the top of the scone along with some sugar. So to give the scones a little more cinnamon flavor I made a cinnamon glaze and drizzled that over top of the scones. The glaze gave the scones the touch that they needed. I actually sent the majority of these scones along with our daughter Krista when she went back to Chicago. So I am hoping that she is enjoying them and if you make these scones I think you will enjoy them too.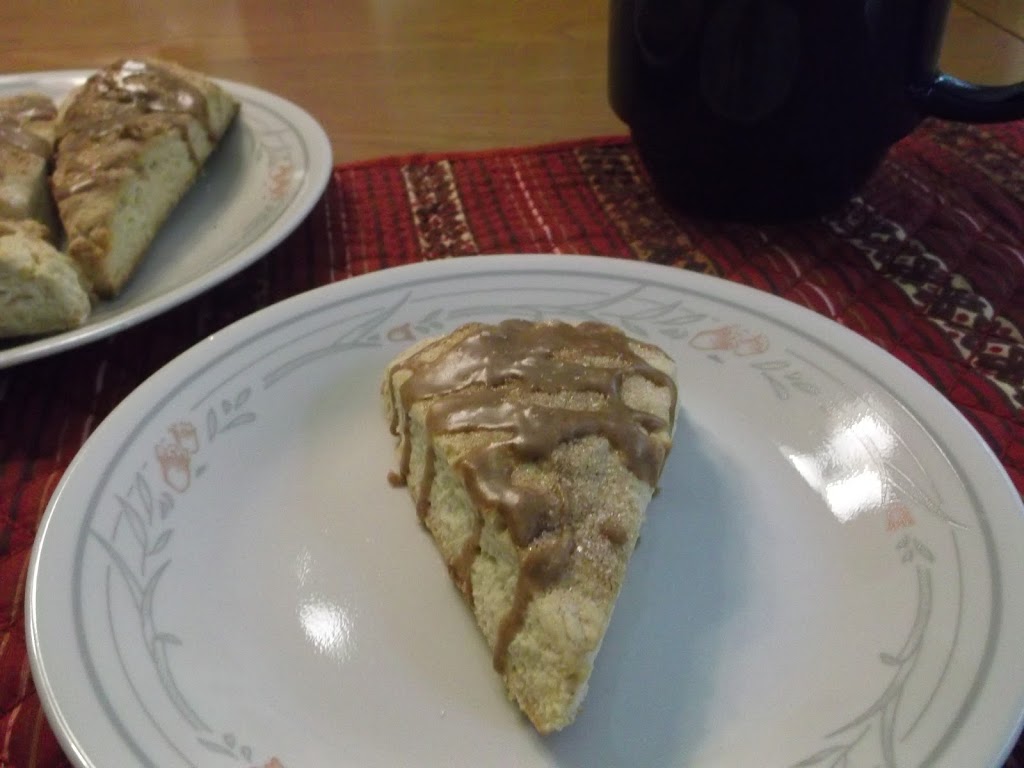 Starbucks Cinnamon Scones (Adapted from recipesecrets.com)
2 cups all-purpose flour
2 teaspoons baking powder
1/2 teaspoon salt
1/2 cups butter or margarine
1 egg, separated
3 tablespoons honey
1/3 cup buttermilk
1 tablespoon granulated sugar
1/4 teaspoon ground cinnamon
Glaze:
2/3 cup powder sugar
1 teaspoon cinnamon
About 1/4 teaspoon butter
Dash of salt
Enough hot water for consistency for drizzling
Preheated the oven to 400 degrees. In a large bowl, stir together flour, baking powder, baking soda, and salt. Cut in butter until the mixture is the consistency of coarse crumbs.
In a small bowl, beat egg yolk (reserving the white) with honey and buttermilk until blended. Add the buttermilk mixture to the flour mixture, stirring lightly only until dough clings together.
Using floured hands, lightly shape dough into a flattened ball. Roll or pat out on a floured surface to a circle about 1/2 inch thick and 8 1/2 inches in diameter.
Using a floured pizza cutter or knife, cut 8 or 12 equal wedges. Place them slightly apart on a greased or non-stick baking sheet. In a small bowl, beat egg white slightly to a froth.
In another bowl, blend 1 tablespoon sugar and cinnamon. Brush scones lightly with egg white, then sprinkle them with cinnamon and sugar.
Bake for 10 to 12 minutes or until golden brown. Once they are cooled drizzle with glaze and enjoy.