Pear scones spiced up with cinnamon and cardamom, the perfect scone for fall.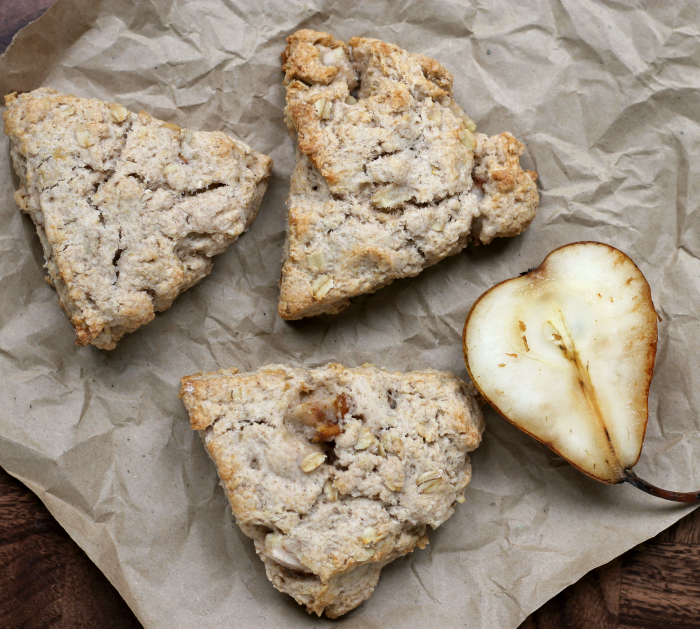 I love pears, but I don't seem to bake them very often. Not sure why that it is. They definitely make wonderful filling for pies or as for these scones.
I remember when I was a kid, my grandma had a couple of pear trees in her back yard. They were your everyday Bartlett pears and there were always a ton of them. I remember Grandma giving my mom boxes of pears. My mom would can a bunch of them for the winter months.
Then there were the pies, my mom would make pear pies and freeze them for a later day. And by the way my mom makes the best pies ever. Her pie crusts are the best I have ever had… no kidding! Have you ever had pear pie? It's is so yummy.
Well back to the recipe. These days I usually buy Bosc pears. I like the flavor of these pears a bit more than the Bartlett. I had a couple of the Bosc pears sitting on the counter and I knew that they would be perfect for the scones that I had in mind. I decided to spruce up the flavor a bit with some cinnamon and cardamom.
I love these spices! Even though I use them year round they remind me of fall. Perfect for the apples and pumpkin, oh yeah and the pears that are ready to eat at this time of year.
The pears were perfect in these scones. The hint of cinnamon and cardamom complimented the taste of the scones. As I mentioned the cinnamon is more of a hint in these scones. Feel free to add a bit more if you want more of a cinnamon taste.
What are your favorite recipes for fall?
Spiced Pear Scones
Ingredients
3

cups

flour

1

cup

old fashion oats

1/2

cup

sugar

1

tablespoon

baking powder

3/4

teaspoon

salt

1 1/2

teaspoons

cinnamon

1/2

teaspoon

cardamom

3/4

cup

butter

1 1/2

cups

chopped pear

I used Bosc

3/4

cup

milk

1

egg
Instructions
Preheat oven to 375 degree F. Grease baking sheets

Sift together all of the dry ingredients. Cut the cold butter into small pieces and add to the dry mixture. Using a pastry cutter, fork, or by hand cut in the butter until the mixture is slightly crumbled. Toss in the chopped pear. Mix together the egg and milk, pour this mixture into the dry ingredients. Mix by hand until the mixture comes together into a ball. Divided the dough in half.

Form each half into a 6-inch circle. Cut each circle into 6 wedges.

Place each wedge on the prepared baking sheet about 2 inches apart. Place in the preheated oven bake for 18 to 19 minutes or until the edges are slightly browned.

Remove from and cool completely on a cooling rack.
Notes
For a bit more cinnamon in the scones add up to 1 1/2 teaspoons more of the cinnamon.