Southwest breakfast bowl is loaded with potatoes, onion, peppers, spicy pork sausage, and topped off with scrambled cheesy eggs, chopped tomatoes, and avocado. This is a hearty way to start off your day.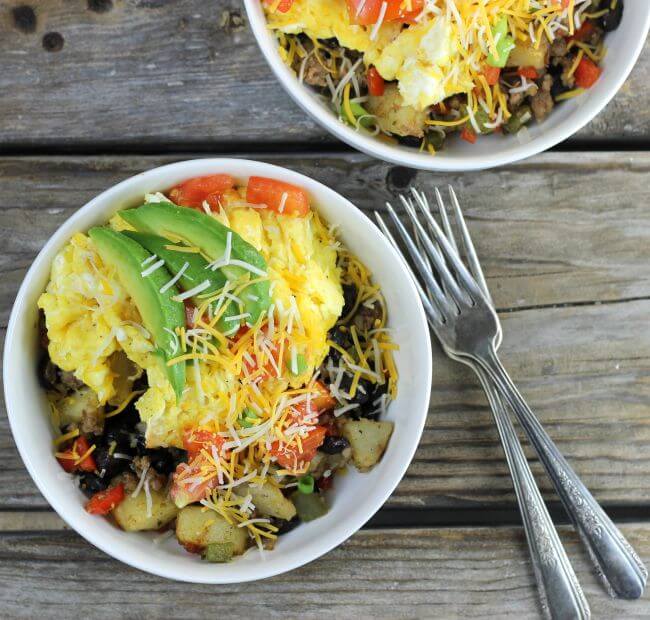 I know I  have mentioned this many times on my blog, but I love breakfast. There are many evenings we find ourselves having breakfast for dinner. Nothing wrong with that, right?
This breakfast bowl is a hearty one that is guaranteed to fill you up and keep you going all morning long. Not to mention it is totally delicious.
No kidding I think I could eat this every week and never get tired of it. One of the things that I love about this recipe is that you can change it up by using different peppers, meats, and maybe a fried egg instead of scrambled. No matter you are going to love it.
Helpful Tips:
I like to microwave the potatoes for this about 3 to 4 minutes, before adding them to the skillet. This way they take less time in the skillet to cook completely.
This recipe calls for hot (spicey) pork sausage, if you don't care for hot pork sausage you can use mild sausage.
If you are a fan of pork sausage try using chorizo sausage or your favorite.
A castiron skillet works well for the veggies and the sausage, but you will want to use a nonstick skillet for the eggs.
When you are done with the sausage combination, make the eggs. Keep the skillet on simmer to keep the sausage and veggies hot until the eggs are done.
Step for making the Southwest Breakfast Bowl
Step one
Clean a medium potato. Microwave 3 to 4 minutes or just until they are starting to get tender. Remove from the microwave and cool before cutting them.
Step two
In a large skillet break apart the pork sausage. Cook until it is no longer pink. Remove from the skillet and set aside. Wipe out the skillet.
Step three
Peel the cooled microwaved potato and cut it into cubes. Prepare the other vegetables.
Step four
Add two tablespoons of olive oil to the skillet and heat over medium heat. Add the vegetables (except the tomato, green onion, and avocado) and saute for 10 to 12 minutes. Turning the vegetables often so they don't start to burn.
Step five
Once the vegetables are tender and potatoes are slightly browned add the black beans and stir in. Season the vegetables and black beans with salt, oregano, cumin, paprika, and garlic powder.
Step six
Stir in the prepared sausage. Turn down the heat to simmer to keep warm until the eggs are prepared.
Step seven
Add the eggs to a large bowl. Add the cheese and salt and pepper to taste. Mix until well blended.
Step eight
Add about a teaspoon of butter to a nonstick skillet and heat over medium heat. Add the egg mixture and cook until the eggs are no longer runny.
Step nine
Divide the sausage into three bowls. Top with scrambled eggs, additional cheese, avocado, and green onion.
Do you want additional breakfast ideas? Check out these recipes: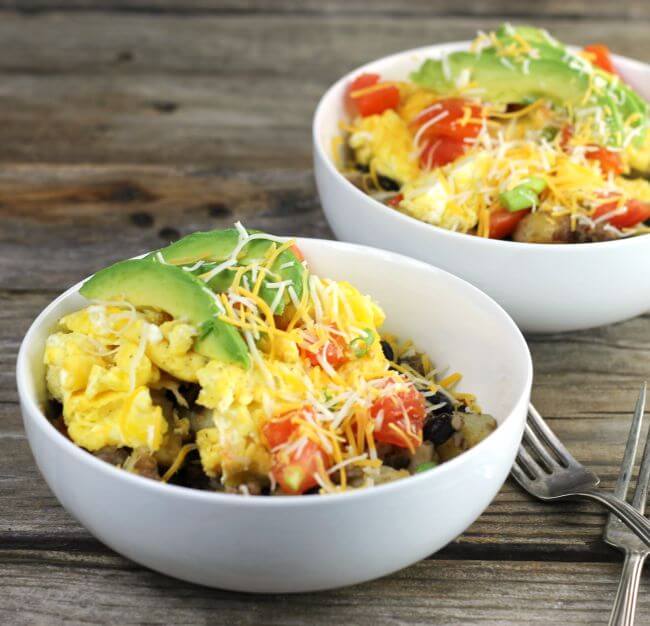 Stay in touch with me on Facebook, Twitter, Instagram, and Pinterest.