Sour cream apple pie a sweet custard apple pie, it is a nice twist to your everyday apple pie recipe. This recipe has been a family favorite for many years.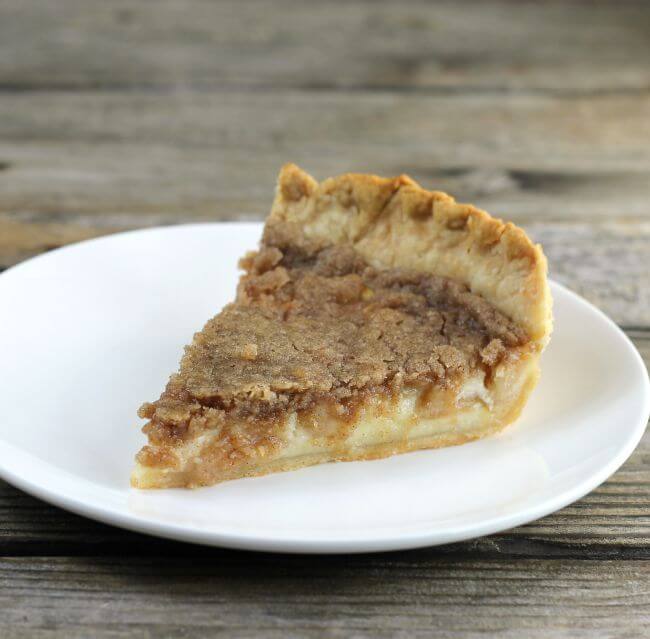 Whenever there is a family gathering where there are pies involved this pie makes an appearance. Let's just say there are usually never any leftovers.
As I mentioned before this is not your everyday apple pie. The custard-type filling is made with sour cream and apples. The combination is the perfect match.
The topping pie is much easier to make than a two-crusted pie and the topping really helps to take this pie over the top. So with the holidays around the corner, this is an easy recipe that your whole family will fall in love with.
Helpful Tips:
Use the right type of apple. I like using McIntosh, they are my apple of choice. These apples are not overly sweet, but a hint of tartness and they bake nicely in pies.
If you don't like the McIntosh apple here are a few other suggestions, Honey Crisp, Jonagold, Granny Smith, Cortland, and Braeburn.
If making pie crust is not your thing you can definitely buy a premade pie crust. Not only is it easier, but it will cut down on your pie-making time.
For this pie, I would suggest that you peel the apples.
When cutting the apples make sure that you try to cut the piece evenly to help them bake evenly.
Keep leftover pie in the refrigerator for 2 to 3 days.
Steps for making Sour cream Apple Pie
Step one
Preheat the oven to 400 degrees F. Line a pie plate with the pie crust.
Step two
Sift 2 tablespoons of flour, salt, and 3/4 cup sugar together.
Step three
Combine the sour cream, egg, and vanilla together.
Step four
Add the sour cream mixture to the dry ingredients and beat until smooth.
Step five
Add the apples and mix well. Pour in the crust-lined pie plate.
Step six
Bake in the 400 degrees preheated oven for 15 minutes, then reduce the oven to 350 degrees and continue to bake for another 30 minutes. While the pie is baking make the topping for the pie. Combine 1/3 cup of flour, 1/3 cup of sugar, cinnamon, and butter, and mix until well combined.
Step seven
Make the topping for the pie while the pie is baking in step 6. Combine 1/3 cup of flour, 1/3 cup of sugar, cinnamon, and butter, and mix until well combined.
Step eight
Once the pie has finished the baking time remove it from the oven, increase the oven to 400 degrees F. Sprinkle the topping over the pie. Place back in the oven for another 10 minutes.
Love pie? Check out these recipes:
Stay in touch with me on Facebook, Twitter, Instagram, and Pinterest.
This recipe was originally published on September 24, 2011. It has been updated with new content and pictures on November 12, 2020.