Simple soup to make this fall.
I get so mad at myself sometimes… it seems like I am always in a rush and when I rush I make mistakes. For example, I was canning salsa and thought I had looked the recipe over and knew the amount of onions I needed. So I chopped 8 cups of onions, with eyes and nose running (I am really sensitive to onions, they always make me cry). Then I looked at the amount of green peppers that I needed and you know what, I needed 8 cups of green peppers and 3 1/2 cups of onions.
See why I get mad at myself!!
So now I had 4 1/2 cups of onions chopped and no where to go with them. So I put them in a container and placed them in the refrigerator and just about forgot about them. That is when French onion soup came into the picture.
Mike and I love French onion soup, but I never make it at home. I think it is to do with that chopping and eyes and nose running thing. Yeah, chopping onions is not one of my favorite things to do.
I have been told about so many different remedies for stopping the tears from flowing, but I really don't think any of them have worked for me.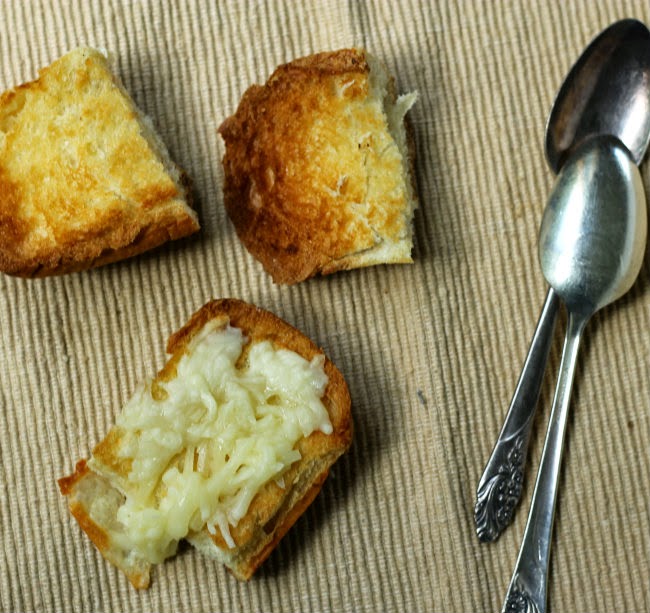 So with all these onions chopped and sitting in the refrigerator it was really a no-brainer, when it came to making French onion soup. Yep, it was a good thing I chopped all those extra onions, otherwise this soup would have never come about.
It was lovely to sit down to a bowl of French onion soup at home. It is a simple soup with a simple but yummy flavor.
Simple French Onion Soup
Ingredients:
1/4 cup butter
4 cups onions, chopped
32 ounces beef broth
1 bay leaf
1/4 cup red wine
1 teaspoon Worcestershire sauce
1 or 2 hard rolls for toasting and adding to soup
Mozzarella cheese for topping hard roll
Directions:
1. Add butter to a Dutch oven and melt over medium heat. To this add your onions and cook for about 20 minutes until they are browned and tender.
2. Add the rest of the ingredients and bring to a boil, reduce heat and simmer for about 10 to 15 minutes.
3. Fill bowls with soup top with a piece of a hard roll or baguette and top with some mozzarella cheese.
4. Set on a baking pan and place under the broiler until the cheese is melted and slightly browned.
5. Serve immediately.