Salisbury Steak Meatballs one of the best comfort foods that you can make for these cold winter months. There is nothing better than meatballs and gravy to serve for dinner, no matter if you serve it with egg noodles or mashed potatoes.
As far back as I can remember back meatballs were one of my favorite foods that my mom would make when I was a kid. Nothing has changed when it comes to meatballs, they are still one of my all-time favorite comfort foods.
These Salisbury steak meatballs are tender and moist and made with mushroom gravy perfect for you want some great comfort food.
Ingredients:
Ground beef – I like to use 85% lean ground beef.
Bread crumbs – I use plain bread crumbs, but you can use panko bread crumbs if that is what you prefer.
Milk 
Worcestershire sauce
Onion and garlic powder – I find it simple to measure out the onion and garlic powder, but if you prefer you can and finely chopped onion and garlic to the recipe.
Egg
Salt and pepper – Add to taste.
For the gravy –
Butter – I used salted butter for sauteeing the onions and mushrooms
Onion – I like a lot of onion for this recipe, but if you like to go with a smaller amount of onion that will work.
Mushroom: I use white mushrooms, but use your favorite.
Flour – All-purpose works well for this recipe.
Beef broth – Use a good quality beef broth.
Helpful Tips:
When making meatballs you want some fat in the meat for the flavor and to keep them moist and tender.
Don't pack the meat for the meatballs too tightly. Overpacking the meat will result in meatballs that are chewy and rubbery.
Try to make all the meatballs the same size so they will cook evenly.
The meatballs are browned in the skillet but do not have to cook all the way through. As they bake the center of the meatball will finish cooking.
For great flavor sautee the onions and mushrooms in butter. If the skillet gets dry add additional butter.
Use a good quality beef broth for the best flavor.
These meatballs can be frozen.
Steps for making Salisbury Steak Meatballs:
Step One:
Preheat oven to 350 degrees F.
Step Two:
Combine the hamburger, breadcrumbs, garlic powder, onion powder, egg, milk, and Worcestershire sauce mix until just combined.
Step Three:
Form into meatballs. Making sure you are consistent with the size of each one. Fry over medium-high heat until all sides are browned.
Step Four:
Once the meatballs are browned remove from the skillet and set aside. Drain any excess grease. Add butter and onions and sautee until the onions are slightly browned and soft. Add the mushrooms and saute until the mushrooms are tender.
Step Five:
Add the flour to the onion and mushroom mixture and stir until the flour is combined.
Step six:
Turn up the heat to medium-high and slowly add the beef broth. Stirring constantly bring the mixture to a boil. Continue to cook until the mixture is slightly thickened.
Step Seven:
Add the meatballs back into the gravy. Place the skillet in the preheated oven and bake for 30 to 35 minutes.
Step Eight:
Remove from the oven and serve. These meatballs go great with egg noodles or mashed potatoes.
Looking for more comfort food recipes? Check out these recipes: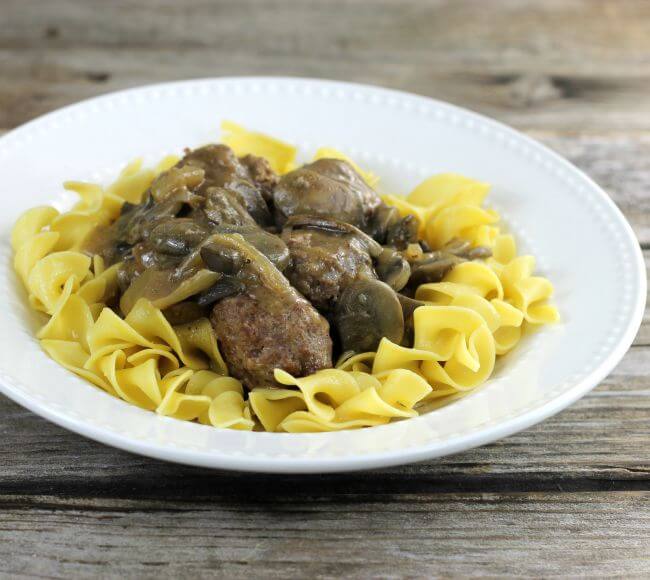 Follow me on Facebook, Twitter, Instagram, and Pinterest.