Rhubarb Bread is a super moist quick bread made with fresh chopped rhubarb. With the sugar and cinnamon topping, it's like having a coffee cake rolled up into a quick bread.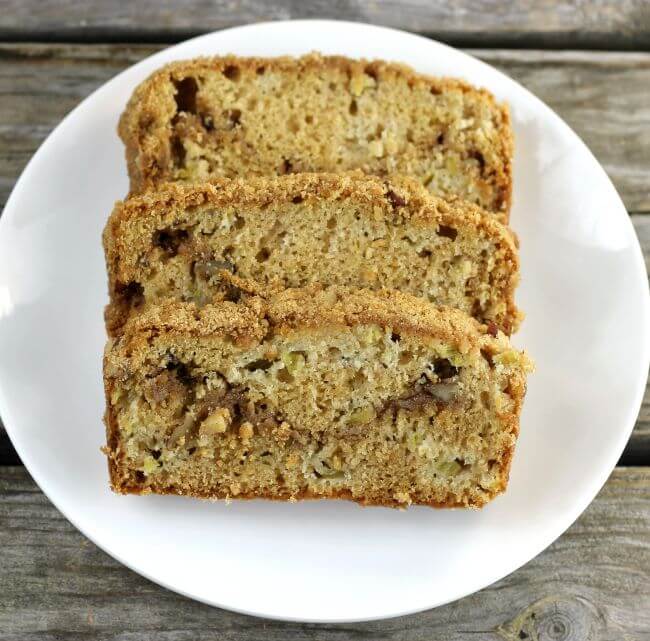 We have a beautiful rhubarb plant in our garden and every year I try to find something new to make with it. This is year is a quick bread.  I have made it several times now and we just can'seem to get enough of the stuff.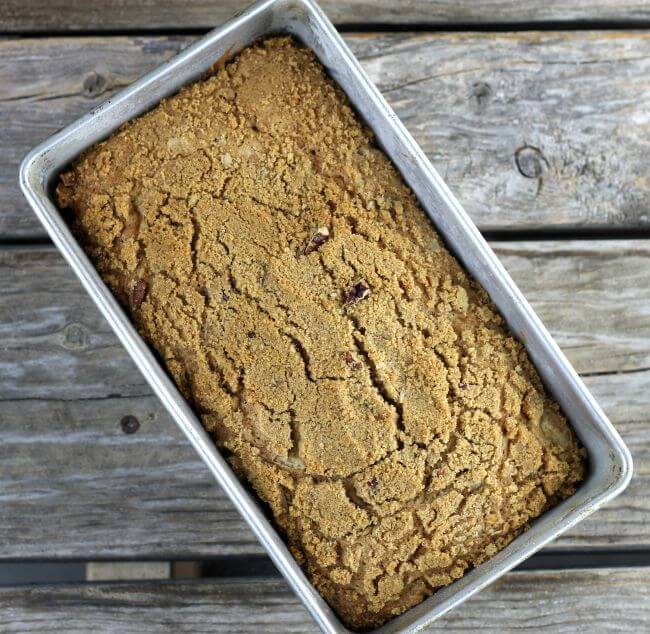 I love how the rhubarb makes the bread so moist. The topping gives a little bit more of a sweetness to the bread. This bread will be on my baking list when the rhubarb is back in season.
Helpful Tips:
Cut the rhubarb in small uniform pieces so that they bake evenly.
Don't worry if you don't have buttermilk you can make your own sour milk. See below.
 Grease the bread pans and line them with parchment paper for easy removal.
If you don't have parchment paper you can grease and flour the pan, this will help with removing the bread easily from the pan.
Cool the loaves in the pans for 5 to 10 minutes before removing. Set on cooling racks and cool completely before slicing.
How to make a buttermilk substitute:
If you don't have buttermilk you can make your own substitute. Simply add 1 tablespoon of white vinegar or lemon juice to a measuring cup and fill the cup up with milk. Let the milk sit for 5 minutes and you are set.
Steps for making Rhubarb Bread
Step one
Preheat the oven to 325 degrees F. Prepare your bread pans by greasing them and lining them with parchment paper or greasing and flouring them.
Step two
Prepare the rhubarb, clean, and slice it.
Step three
Make the topping for the bread. Mix the brown sugar, flour, nuts, and butter together by and set aside.
Step four
Sift together the flour, baking soda, salt, and cinnamon together.
Step five
In a large bowl mix the sugars and oil together. Add the egg and mix it in. Mix in the vanilla
Step six
When adding the flour and butter alternate between the two, starting with the flour and ending with the flour.
Step seven
Divide half of the batter between the two bread pans. Top each pan with one-fourth of the topping. Divide the remaining batter between each bread pan and sprinkle the remaining topping over both loaves.
Step eight
Place in the oven and bake for 55 to 60 minutes. Check with a wooden pick for doneness. When the pick comes out with a few moist crumbs the bread is done. Remove and cool on a cooling rack.
Here are some more quick bread recipes: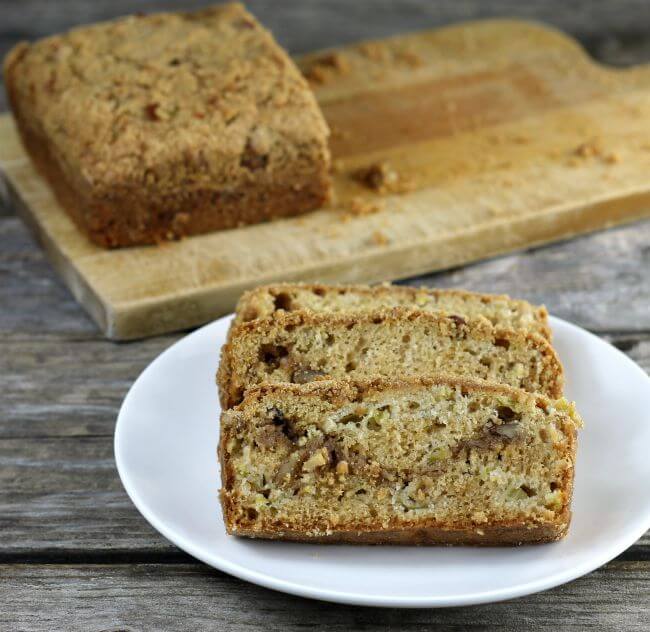 Stay in touch with me on Facebook, Twitter, Instagram, and Pinterest.