Pumpkin Pancakes are light and fluffy, made with pumpkin puree and a touch of spices. A nice hearty way to start off your day.
It is fall which means that it is pumpkin season. If you have never had pumpkin pancakes you really need to make them. This is the perfect breakfast to have your family wake up to let's say on Thanksgiving morning.
But don't stop at fall, they are so good you will be making them all year round. Mike always tells me that these are the best pancakes, whenever I make them. I totally agree with him.
We love to have them for breakfast, but they are a great idea for dinner or maybe even lunch. Plus pancakes are so easy to make too.
Helpful Tips:
Don't overbeat the batter. Mix just enough to combine the wet ingredients with the dry ingredients. If you have a few lumps, don't worry, that is fine.
Use pumpkin puree and not pumpkin pie filling
Cook pancakes over medium heat. To test if the skillet/griddle is ready to start cooking drop a few drops of water on the skillet/griddle. If the water bounces and sputters you are ready to start cooking.
Lightly grease the skillet/griddle with butter or oil. Do this between each batch.
Flip the pancakes only once. Cook 2 to 3 minutes, until bubbles appear and start to break. Flip over and cook another 2 minutes or until browned on the other side.
Serve with your favorite syrup.
If you have leftovers they can be stored in the refrigerator for a day or two
What is the best way to reheat pancakes? I like to heat them in the microwave until the desired temperature. To me, they taste just like they did when they were first made. Other ways to reheat is to heat them in a skillet or bake them in the oven until the desired temperature.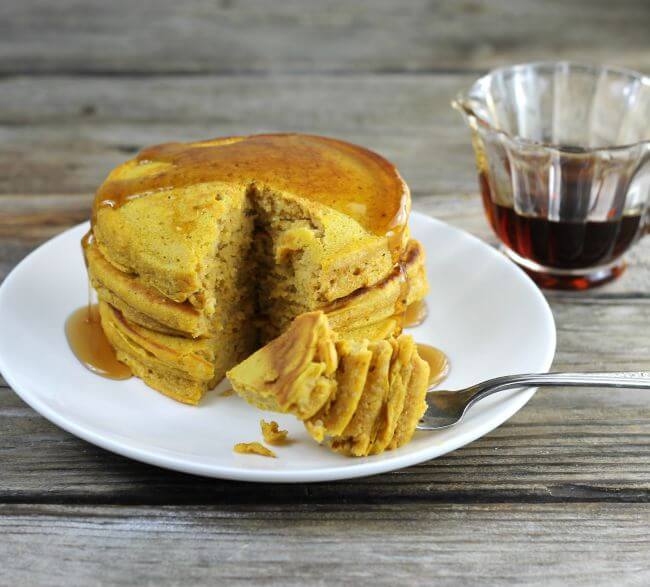 Steps for making Pumpkin Pancakes
Step one
In a large bowl combine the flour, sugar, baking powder, salt, and spices.
Step two
In another bowl combine the milk, pumpkin puree, beaten egg yolks, and oil. Beat the egg whites with an electric mixer until stiff.
Step three
Add the wet ingredients to the dry ingredients stirring just until the flour is moistened. Add the beaten egg whites and fold in.
Step four
Heat the skillet/griddle on medium heat. Once it is heated, lightly grease with butter or oil.
Step five
Pour about 1/3 cup of batter onto the skillet for each pancake. Cook for 2 to 3 minutes (until bubbles form and break) and flip, cook for about another 2 minutes.
Step six
Repeat step five until all the pancakes are done.
Check out these other pumpkin recipes:
Stay in touch with me on Facebook, Twitter, Instagram, and Pinterest.