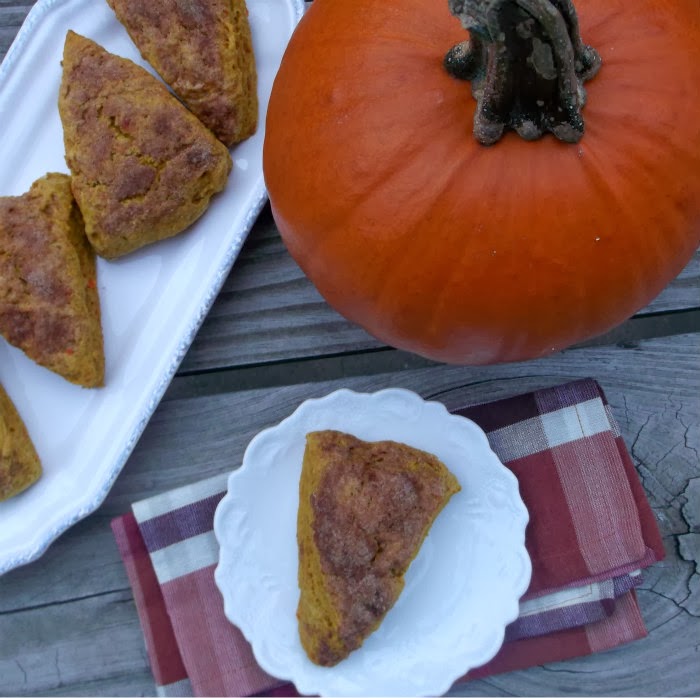 Can you believe it is the last few days of October already; Halloween is right around the corner. There is definitely a nip in the air and now the weather man is calling for snow this week. I am not ready for this cold weather and really not ready for snow. But I have to say that I have been enjoying seeing all the pumpkin and apple recipes around blog land and I have a pumpkin recipe to share too.
I found this recipe for pumpkin and carrot scones a few months ago; I have been waiting for pumpkin season to roll around before I made them. The combination of pumpkin and carrots kind of surprised me, but I have to admit that they work well together.
These scones are soft and light, not as dry as some of the other scones that I have made. I added a little cinnamon sugar on top to give a little additional sweetness, since my guys like the scones on the sweeter side. If you don't like the cinnamon and sugar for a topper a little drizzle of frosting would be excellent on these scones as well.
Pumpkin and Carrot Scones (Source: adapted from foodsource.com)
Ingredients:
2 1/3 cups all-purpose flour
1/3 cup brown sugar
1/4 teaspoon salt
2 teaspoon baking powder
1/2 teaspoon baking soda
1 teaspoon cinnamon
1/8 teaspoon ground cloves
1/4 teaspoon nutmeg
1/4 teaspoon ginger
1/2 cup shredded carrots
6 tablespoons cold butter
1 cup pumpkin puree
1 teaspoon vanilla
1/4 cup sour cream
1 large egg
Topping:
1 tablespoon melted butter
2 tablespoons sugar
1/2 teaspoon cinnamon
Directions:
1. Preheat oven to 400 degree F. Lightly grease a large baking sheet.
2. In a large bowl stir together flour, brown sugar, salt, baking powder, baking soda, cinnamon, cloves, ginger, and nutmeg.
3. Use a pastry knife to cut the butter into the dry ingredients and continue cutting until the mixture is coarse and uniform.
4. In another bowl, stir together the pumpkin, vanilla, sour cream, egg, and shredded carrots. Form a well in the dry ingredients and pour in the liquid mixture. Stir to combine, then remove dough to a flour surface and knead to uniform. (Do not over knead or the scones will be tough).
5. Pat the dough out into about an 8 inch circle. Cut into 8 wedges using a pizza cutter or a knife. Place each scone on the prepared baking sheet. Melt the one tablespoon of butter in the microwave. In another bowl combine the sugar and cinnamon. Brush each scone with the melted butter and sprinkle with the cinnamon and sugar combination.
6. Place in the preheated oven for 15 to 18 minutes or until the tops are lightly browned. Remove to a rack to cool.