I am not sure if I could live on a gluten free diet… well, maybe if it included these popcorn oat bars.
We have an employee lunch usually once a month where I work. Some of the people I work with really love their sweets. Which if you look around this blog you will notice that I do too! But some of these people that love their sweets have food allergies or are on gluten free diets. This is where the popcorn oat bars come in.
One person cannot eat dairy items, such as butter and soft cheeses. A couple people can't or don't eat gluten.  Then one of the people that don't eat gluten cannot eat legumes, he reminded me of that the last time I brought in treats with peanut butter. Did you know that peanuts are in the legume family? I had heard of this before, but I guess I had forgotten. Well, I won't forget again.
I have never had to deal with food allergies before. Yep, no one in my family or Mike's family as far as I know have food allergies. I think we have the opposite of food allergies, we can eat all foods and probably eat way too much of everything.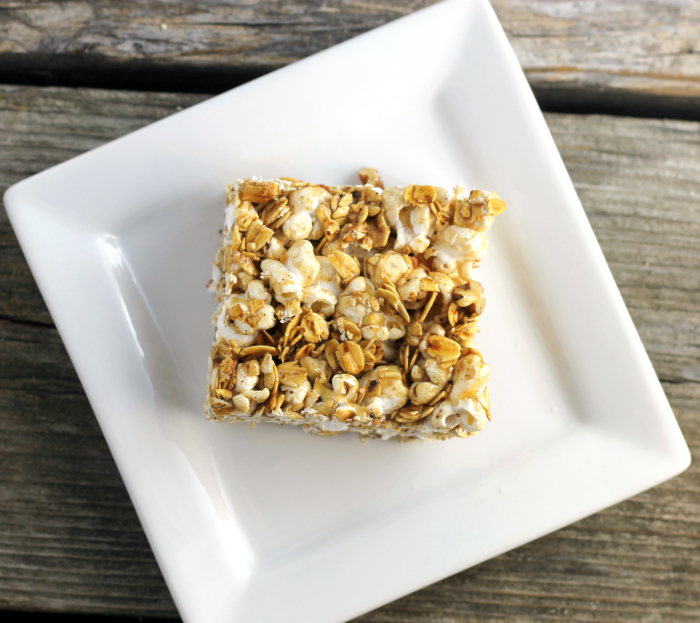 When you don't have to deal with something like food allergies, you never know how hard it really is. And that is one of the things we talked about as we were munching away during our lunch.
So, I really had to think long and hard about what I was going to bring for the day. I finally decided on these popcorn oat bars.
Well, wouldn't you know it, two other people brought in gluten free chocolate chip cookies? Yeah, they won out over the popcorn oat bars for lunch. But I ended up leaving my popcorn bars for the next day. I had people tell me that they loved them and that I make the best treats.
I know that I will never follow a gluten-free diet, but if I did I know that I would be eating these popcorn oat bars.
I did drizzle the bars with a melted chocolate and peanut butter combination for the people in the office that could eat legumes and milk. Those were my favorite.
Ingredients
8

cups

of popped popcorn

1 1/2

cups

roasted old fashion oatmeal

3/4

cup

of chopped pecans

3/4

cup

honey

1/2

cup

brown sugar

2

tablespoons

coconut oil

1 1/4

teaspoons

cinnamon

1/2

teaspoon

salt

1/2

teaspoon

vanilla

Chocolate drizzle-

1/2

cup

semisweet chocolate chips

1/4

cup

peanut butter

1

teaspoon

coconut oil
Instructions
Preheat oven to 350 degrees F. Spread the old fashion oatmeal on a jelly roll pan. Place in the preheat oven for about 15 to 20 minutes or until the oats turn golden brown, making sure to stir them every 7 to 10 minutes. Cool.

While the oats are roasting combine the honey, brown sugar, coconut oil, cinnamon, and salt in a small saucepan. Cook over medium heat stirring constantly until the sugar is dissolved and the mixture comes to a boil. Remove from heat and stir in the vanilla

In a large bowl combined the popped popcorn, oats, and pecans, mix well.

Pour the honey mixture over the popcorn oats mixture and stir until everything is coated.

Line a 9 by 13-inch baking pan with aluminum foil and spray lightly with a non-stick cooking spray.

Pour the popcorn mixture into the prepared baking dish and press the mixture into the pan, using a spatula or the back of a spoon. You want to make sure that is pressed firmly into the pan. Let set for overnight or in the refrigerator for at least an hour or two.

Remove from the baking pan and cut into bars.

If you would like to add the chocolate drizzle for the bars, after the bars are cut combine the chocolate chips, peanut butter, and coconut oil and microwave until the chocolate chips are melted. Make sure to stir the chocolate chips and peanut butter every few minutes so the chocolate does not burn. Drizzle the chocolate over the bars and let dry.

Store in an airtight container.