Pizza stuffed baked potatoes… a meal in itself.
I do love my potatoes. When I was growing up, we were a meat and potatoes kind of family, but I guess that is common growing up on a farm. Back then we actually grew all our own potatoes and meat, nothing better than that.
Today I still eat a lot of potatoes. Being married to Mike, who is one of the biggest potato lover I know… he would eat potatoes over dessert.  Really, that is how much he loves potatoes.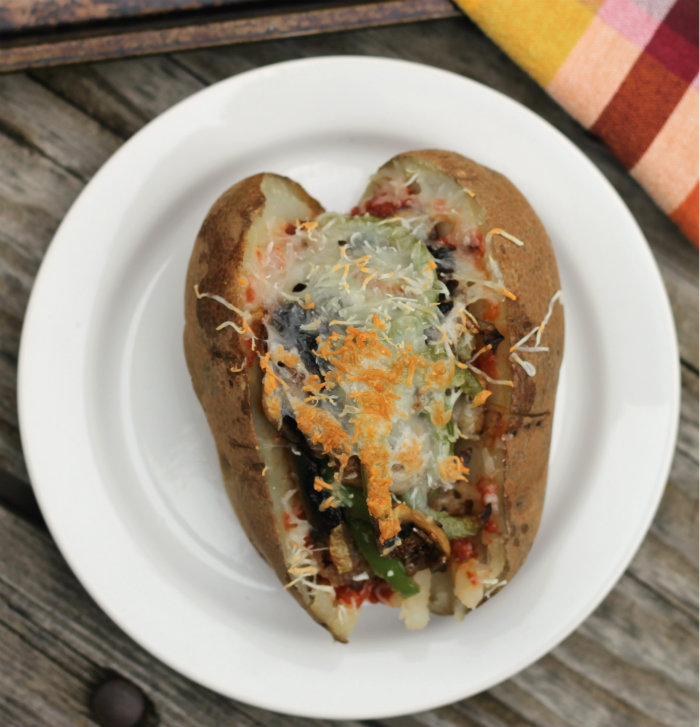 But sometimes the old mashed potato can get a little boring, so that is when I like to dress them up a bit. Like the pizza stuffed potato that is featured in this post today. Nothing boring with this potato.
I filled these baked potatoes with pizza sauce, Italian sausage, green peppers, onions, mushrooms, and mozzarella cheese. It turns out to be a meal all by itself. The nice thing about this is you can stuff your mashed potatoes with any pizza toppings that you enjoy. What would that be?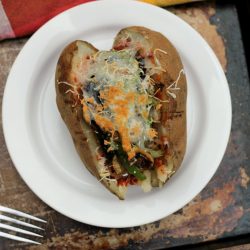 Ingredients
Baking potatoes

I used russet potatoes

Pizza sauce

Italian sausage

Mushrooms

sliced

Green pepper

sliced

Onion

sliced

Mozzarella cheese
Instructions
You can make one or as many as you like. The amount of ingredients will depend on how many your making.

Wash and scrub potatoes until clean. Take a fork and poke them on all sides. Place them in a preheat oven of 350 degrees F. Bake until the potatoes are tender.

While the potatoes are in the oven brown the Italian sausage until the meat is no longer pink and is cooked all the way through.

In another skillet drizzle with a little olive oil and heat over medium heat. Add the sliced mushrooms, green peppers, and onions and saute until they are tender.

Once everything is ready, slit the potatoes down the center and open. Coat with your favorite pizza sauce, top with the Italian sausage, mushrooms, onions, and green peppers. Sprinkle the potatoes with the Mozzarella cheese. Once you have the potatoes assembled place under the broil and heat until the cheese is melted.

Remove from oven and serve.