Orzo Pasta Salad a simple pasta salad made with fresh peppers, cherry tomatoes, onions, spinach, and tossed in a zesty dressing. The perfect side to go with any summer meal or serve as a main dish.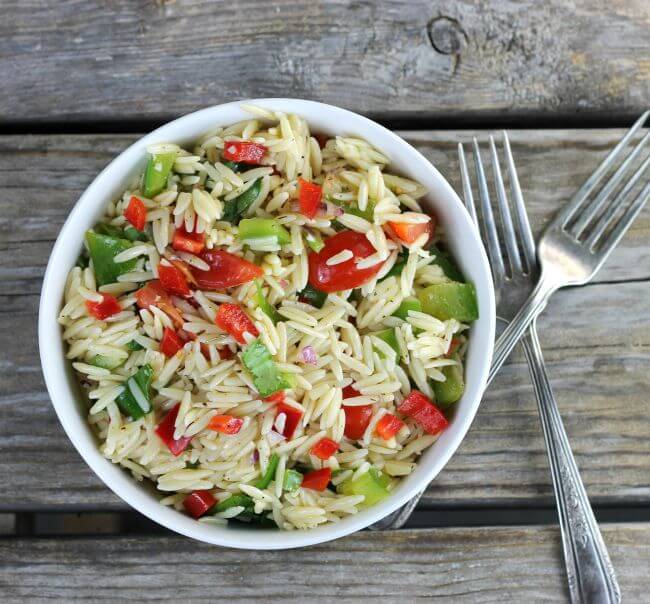 Summer is finally here and that means grilling out and lighter meals. Cold pasta dishes are always a favorite in our house. I love ones with a mayo-based dressing, but these salads with vinegar and oil-based can't be beaten in the summertime.
Ways to change up to make it to your liking:
Add some protein, chicken, pepperoni, or even beans would work.
Try different veggies, I love the peppers, tomatoes, onions, and spinach in this recipe, but if one or several veggies are not your thing change them up. Cucumber, broccoli, zucchini, peas, olives, or your favorites
Change up the dressing add a little lemon juice or zest for a bit of citrus
Fresh herbs add great flavor.
Add cheese such as feta, mozzarella, or Parmesan.
Helpful Tips:
When making the pasta follow the instructions of the box for al dente. You want the orzo to be tender yet still be firm to the bite.
Make sure not to overcook the pasta, no one likes mushy pasta in a salad
Once the pasta is cooked rinse with cool water to get rid of the excess starch and to stop cooking.
Don't add all of the dressing when making the salad, toss in about one-fourth or one-half of the dressing. Toss more in just before serving. Pasta likes to soak up the dressing as it sits, so adding it more just before you serve it prevents you from serving a dry dish.
Before serving taste it and adjust the seasoning if it is needed.
Steps for making Orzo Pasta Salad
Step one
Cook the orzo following the directions on the package for al dente. Once it is cooked drain and rinse under cool water. Set aside and let it cool completely.
Step two
Clean and chop the vegetables. Cut the cherry tomatoes into quarters. The peppers should be cut into small pieces. Finely chop the onions and slice the spinach.
Step three
Prepare the dressing. Use a food processor for best results ( a mini one works well). Add the garlic and process until the garlic is chopped finely. Add the olive oil and vinegar and process. Add the seasoning and process until all is combined.
Step four
Add the chopped vegetables to the cooled orzo and toss in.
Step five
Add 1/4 to 1/2 of the dressing and toss in.
Step six
Add salt and pepper to taste.
Step seven
Cool in the refrigerator until ready to serve. Just before serving toss in more of the dressing.
Looking for more cold dishes for the summer? Check these out: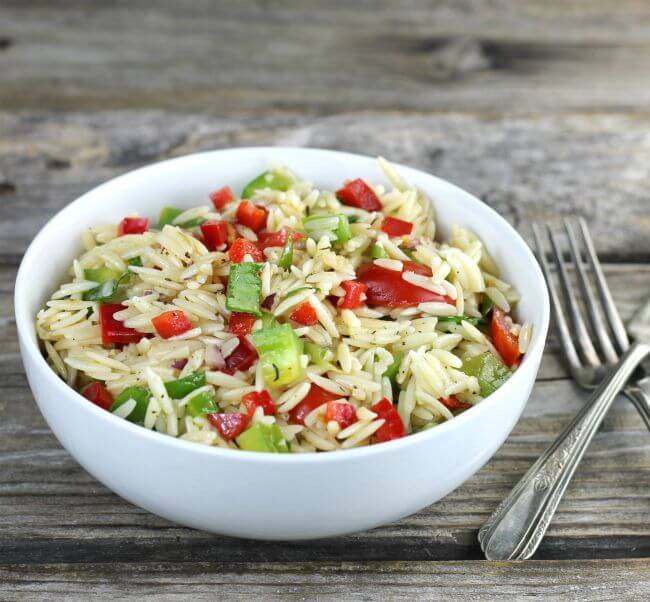 Stay in touch with me on Facebook, Twitter, Instagram, and Pinterest.