I love using poppy seeds in my baked goods. Normally I like to pair them with citrus, like this orange poppy seed Bundt cake.
I hope everyone had a wonderful Easter weekend. My weekend was very nice, busy, but nice. When holidays land on a weekend, the weekend disappears in a blink of an eye. There were about 25 of my family members that gathered at my mom's house. As always I ate too much food, but it's so hard to resist when it's so delicious. That means there will extra time put on my exercise schedule for the week. Ugh!!
I love baking Bundt cakes. But they are way too big for the three of us to eat, so I usually like to wait until we have a few extra people around. Like this weekend when some of our kids come home to visit. It is nice to make them a care package to take home with them. And they never seem to mind taking a little food home with them.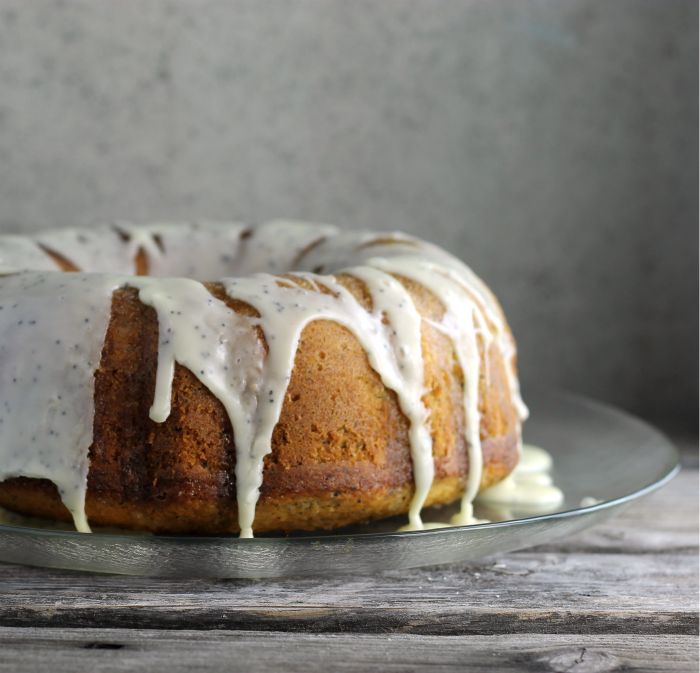 I know that there are a lot of recipes for lemon and poppy seeds, but I like to pair orange with poppy seeds as well. The cake is moist and not overly sweet and it is one of those cakes that seem to get moister as time goes by. I added a bit more poppy seeds to the icing, since you can never have too much poppy seed in or on a cake… or at least that is my opinion.
After I decided to make an orange poppy seed Bundt cake I noticed that I already had one on my blog, but the recipe is quite different. See which one you like better.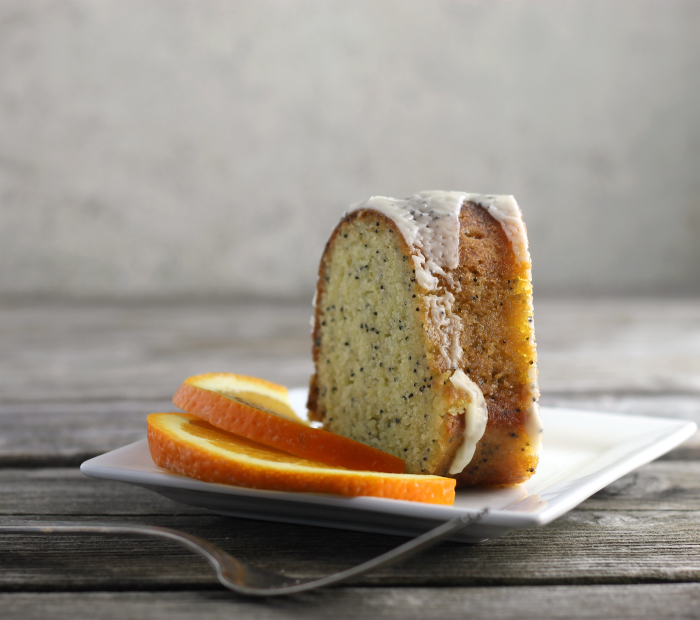 Ingredients
3

cups

flour

1

teaspoon

baking powder

1/4

teaspoon

baking soda

1/2

teaspoon

salt

3

tablespoons

poppy seeds

1 3/4

cup

sugar

1

teaspoon

orange zest

4

eggs

3/4

cup

softened butter

1

cup

buttermilk

1/2

cup

orange juice

Orange syrup-

1/4

cup

orange juice

1/3

cup

sugar

Icing-

1 1/2

cup

powdered sugar

1/2

teaspoon

poppy seeds

3-5

Tablespoons

orange juice
Instructions
Preheat oven to 350 degrees F. Grease and flour a Bundt pan

I a large bowl combine the sugar and orange zest. Rub the zest and sugar between your fingers to release the oils in the zest.

Add the butter, using an electric mixer beat until fluffy. Add the eggs one at a time beating after each addition.

Sift together the flour, baking powder, baking soda, and salt. Combine the orange juice and buttermilk.

Alternate adding the flour mixture and liquid ingredients. Start with the flour and end with the flour.

Pour the batter into the prepared Bundt cake pan. Bake cake for 45 to 50 minutes or until a toothpick inserted comes out clean.

Remove the cake from oven and cool for about 5 minutes before removing the cake from the pan. Set on a cooling rack and to cool

Orange syrup - Combine the 1/3 cup sugar and 1/4 cup orange juice. Stir until the sugar dissolves. Pour over the cake once it is removed from the Bundt pan. Cool completely.

Icing - Once the cake is cooled, combine the powdered sugar and poppy seeds, and gradually add enough orange juice to get the right consistency for drizzling over the cake.