It's that time year again… citrus time. I couldn't resist making a batch of orange chocolate chip scones.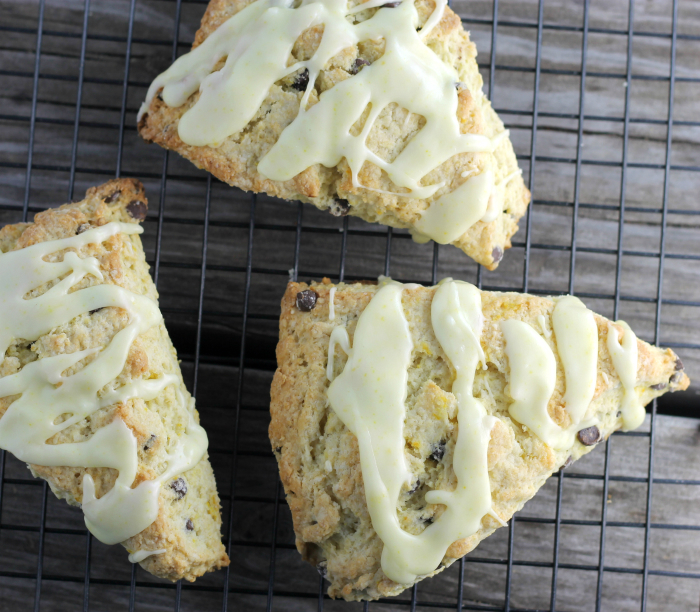 It's also that time of year you will hear me complaining about the weather. Believe me; I have the right to complain about it. This weekend was cold, yes, really cold. You ask how cold. Well, let's just say I am not sure we got above zero Fahrenheit over the weekend and I am sure when you figure the wind chill in we were way below the zero mark.
Sunday was one of those days that it was perfect for the oven to be on to make these orange chocolate chip scones.
The citrus is always so delicious at this time of year. Mike and I did venture out to the grocery store to go shopping this weekend. When we walked into our local grocery store they had this huge display of oranges. Every year around this time they have a huge sale on all different kinds of oranges.
Needless to say, we had to purchase some. The first thing on my list for these oranges was these orange chocolate chip scones. I have wanted to try this combination for a while. It was a few years ago when I tried some candy that had a chocolate and orange combination and I have been hooked ever since.
I decided to use mini semi-sweet chocolate chips in these scones along with orange zest and juice to get the most of the flavors. And as always I added an icing on top of the scone, the icing was flavored with orange juice to up the orange flavoring of each scone. What better way to spend a Sunday morning on a cold winter morning than to make some scones.
I love the smell of scones baking in the oven even more so in the winter and the warmth of the ovens, one of the pleasure on a cold wintery day.
Ingredients
3

cups

flour

1/2

cup

sugar

2 1/2

teaspoons

baking powder

1/2

teaspoon

baking soda

1/2

teaspoon

salt

1

tablespoon

orange zest

1/2

cup

butter

1/2

cup

mini semi-sweet chocolate chips

1

egg

1/3

cup

orange juice

1/3

cup

milk

Orange icing-

1

cup

powdered sugar

1/2

teaspoon

orange zest

1 1/2 to 2

tablespoons

of orange juice
Instructions
Preheat oven to 400 degrees F. Greased a baking sheet.

In a large bowl combine the flour, sugar, baking powder, baking soda, salt, and orange zest. Cut in the butter with a fork or a pastry cutter. Toss in the mini chocolate chips

In another bowl combine the egg, orange juice, and milk. Pour the wet ingredients into the dry ingredients. Mix by hand just until ingredients are combined. Form into a ball.

On a floured surface form the ball into an 8-inch circle. Cut into 8 wedges. Place on the prepared baking sheet. Bake the scones for about 15 minutes or until the edges start to turn a light brown.

Cool on a cooling rack.

As the scones are cooling. Mix together the powdered sugar, orange zest, and orange juice. Beat until smooth. Drizzle over cooled scones.