Bring the color of sunshine to your next breakfast, try these orange carrot scones.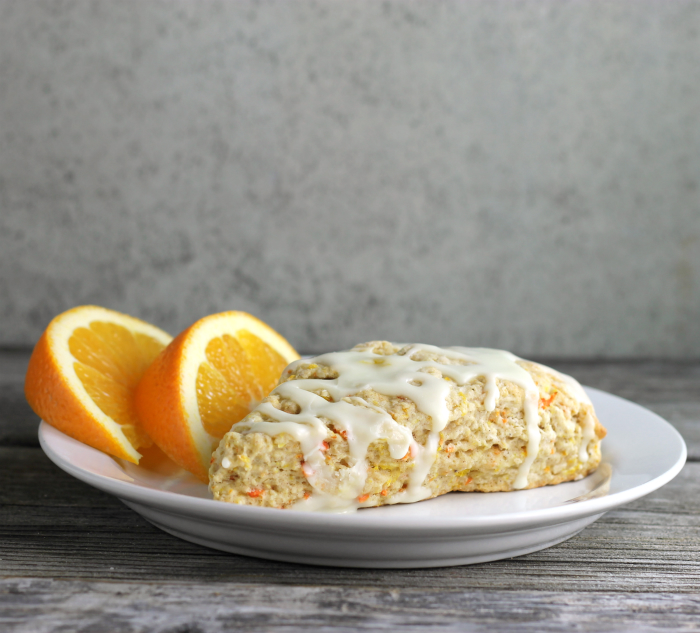 The color on my blog today is orange. Yep, there is a lot of orange going on with these scones. These scones are loaded with bits and pieces of orange and carrot. I topped the scones with an orange icing to bring out the orange flavor of the scones.
I love using citrus and bright color foods at this time of year. Let's face it; the weather can be quite gloomy at this time of year in Minnesota. There are times that we go days without seeing the sun. So cooking or baking with citrus, at least, brings a little color to these gloomy days.
When I first came up with the idea of orange and carrot scones, I wondered a little if these two ingredients would complement each other. But with the first bite my worries were gone.
To tell the truth, at first, I thought the combination of the orange and carrot was a little weird. But something inside of me wanted to go with the combination, not sure why.
Then  a couple of days after I made the scones I was thinking about the combination of the orange and carrot, and I remembered from somewhere in my past of the orange and carrot Jello salad that graced many cookbooks back in the day. To tell the truth I am not sure if I ever ate that type of Jello before, but after thinking about it, I decided that my combination wasn't a weird thing after all.
Bring in a little color into your gloomy winter day, bake some orange carrot scones.
Ingredients
3

cups

flour

1/3

cup

sugar

1

tablespoon

baking powder

1/4

teaspoon

baking soda

1/2

teaspoon

salt

1

tablespoon

orange zest

1

teaspoon

cinnamon

1/2

cup

butter

1

egg

1

cup

shredded carrots

1/2

cup

orange sections chopped

2/3

cup

milk

Icing-

1 1/2

cup

powdered sugar

2 to 3

tablespoons

orange juice
Instructions
Preheat oven to 400 degrees F. Prepare a baking sheet by greasing it or using parchment paper.

In a large bowl combine the flour, sugar, baking powder, baking soda, salt orange zest, and cinnamon. Add the butter and cut in with a fork or a pastry cutter until the butter is completely worked into the flour mixture and forms a crumbly mixture.

In another bowl combine the egg (slightly beaten), shredded carrots, oranges, and milk. Add the wet mixture to the dry mixture and by hand combine the two until it forms a ball. Do not overwork the dough.

On a lightly floured surface form the dough into a 8 to 9-inch circle, cut into 8 wedges. Place each wedge on the prepared baking sheet. Bake in the preheated oven for 15 to 17 minutes or until lightly browned.

Cool completely.

While the scones are cooling prepare the icing. Add the powdered sugar into a small bowl, gradually add the orange juice until you have the right consistency.

Drizzle the icing over the scones and serve.