Oatmeal coffee cake with a spiced crumble topping, you won't be able to resist. A simple coffee cake made with oatmeal and topped with a spiced crumble.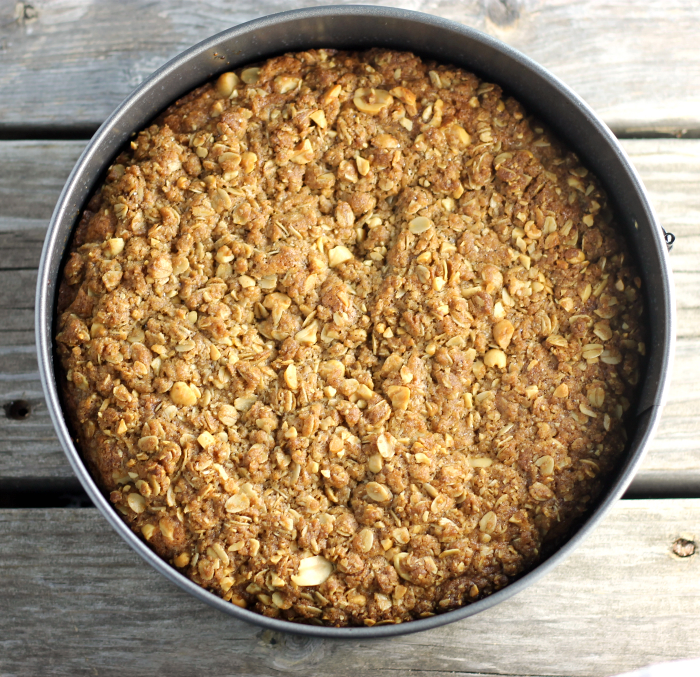 Finally, it's the weekend. After having time off over the holidays, I have been trying to get adjusted to full weeks of work again. To say the least, it has been a little tough. The weeks feel a little bit too long and it seems forever for Friday to come around. Give me a few weeks and I will be back into the groove of things. 
Then there is crumble… yeah, I have crumble on my mind of late. Well maybe not of late, but for a while now. There is something about a good crumble that make a pie, coffee cake, or so many other desserts just that much better. Don't you think?!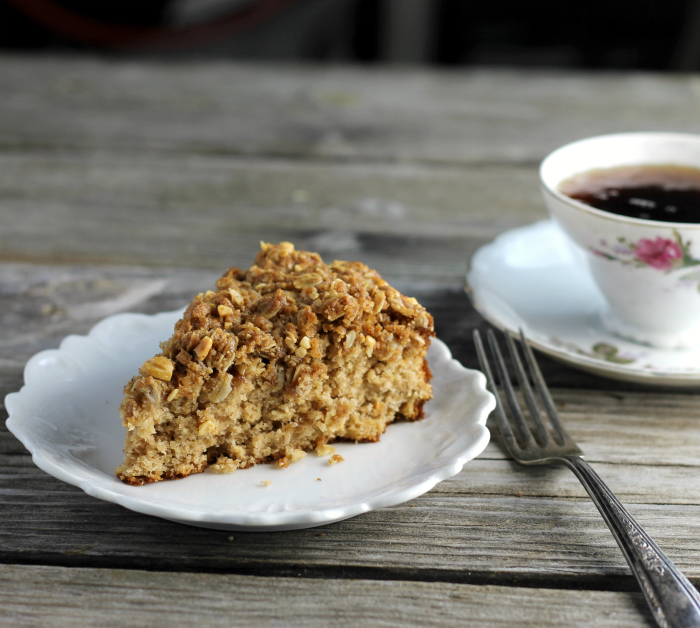 When I decided to make this coffee cake I knew that it would have to have a crumble to step it up a bit. The coffee cake is simple and even though it has a great flavor, it's the crumble that is the star in this recipe, at least in my book.
Of late when making coffee cakes that have a crumble topping, I find myself going overboard with the topping. The first time I did this I was a little worried that it wasn't going to work out. But after the first bite I was hooked, yeah you can't go wrong with loads of crumble topping.
Even though I am trying to eat healthier after the holidays, I found myself sneaking a small piece of this coffee cake for breakfast, it was too yummy to resist. I had added cinnamon, nutmeg, ginger, cardamom, and peanuts along with the other ingredients for this crumble. And I have to say the crumble was the thing that really kept me craving this coffee cake.
Do you ever daydream about crumble toppings? You may start after trying this one.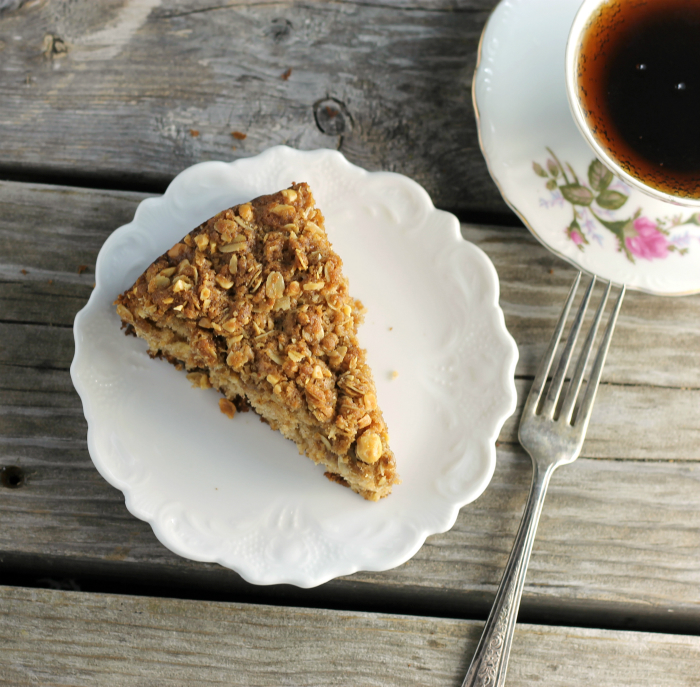 Oatmeal Coffee Cake with Spiced Crumble Topping
Ingredients
1 1/4

cup

flour

3/4

cup

old fashion oats

2

teaspoons

baking powder

3/4

cup

sugar

1/4

cup

brown sugar

1/2

teaspoon

salt

1/2

teaspoon

cinnamon

2

eggs

1/4

cup

butter softened

1/4

cup

sour cream

1/4

cup

milk

Topping -

1/2

cup

brown sugar

1/3

cup

flour

3/4

cup

old fashion oats

1

teaspoon

cinnamon

1/4

teaspoon

nutmeg

1/4

teaspoon

ginger

1/8

teaspoon

cardamom

1/4

cup

chopped peanuts

6

tablespoons

butter softened
Instructions
Preheat oven to 375 degrees F. Grease a 9-inch springform pan.

In a medium bowl mix together the 1 1/4 cups flour, 3/4 cups oats, baking powder, sugar, 1/4 cup brown sugar, salt, and cinnamon.

In another bowl add the eggs, 1/4 cup butter, sour cream, and milk, mix together until well blended. Pour the wet ingredients into the dry ingredients, mix just until blended. Pour the batter into the prepared baking dish.

For the crumble - Combined all of the dry ingredients together. Add the 6 tablespoons of softened butter and mix together with a fork or by hand. Sprinkle over the top of the batter.

Place into the preheat oven and bake for 23 to 25 minutes or until a wooden toothpick comes out clean. Remove from the oven and set on cooling rack to cool.