Macaroni and Cheese Bites a super fun way to serve macaroni and cheese. You can dress them up any way that like by adding veggies, seasoning, or your favorite meats, or make them simple with just the cheese and macaroni.
I have a family that loves mac and cheese, homemade and even the box stuff they can't get enough of the stuff. These macaroni and cheese bites are right up their alley, they love them.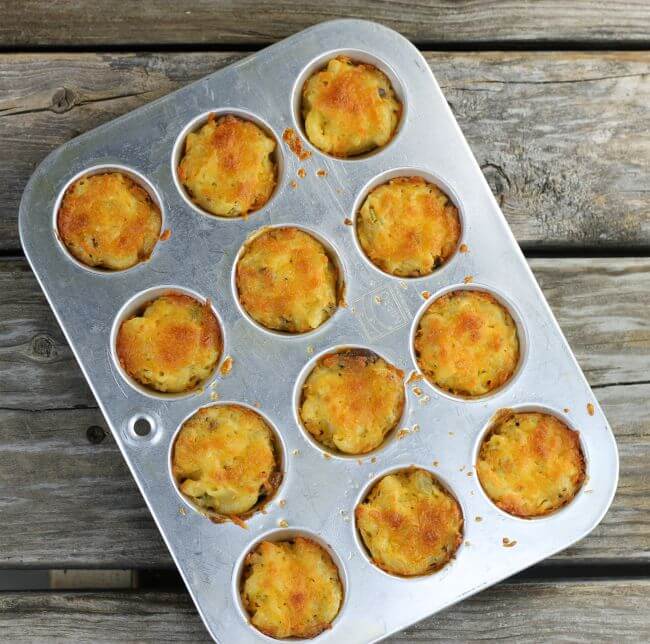 Not only are they great for when the family comes over, but they are great to serve when you have gatherings. Now that that the holidays are over we are looking a the big game, the super bowl. It would be great to serve these at your next game party.
Ingredients:
Elbow macaroni  – I like using elbow macaroni, but any small pasta could work, but make sure you are not using too large of pasta to fit into the mini muffin tins.
Butter – The butter is used in the cheese sauce, I would recommend sticking with the butter, for a creamier sauce.
Heavy cream – If not using heavy cream I would recommend using half and half.
Egg
Cheddar cheese – I like to use sharp cheddar cheese for this recipe, but any good melting cheese will work.
Bacon – If you prefer ham or another meat or you can leave out the meat completely.
Green Pepper – I like the green pepper with the macaroni and cheese, but you can use red pepper or any other vegetable that you like.
Helpful Tips:
Cook the macaroni using the directions on the box. Make sure that you salt the water before cooking the macaroni.
Chose a small pasta. Elbow macaroni works well for this recipe.
Add cream to the sauce for a creamy outcome.
Make sure to use plenty of cheese, you want to make sure that you taste cheese not just the macaroni.
Top with additional cheese, you can never have enough cheese.
Steps For Making Macaroni and Cheese Bites:
Step One:
Preheat the oven to 375 degrees F.
Step Two:
Sautee the green pepper with a little butter just until the green pepper is softened.
Step Three:
Add the cream and cheese to the skillet. Keep stirring until the cheese is melted.
Step Four:
Stir in the cooked macaroni and the crispy bacon bits.
Step Five:
Lightly spray mini muffin tins. Divide the macaroni and cheese between the tins. Top with some additional cheese.
Step Six:
Bake the macaroni and cheese bites for 15 to 20 minutes or until the cheese starts to brown. Remove from and cool a few minutes and serve.
Looking for some more fun food ideas? Take a look at these recipes:
Stay in touch with me on Facebook, Twitter, Instagram, and Pinterest.