Lemon thyme chicken is a simple dish that you can enjoy any night of the week.
Lemon thyme chicken is full of flavor and the chicken turns out tender and moist, it can be served with pasta or rice. 
I like this time of year. Everything is coming back to life and we have color back. Winter, it is beautiful when there is a snowfall and everything is white and crisp, but I always long for the beautiful bold colors of summer.
We have our garden planted. And I have my fingers crossed that the rabbits don't eat everything in the garden as they have been trying to do the past two summers. With the garden planted that means there are fresh herbs. Even though the plant is small I took a small amount of thyme for this dish.
It has only been the past few years that I have been planting herbs. Every year I have good intentions of making lots of recipes to use these herbs and then at the end of the summer, I have fallen short of my intentions. So this year I am getting a jump start with this lemon thyme chicken recipe. I hope I don't fall short this year.
For this lemon thyme chicken, I used chicken tenders which make this recipe perfect for any day of the week.
For this recipe, the first thing that you will need to do is brown the chicken, once it is cooked through it is removed from the pan. At this point thyme, garlic, lemon slices, lemon juice, and chicken broth are added to the skillet.
It is cooked until it is reduced about one-third to one-half, at this point the chicken is added back into the skillet and simmer for a few minutes. That's it, the chicken is done and ready to serve with your favorite pasta or rice.
Serve the lemon chicken with a salad or fresh fruit and you are set. Healthy and delicious.
If you are a fan of chicken take a look at these recipes:
Skillet Chicken with Mushrooms Gravy
Slow Baked BBQ Chicken Drumsticks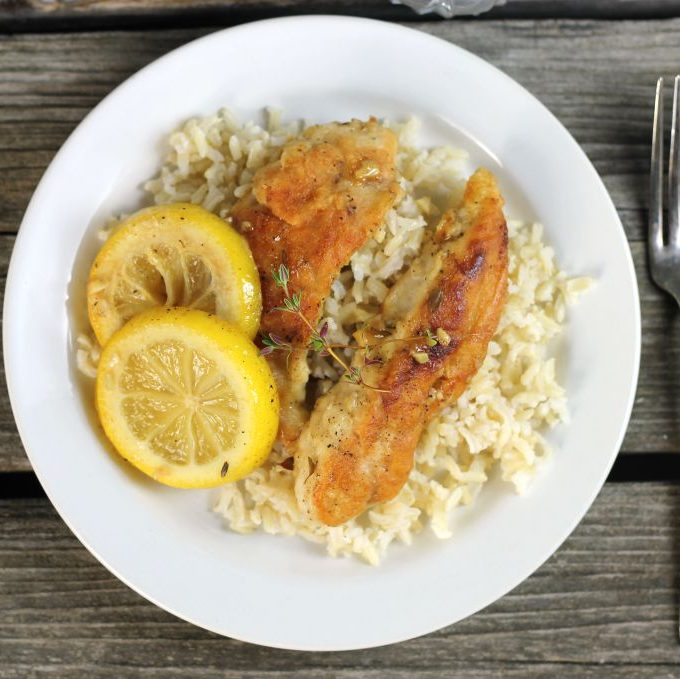 Lemon Thyme Chicken
Lemon thyme chicken is a simple dish that you can enjoy any night of the week.
Ingredients
1

pound

chicken tenders

1 1/2

tablespoons

olive oil

1/3

cup

flour

Salt and pepper

to taste

1

teaspoon

fresh thyme

3

cloves

garlic

minced

1

lemon

sliced

1/2

cup

low sodium chicken broth

1/4

cup

lemon juice
Instructions
Heat the olive oil in a skillet. Dredge the chicken in the flour and shake of the excess. Add the chicken once the oil is heated.

Season the top of the chicken with salt and pepper. Cook the chicken for the about 6 to 7 minutes until the underside is golden brown.

Flip the chicken and continue to cook for another 6 to 7 minutes and the chicken is no longer pink in the center. Remove the chicken from the skillet.

Add the garlic, thyme, lemon slices, lemon juice, and chicken broth. Cook until the liquid is reduced by 1/3 to 1/2 about 5 minutes.

Add the chicken back into the pan and simmer for 2 to 3 minutes. Serve with your favorite pasta or rice.