Lemon blueberry no-churn ice cream is a crazy easy, creamy, and delicious ice cream.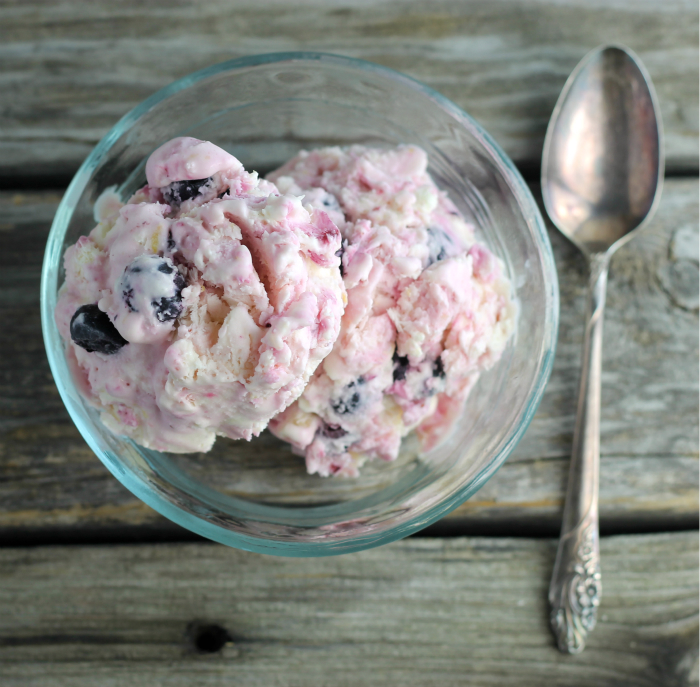 I am all about chocolate, which is my favorite flavor when it comes to ice cream or any dessert for that matter. But this lemon blueberry no-churn ice cream just might change my mind.
It was Father's Day this summer when we met our son and daughter-in-law to go out for pizza. After the pizza, we decided we needed a little dessert. We stopped by an ice cream place for some ice cream cones. I got my usual chocolate and something as always. Mike had a lemon blueberry; he is not a big fan of chocolate.
He offered me a taste of his ice cream and it was this tangy lemony with bits of frozen blueberries. It was so good. Ever since I tried that ice cream I have wanted to recreate it. The first time that I made it, I didn't have enough lemon, it was good, but not like the stuff that Mike had at the ice cream shop. The second time around I added just the right amount of lemon juice and it turned out so good. It tastes as yummy as the stuff that Mike had on Father's Day.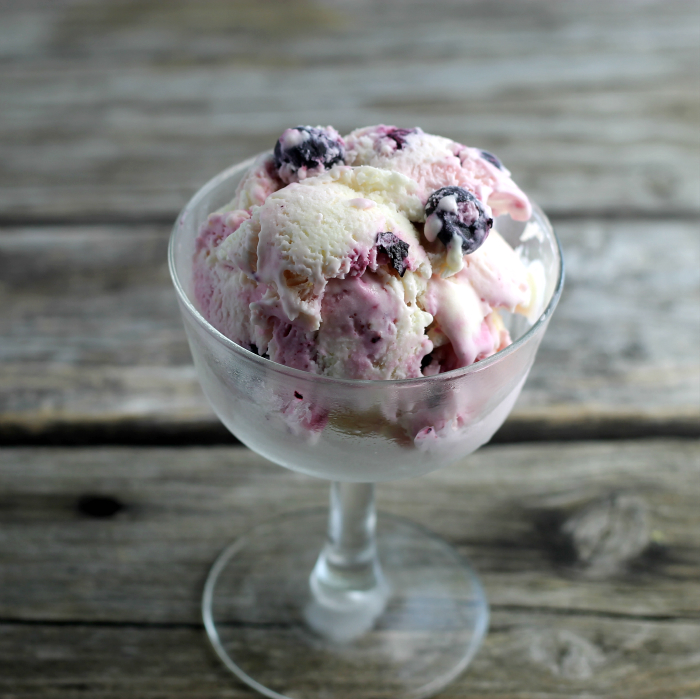 And since I don't have an ice cream maker I made a no-churn one. It really is super crazy easy. The hardest part of this treat is waiting for it to freeze.
So if you don't have an ice cream maker, you don't have to worry you can still make delicious lemon blueberry no-churn  ice cream.
If you like the combination of lemon and blueberry, making this lemon blueberry no-churn ice cream is a must.
Ingredients
3/4

cup

blueberries frozen or fresh

2

tablespoons

sugar

2

cups

heavy whipping cream

1 14-

ounce

can sweetened condensed milk

Zest from one lemon

1

cup

fresh lemon juice
Instructions
In a small saucepan combine the blueberries and sugar. Cook the blueberries over medium-low heat.

Cook just until the blueberries are softened and starting to release their juices, but the berries still have their shape. Stirring occasionally

The time may vary if you are using fresh or frozen.

Remove the berries from the heat and cool completely.

While the berries are cooling, pour the heavy whipping cream into a large bowl and beat until stiff peaks form.

Add half of the can of sweetened condensed milk and fold in until well blended. Add the second half of the can and fold in.

Add the lemon zest and fold in.

Fold in the lemon juice one-quarter cup at a time, making sure it is well combined after each addition.

Pour the ice cream mixture into a bread pan. Take the cooled blueberry mixture and drop by spoonful over the ice cream mixture, with a knife swirl the blueberry mixture into the ice cream. Make sure that you are swirling the berries to the bottom of the pan so you have blueberries throughout the ice cream.

Freeze 6 to 8 hours or until frozen. If you find that the ice cream is too hard to scoop let it set out until it is easy to scoop.