Lemon and Strawberry Coffee Cake a moist tender coffee cake that is perfect for breakfast, brunch, or any time of the day. The fresh strawberries, lemon zest, and freshly squeezed lemon juice combine to give this coffee cake a lovely fresh taste.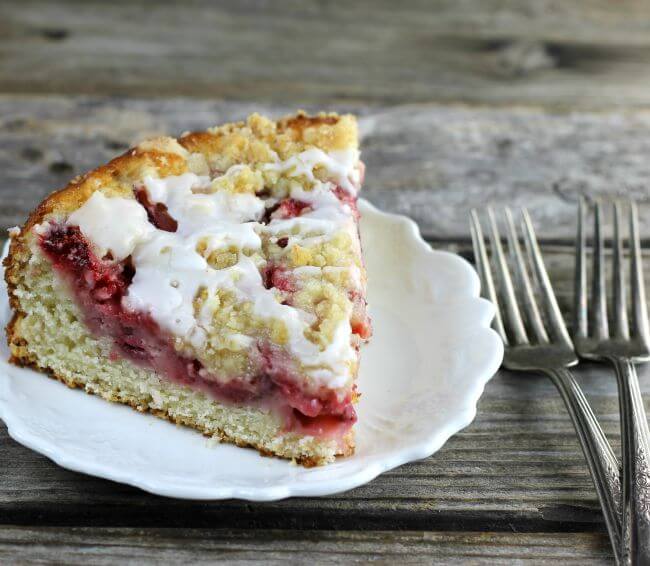 It is strawberry season and what better way to add fresh berries than to bake them into something that your family will love.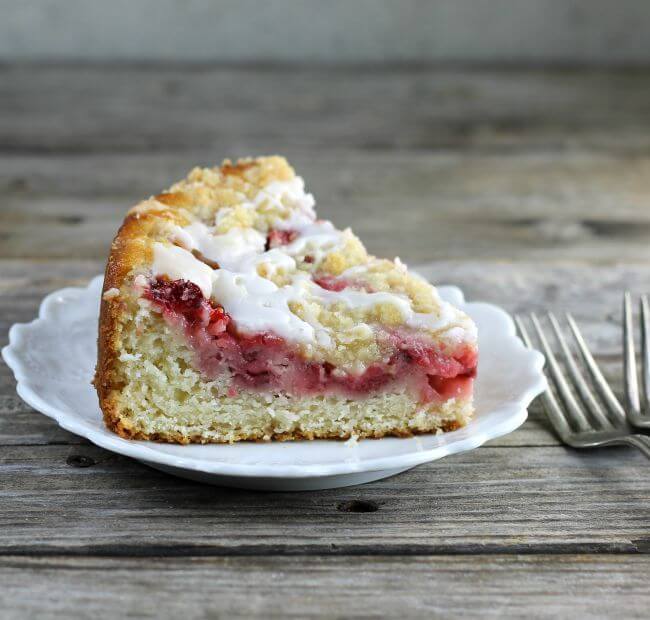 This makes the perfect breakfast treat or delicious brunch dessert, but in our house, you can find us eating a piece as a dessert with dinner. So if you are like me you will be enjoying this coffee cake throughout the day.
Helpful Tips:
Make the crumble before making the coffee cake. The coffee cake should be baked as quickly as you can after mixing the batter together. The leavening agent starts working after it is added to the mixture.
For best results use fresh strawberries instead of frozen ones.
Have the buttermilk, lemon juice, zest, butter, and eggs at room temperature.
A springform pan works well and makes removing the cake easily.
If you are lucky enough to have leftovers it is best to store the leftovers in the refrigerator. Use aluminum foil to keep the coffee cake fresh.
This can be stored in the refrigerator for up to a week.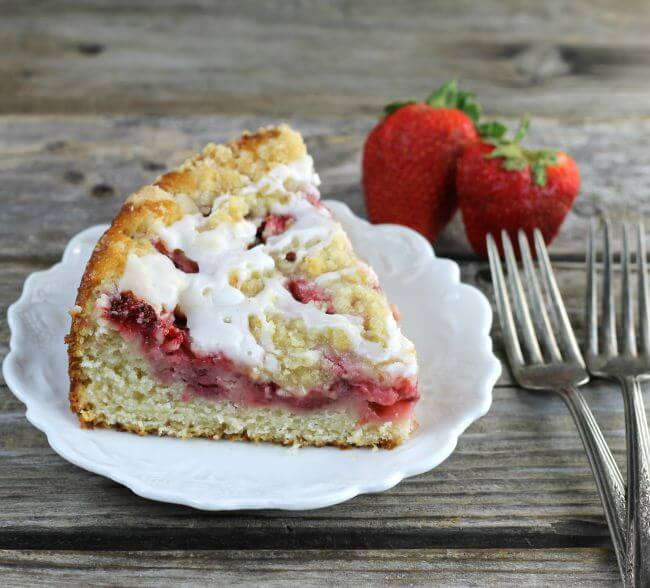 Steps for making Lemon and Strawberry Coffee Cake
Step one
Preheat the oven to 350 degrees F. Grease a 9-inch springform pan with shortening.
Step two
Make the crumble. In a medium bowl add the 1/3 cup sugar, 1/2 cup butter, lemon zest, and 3 tablespoons of butter and mix together. Set aside. Slice the strawberries and set aside.
Step three
Sift together the flour, baking powder, baking soda, and salt and set aside.
Step four
In a large bowl add 1/3 cup butter, and 1 cup of sugar. With an electric mixer beat together until the mixture is light.
Step five
Mix in 1/3 of the flour mixture to the butter and sugar mixture, followed by the lemon juice.
Step six
Mix in another 1/3 of the flour mixture followed by the buttermilk. Mix in the remaining flour, mixing just until the dry ingredients are mixed in.
Step seven
Pour and spread the batter in the prepared baking pan. Spread the strawberries over top of the batter. Sprinkle the crumble over the top of the strawberries.
Step eight.
Place in the preheated oven for 45 to 50 minutes or until a wooden pick comes out clean. Remove from the oven and place it on the cooling rack. Make the icing and drizzle over top of the cooled cake.
Here are some more delicious coffee cake recipes that I am sure you will love: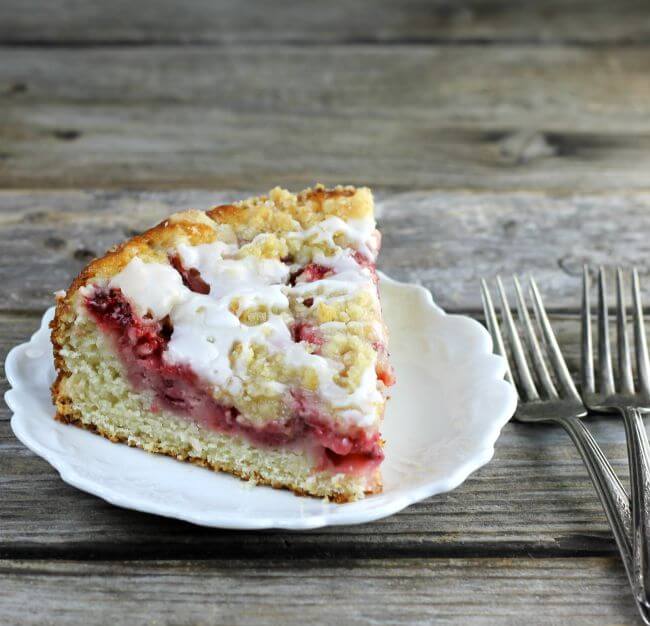 Stay in touch with me on Facebook, Twitter, Instagram, Pinterest.
This recipe was originally published on May 27, 2014. It has been updated with new content and pictures on June 11, 2020.