This jalapeno popper stuffed burger is so good! Plus it's easy to make.
I am counting down to Christmas. The house is sparkling clean, the cookies and candies are made, and now all we need is for Santa to show up with the presents.
I decided instead of another Christmas recipe that I would share something a little different. A burger stuffed with cream cheese, jalapeno peppers, bacon, garlic, and mozzarella cheese. These are simple to make and taste great. You know New Year's Eve is coming up or maybe a super bowl party. These burgers would be perfect for any party or weeknight dinner. You really don't need a special occasion.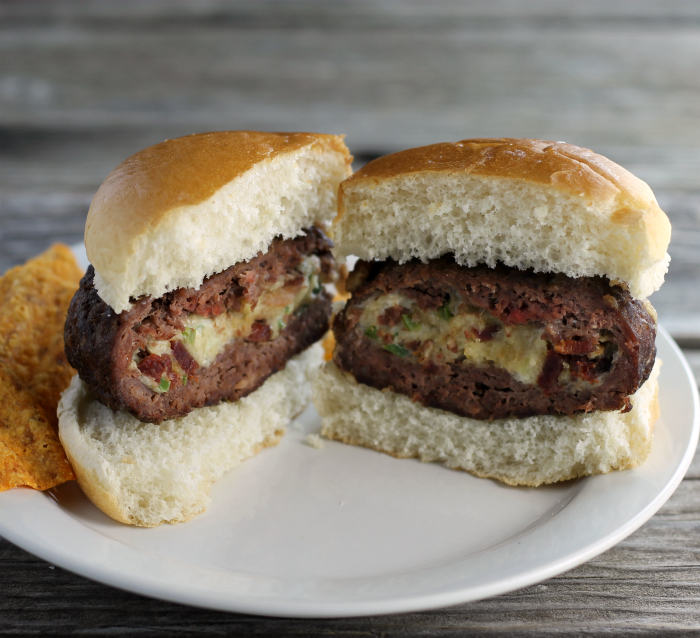 The jalapenos and garlic are minced then mixed with cream cheese, mozzarella, and bits of bacon. I broiled these burgers, but they would be perfect for the grill.
I would like to wish a Merry Christmas to all my readers and to all that stop by my blog.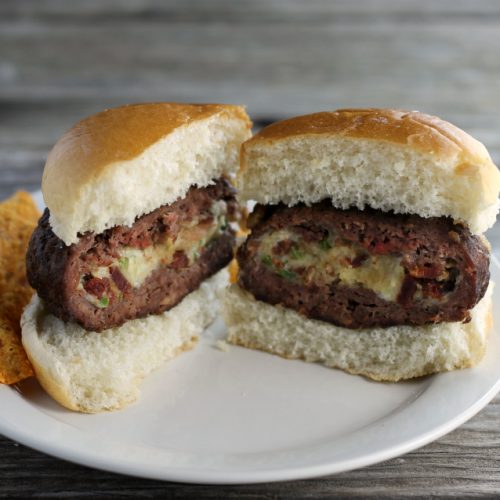 Ingredients
1 1/2 to 2

pounds

of ground beef

1

small jalapeno pepper finely minced

1

clove

garlic finely minced

2

ounces

cream cheese softened

4

slices

crisp bacon chopped

1

cup

shredded mozzarella

Salt and Pepper to taste
Instructions
Season the ground beef with salt and pepper to taste. Divide into 8 parts and make thin patties, set aside.

Combine the jalapeno pepper, garlic, cream cheese, bacon, and mozzarella. Divide into 4 equal parts. Flatten the cheese mixture to make a disc place each disc of cheese on top of 4 of the patties. Take the other 4 patties that don't have the cheese on them and place them on the patties that have the cheese. Seal the edges of each burger.

Place under a hot broiler and broil for about 5 minutes on each side. Serve.