Jalapeno Cheddar Bread is a soft bread made with cheddar cheese and a touch of heat from the jalapeno peppers.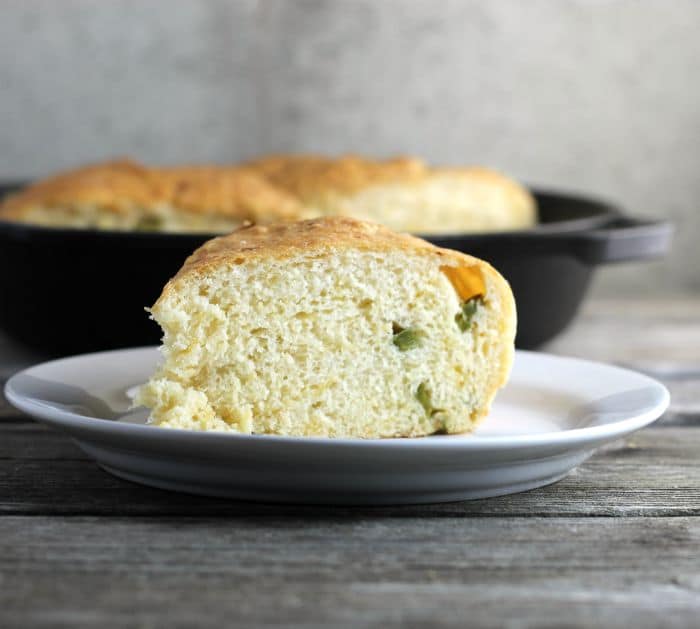 Jalapeno cheddar bread is a great side to go with a bowl of soup, a bowl of chili, or well whatever you would like it to go with.
When I was a kid bread was served with every meal and when I say bread it was bread that was made from scratch, nothing that was bought in a store. At breakfast, there was homemade bread toasted. For lunch, we had sandwiches made with homemade bread in our school lunch boxes. For dinner, there was homemade bread with butter. I think you get my point.
I started making bread when I was in my teens. As you can see bread has been a part of my whole life. It is a tradition that I try to keep going. Not that I serve bread at every meal, but I do love making bread from scratch.
The bread that I make is not always the white traditional bread that my mom made way back when I was a kid. Yeah, sometimes I like to experiment and switch things up a bit. Like this jalapeno cheddar bread, with one of my favorite cheeses and a bit of a kick with the jalapeno pepper.
It goes perfectly with a bowl of soup or a bowl of chili. I have served it with soup, but I have served it as a side with meatloaf or fried chicken. No matter what is on the menu this is a great bread to serve.
Just remember that if you would like a bread with less heat to use fewer jalapeno peppers or add a few more if you crave foods with a lot of heat.
Here are more bread recipes that you may enjoy:
Jalapeno Cheddar Bread
Jalapeno Cheddar Bread is a soft bread made with cheddar cheese and a touch of heat from the jalapeno peppers.
Print
Pin
Rate
Ingredients
2 1/2 to 3

cups

all-purpose flour

2 1/4

teaspoons

yeast

1

tablespoon

sugar

1

teaspoon

salt

1

cup

water

3

tablespoons

olive oil

1

cup

shredded cheese

1/2 to 1

cup

thinly sliced jalapeno
Instructions
In a large bowl combine the 1 cup of flour, yeast, sugar, and salt. Heat the water to 120 to 130 degrees F. Add the heated water and olive oil to the flour mixture mix in until well blended.

Add the cheddar cheese and sliced jalapenos and stir in. Continue to add the flour, mixing by hand until the dough is just slightly sticky. Knead the dough until smooth. Cover and let rise for about 1 hour or until the dough has doubled in size.

Grease a 10-inch cast iron skillet or a baking sheet. Once the dough is done rising form into an 8-inch disk. Place in the prepared skillet or baking dish. Let rest for 1/2 hour.

Preheat oven to 375 degrees F. Place the bread into the preheated oven after resting for 1/2 hour. Bake for about 20 minutes or golden brown.

Remove from the oven and set on cooling rack. Serve right out of the oven or cool.
Notes
1. If a large enough bowl is used for the dough it can be kneaded in the bowl.
2. For less heat use fewer jalapenos