Italian Sausage and Tortellini Skillet, an easy skillet dish that is filled with cheesy tortellini and bites of mild Italian sausage. A hearty meal that is one of the perfect comfort food for these chilly months.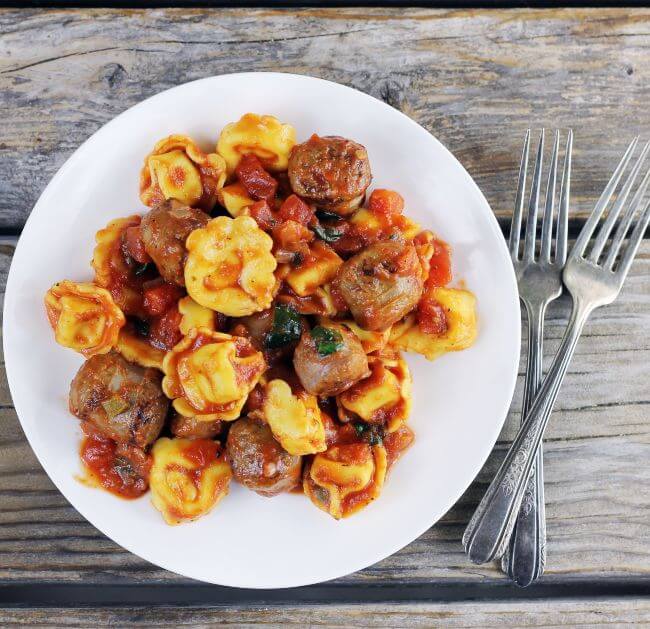 I love cooking with Italian sausage, it goes so well in pasta dishes or in a sandwich with peppers and onions and mozzarella cheese. The tender tortellini is always a welcome addition to soups or casseroles or as in this case this skillet meal.
This is a dish that is perfect for any day of the week. It comes together in under an hour. It is a dish that will be made over and over again.
Helpful Tips:
I use Italian sausage links with the casing left one for this recipe. If you like you can remove the casing from the sausage, crumble it or you can buy bulk sausage if you like. It all works. I like to leave the casing on so that the sausage keeps its form.
If using sausage links cut into pieces before cooking, this will speed up the process.
Fresh spinach is used in the recipe, if using frozen thaw and remove any excess liquid before adding to the skillet.
Frozen or fresh tortellini can be used for the recipe. Just make sure not to overcook the tortellini. Follow the directions on the package. Remove the tortellini as soon it comes to the top.
Serve with garlic toast and a fresh green salad.
The leftovers can be stored in the refrigerator for 3 to 4 days.
I would not recommend freezing leftovers.
Steps for making Italian Sausage and Tortellini Skillet
Step one
Cut the Italian sausage links into 1/2 to 1-inch pieces. In a large saucepan cook the sausage over medium heat until it no longer pink. Stir often to brown evenly. Remove from the skillet once the sausage is browned.
Step two
While browning the sausage and preparing the sauce cook the tortellini using the directions on the package. Once the tortellini is cooked drain thoroughly.
Step three
Wipe out the skillet if there is excess grease. Add two tablespoons olive oil and heat over medium heat. Add the chopped onion, green pepper, and garlic until tender about 6 to 8 minutes. Add the spinach the last couple of minutes and let it wilt.
Step four
Add the diced tomatoes, tomato sauce, and tomato paste and stir in.
Step five
Add the Italian seasoning and the salt. Let cook for about 5 to 10 minutes over medium heat.
Step six
Add tortellini and the Italian sausage and simmer until the tortellini and sausage are heated through.
Love pasta? Check out these recipes: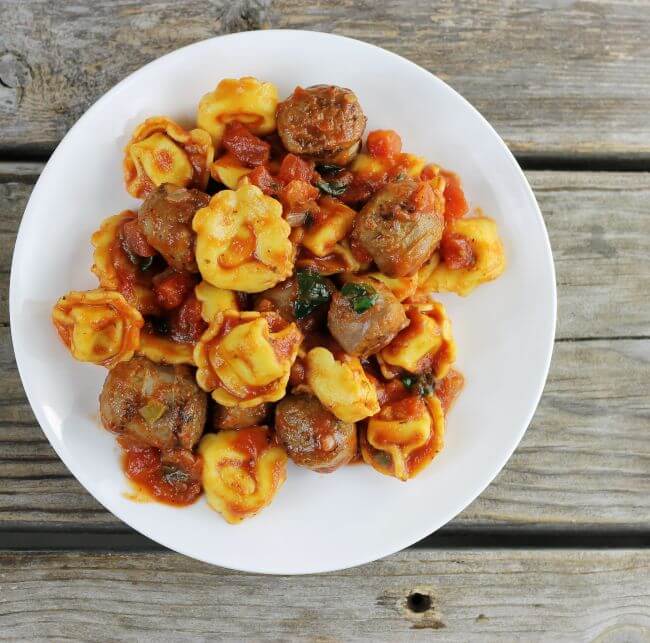 Stay in touch with me on Facebook, Twitter, Instagram, and Pinterest.