Try this homemade granola Greek yogurt breakfast parfait for a healthy start to your day. Homemade granola with creamy Greek yogurt, your favorite fruit, and a touch of honey… so good.
Well, I am finally back, from my break. It seems like ages ago since I have added anything to this blog. Yep, I have missed it. Oh, and I have missed all of you! So needless to say that I am happy to be back. I hope that I will see my readers come back.
But for now, I am going to start out with a simple recipe… homemade granola and Greek Yogurt.
At one time I ate a lot of yogurt. You know the ones that have a ton of sugar in them. I always thought I was eating healthy until I started looking at the labels and noticed how much sugar I was really eating. So much for eating healthy.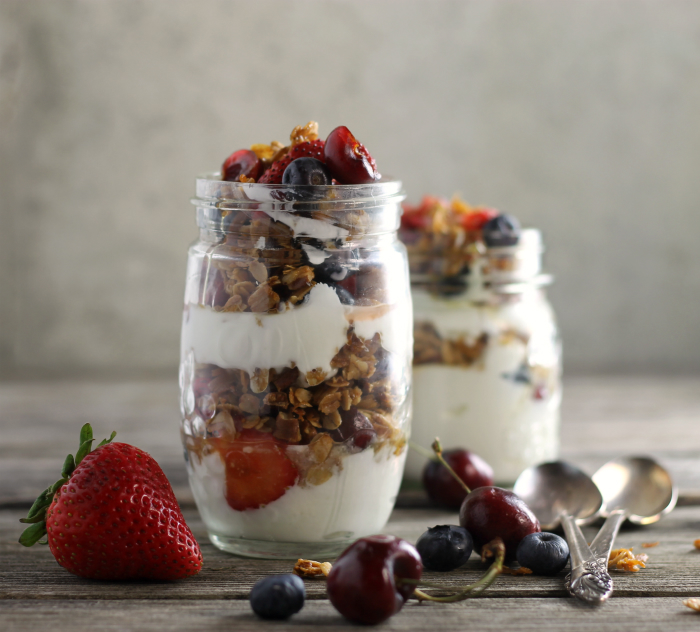 Then my sister told me that she had started making her own yogurt. She loves eating it with honey, fresh fruit, and granola. Well, I haven't gone so far as to make my own yogurt, but I have changed over to plain Greek yogurt. I have started topping my plain Greek yogurt with honey, fresh fruit, and granola. I have to say that I don't miss the sweet yogurt. I believe I will never turn back.
This is where my homemade granola comes in. This is a simple one, with oats, coconut, honey, pecans, and just a bit of brown sugar. It goes perfect with the Greek yogurt.
I love eating this homemade granola and Greek yogurt for breakfast, but to tell the truth I love to eat it after dinner, as a dessert. So when trying to stay away from eating too many sweets, this helps me feel not so deprived.
Ingredients
Homemade Granola-

1 1/2

cups

old fashion oats

1/2

cup

chopped pecans

1/2

cup

sweetened coconut

4

tablespoons

butter

2

tablespoons

honey

1

tablespoon

brown sugar

1/4

teaspoon

vanilla

Parfait-

Plain Greek yogurt

Berries

your choice

Honey
Instructions
Preheat oven to 325 degrees F.

Combine the oats, pecans, and sweetened coconut in a medium bowl.

Combine the butter, honey, and brown sugar in a small saucepan. Heat over medium heat until the mixture comes to a boil, remove from the heat and add the vanilla. Pour the honey combination over the oats, pecans, and coconut and mix until well combined.

Spray a jelly roll pan with a nonstick cooking spray. Spread the granola mixture on the prepared pan making sure that it is spread out evenly.

Place in the preheated oven for 18 to 20 minutes stirring a couple of times during the baking.

Cool completely. Store in an airtight container

To make the parfait-

Add a layer of Greek yogurt, top with honey, add your favorite fruit/berries, and top with the homemade granola - repeat.

Serve. Enjoy!