Homemade Chocolate Pudding is creamy, rich, and chocolatey; these are just a few words to describe this delicious pudding recipe.
This homemade chocolate pudding is simple to make and you will be impressed with how creamy and delicious it tastes.
I have always been a big fan of chocolate pudding. As a kid, my mom would make the pudding from a box, the cooked kind. And as a kid, I loved it as well as my siblings. To tell the truth I thought it was special because it came from a box.
Back then my mom made almost everything from scratch and when we got something that was from a box or store boughten, I thought it was something special. Now that I am an adult, I find that to be pretty silly.
When I met Mike, he was an instant pudding kind of guy. So for years, we have had instant pudding when making pudding.
But now that I  have made homemade pudding there is no looking back. Really, it is that delicious.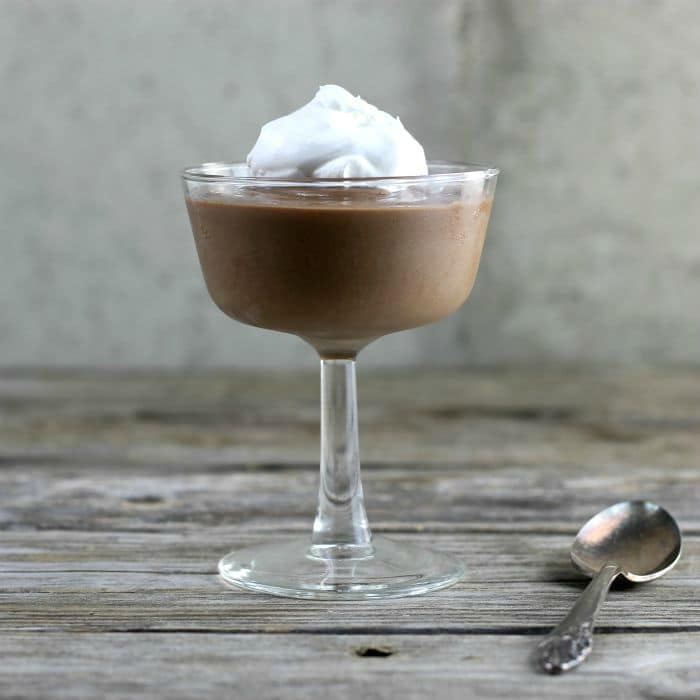 Can you make homemade chocolate pudding a day before you serve it?
Yes, absolutely you can. This pudding keeps well. Make sure to cover it with plastic wrap and store in the refrigerator. (The plastic wrap does not have to touch the pudding this pudding does not get a skin over top of it)
What kind of topping can you add to pudding?
Number 1 topping for me is sweetened whipped cream
Fresh fruit will work, like strawberries, blueberries, or raspberries
Chocolate sprinkles will go nicely with this chocolate pudding.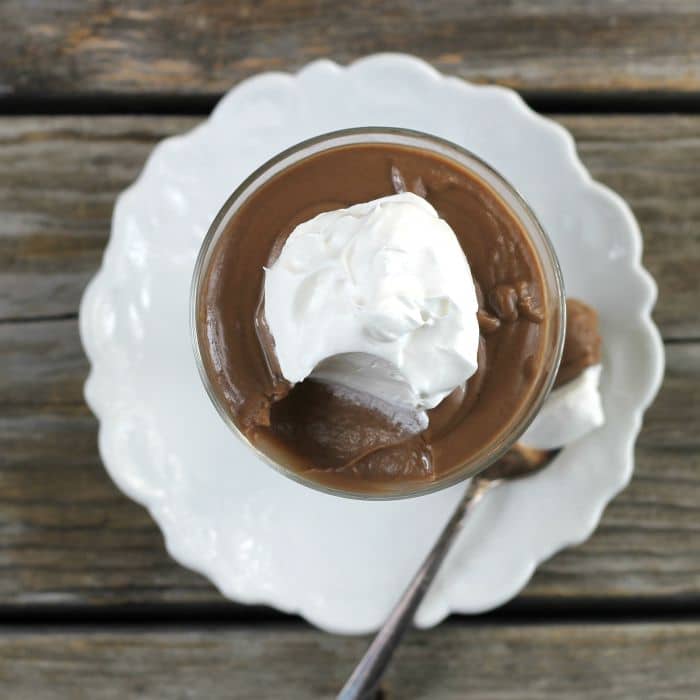 Are you a chocolate lover like me? Check out these recipes:
Homemade Chocolate Pudding
Homemade Chocolate Pudding is creamy, rich, and chocolatey; these are just a few words to describe this delicious pudding recipe.
Print
Pin
Rate
Ingredients
3/4

cup

sugar

2

tablespoons

cornstarch

1/4

teaspoon

salt

1/2

cup

semi-sweet chocolate chips

1

cup

whipping cream

1

cup

milk

2% works well

1

large

egg

2

tablespoons

butter

1

teaspoon

vanilla
Instructions
In a saucepan blend together the sugar, cornstarch, and salt; add the cream, milk, and chocolate chips. Beat the egg and set aside for later.

Cook over medium heat until it starts to get thick and bubbly. Continue to cook another 2 minutes.

Remove the pudding off of the heat. Stir in a few spoons of the pudding mixture into the egg, one spoon at a time. Add the egg mixture to the pudding.

Return the pudding to the heat and continue to cook an additional 2 minutes. Remove from the heat and stir in the butter until melted. Add the vanilla and mix in well.

Spoon the pudding into dishes. Serve warm or chill before serving. Store in the refrigerator, cover with plastic wrap. The plastic wrap does not need to be touching the pudding.
Nutrition
Stay in touch with me on Facebook, Twitter, Instagram, and Pinterest.