Hello, Friday!! Hello, Weekend!! The weekend is always a good time to let your hair down and relax a little. Also, it is a good reason to treat yourself to something special… like these homemade chewy granola bars.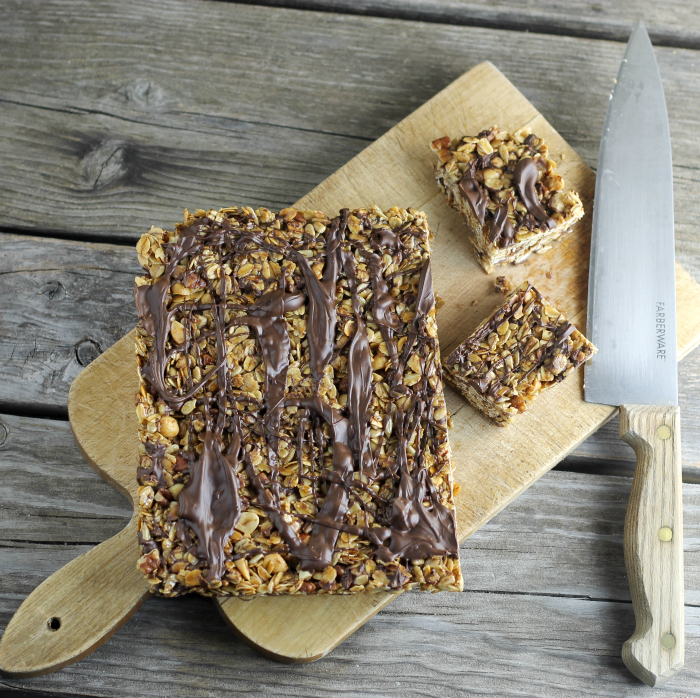 I have made granola and granola bars in the past, but these are by far my favorite. It is amazing how a few simple ingredients can come together to make these chewy granola bars.
Granola bars are on our shopping list every weekend. Yeah, we love granola bars and like to take them to work for a mid-day snack. But you never know truly what you are getting with the ones that buy in the stores. That is why these homemade bars are a welcome choice.
And did I say that they are super easy to make and tasty too?
First I roasted the oats for about 15 minutes, stirring them every 5 minutes or so, you don't want the oats to burn. While they are roasting, I mixed the rest of the dry ingredients together, the nuts and seeds that are added to these granola bars. I also made the liquid mixture (the honey and coconut oil) that holds everything together.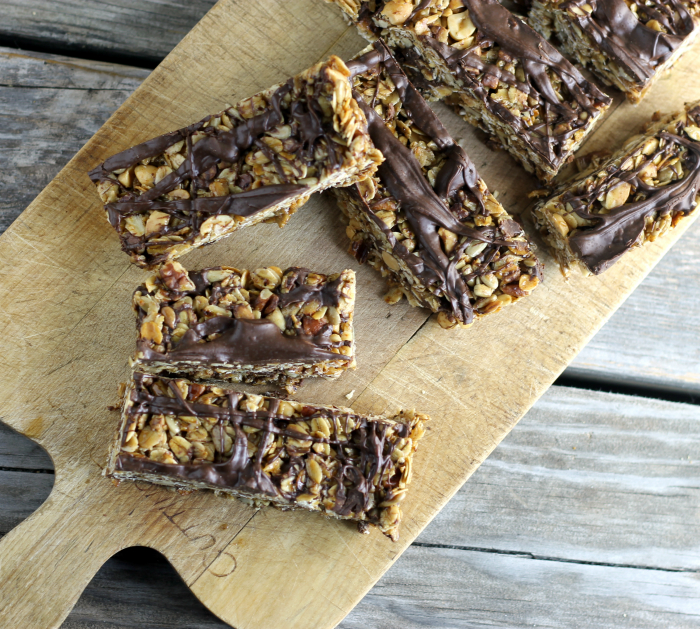 Once the oats have been taken out of the oven combine all of the ingredients and press them into the prepared pan. I bake these bars in a low temperature for about 15 minutes to bring them together, but not enough that they are not chewy. Once they are done baking they need to be cooled and let to set. I like to let them set up overnight. I know it is hard to wait that long, but they are worth it.
If you are looking for an easy recipe for homemade chewy granola bars so you can replace those store bought ones that you have been buying I hope that you will try these.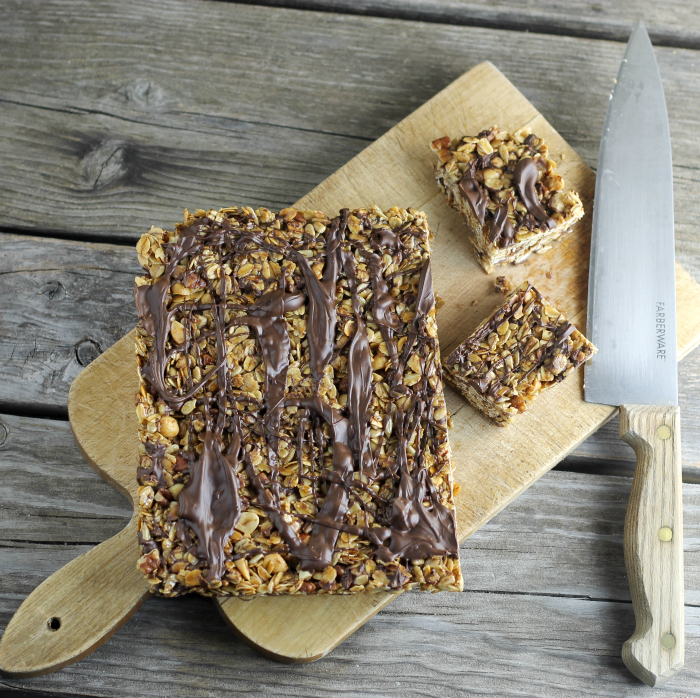 Homemade Chewy Granola Bars
Ingredients
2

cups

old fashion oats

1/2

cup

peanuts. chopped

1/2

cup

pecans

chopped

1/2

cup

sunflower seeds

1

teaspoon

cinnamon

1/4

cup

coconut oil

1/2

cup

honey

2

tablespoons

brown sugar

1/4

cup

chocolate chips

1/4

teaspoon

coconut oil

for the chocolate

1

teaspoon

vanilla
Instructions
Heat the oven to 350 degrees F. Spread out the oats onto a baking dish, a jello roll pan works well.

Line a 8 by 8 pan with aluminum foil and spray with a non-stick spray.

Roast for about 15 minutes, stirring about every 4 to 5 minutes so that the oats don't burn.

While the oats are in the oven chop the nuts that you will use. Combine the peanuts, pecans, and sunflower seeds.

In a medium saucepan combine the coconut oil, honey, brown sugar, cinnamon, and vanilla, heat over medium heat until it comes to a boil, remove from heat. Once the oats are roasted remove from the oven and add to the honey and coconut combination. Add the nuts and seeds; stir until everything is coated evenly. After taking the oats out of the oven turn the oven down to 225 degrees F.

Press the mixture into the prepared pan and place it in the 225 degrees F oven. Bake for 15 minutes. While the granola bars are baking, melt the chocolate chips with the coconut oil. Once you remove the bars from the oven drizzle the chocolate over the bars. Let cool completely. You can set in the refrigerator to speed up the process.